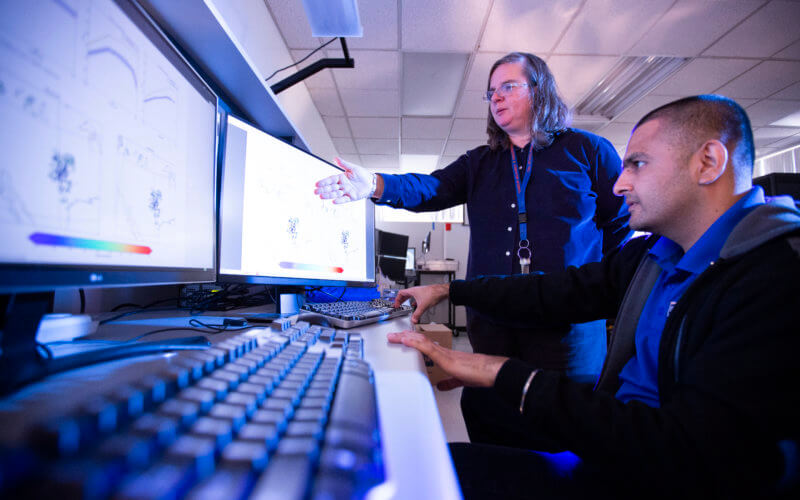 The U.S. News & World Report issued its global rankings for normalized citation impact — the total number of citations per paper for a university's faculty/researcher-authored papers — and California State University, Fullerton ranks No. 3 in the U.S. among public universities and No. 2 in the state of California among all universities.
"We often tout the fact that our faculty are excellent teachers who change students' lives in the classroom," said Cal State Fullerton Provost and Vice President Carolyn Thomas. "This ranking reveals that they are equally excellent researchers who change lives around the world through their global publications.
"For students, this also matters, because it means that what they learn in the classroom is frequently valued around the world, and opportunities abound to participate in globally focused research that expands their own future possibilities."
The normalized citation impact ranking is among the core measures of research performance and used by various research evaluation bodies globally, according to U.S. News & World Report. The ranking evaluates the total number of citations that an institution had in five years divided by the number of papers that the institution published. Cal State Fullerton also ranks seventh in the nation among all universities and No. 22 globally.
"When a faculty member's published research is cited by many other scholars, that really tells how important that research is, and clearly shows the impact of our teacher/scholar model," said Binod Tiwari, associate vice president for research and sponsored projects, who underscores the significance of these high rankings in view of the university's teacher/scholar model reflecting a focus markedly different than research-focused institutions. "We promote teaching, which is our mission, and at the same time, we promote scholarship."
The Numbers
Based on the Web of Science database, Cal State Fullerton boasted a total of 3,021 research publications from 2015 through 2019. These publications were cited in 33,074 articles, and in turn, these documents were cited 58,172 times, resulting in an average of 19.26 per paper.
Within the U.S. News & World Report normalized citation impact ranking: Among public universities, Cal State Fullerton is No. 3 in the U.S.; New Jersey's Montclair State University is in first position, and Indiana's Ball State University ranks second. Cal State Fullerton ranks second among all California universities behind Stanford University.