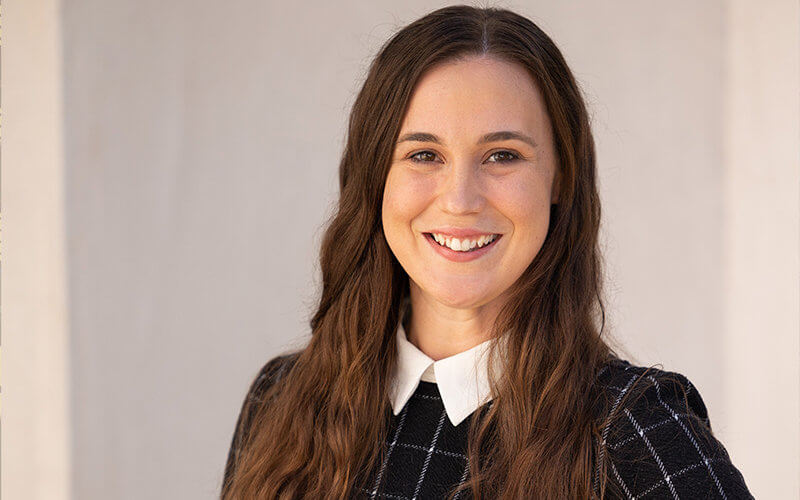 As a teaching assistant in the Department of Chemistry and Biochemistry, Cal State Fullerton graduate student Montana Mellody enjoys helping students who may find chemistry challenging — an obstacle that she herself faced as an undergraduate student — and aims to prove that science can be fun.
For her outstanding efforts in the classroom, Mellody is a recipient of the Crellin Pauling Student Teaching Award from the California State University Program for Education and Research in Biotechnology (CSUPERB).
While most teaching assistants in the department begin with an introductory laboratory course, the master's candidate in chemistry was tasked with teaching "General Chemistry CHEM 120B," an advanced intensive second semester general chemistry laboratory course for students studying physical and biological sciences.
"I was blown away by her command of the classroom, knowledge of the concepts and ability to connect with students," wrote Beena Matthew, lecturer in chemistry and biochemistry, in Mellody's nomination letter for the award. "Her passion for teaching is evident in the positive learning environment that she creates."
Peter de Lijser, chair and professor of chemistry and biochemistry, notes that Mellody, who expects to graduate this fall, teaches courses that focus on high-impact, hands-on learning.
"The Department of Chemistry and Biochemistry has a very strong track record when it comes to receiving research and teaching awards from CSUPERB," said de Lijser. "Montana is joining a long line of outstanding teachers and researchers and we are proud of her magnificent achievement."
Why did you want to be a teaching assistant?
I wanted to encourage others to enjoy learning science. I know it is not everyone's favorite topic, but I felt compelled to diminish the stigma that science is not fun. It has never been an easy subject for me, but I knew that through teaching, I could relate with students in that regard and explain the best way to learn difficult concepts.
Were you apprehensive about beginning your teaching experience with an advanced course?
Of course I felt some nervousness — this was a new class in a new environment, but seeing the topics the class covered made me more excited than anything. When I started teaching in the spring semester last year, the class was entirely virtual due to COVID-19. In the fall, we switched to a hybrid format with some in-person learning. Conducting virtual labs these past few semesters forced me out of my comfort zone, as I had to figure out how to articulate the importance of concepts without hands-on learning.
What do you enjoy most about teaching?
I enjoy the connections I make with students. They keep me on my toes, as not all students learn the same way, so I have to keep that in mind as I'm explaining concepts. Additionally, teaching has helped me build confidence because it challenges me to truly understand what I'm teaching and make an effort to communicate clearly.
What do you hope students take away from your classes?
I hope that students walk away with a deeper understanding that science is vital to life and not just a separate topic they learn in class. Additionally, I hope they maintain an appreciation for the sciences and remember interesting concepts from the class as they progress in their studies.
How are your experiences at CSUF preparing you for the future?
Post-graduation, my plan is to teach at the collegiate level. The experience I'm gaining at CSUF is preparing me for my future endeavors and molding me into the teacher-scholar I hope to become one day.
Learn more about the chemistry and biochemistry offerings at CSUF by visiting the department website.