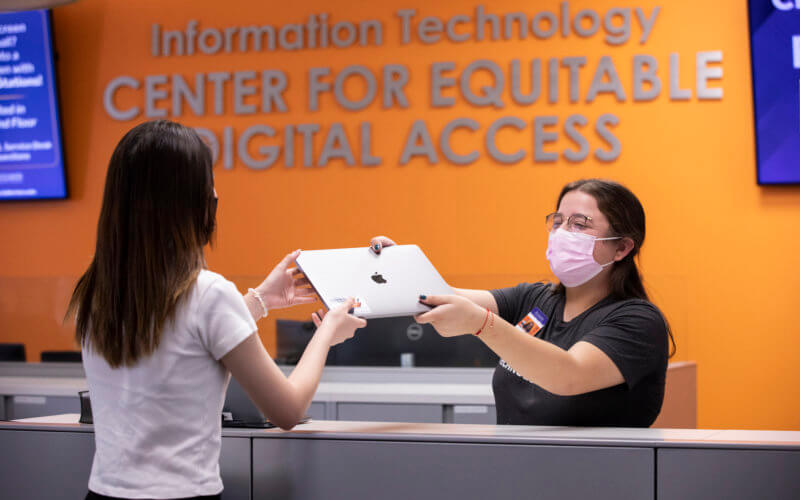 Incoming students to Cal State Fullerton in spring 2022 semester are eligible to receive a new laptop or an iPad Air, Apple Pencil and Apple Smart Keyboard Folio through the California State University Connectivity Contributing to Equity and Student Success (CSUCCESS) program.
CSUCCESS is a CSU initiative to enhance student achievement and create more equitable opportunities for the CSU community by providing industry-leading technology. CSUF is one of 14 institutions offering incoming spring 2022 first-year and transfer students this technology bundle and Wi-Fi hotspot.
According to Rommel Hidalgo, associate vice president for information technology/innovation officer, Cal State Fullerton purchased an initial batch of 1,000 iPad Air bundles (iPad, keyboard folio, Apple pencil) for the CSUCCESS implementation.
"For our TitanWare program serving students in need of laptops, we purchased Microsoft Surface Laptop Go devices. Both programs are being offered to all incoming spring 2022 students," he said, adding that over 750 Ipad bundles and Microsoft Surfaces have already been requested for new students.
TitanWare, a program available to all CSUF students, loans out not only laptops, but such devices as MiFi hotspots, webcams and headsets on a short- or long-term basis. Through TitanWare, students get free access to software programs including Microsoft Office, Adobe Creative Cloud, NVivo, Dropbox, Grammarly, SPSS, Qualtrics and Zoom, among others, as well as free training through LinkedIn Learning. The TitanWare ecosystem also provides students with internet access through the Eduroam Wi-Fi on campus, or through other educational institute locations that have Eduroam Wi-Fi.
Students in need of technology can send an email to ceda@fullerton.edu.