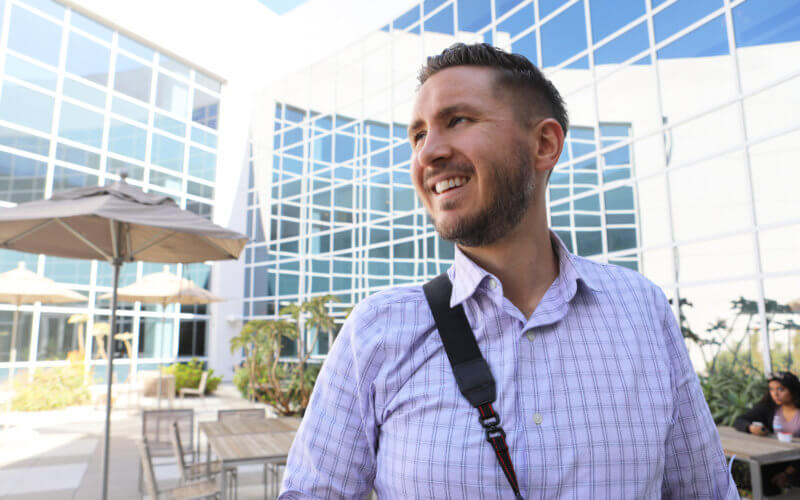 Cal State Fullerton alumnus and photographer Matt Gush seems to be everywhere on campus — attending events, taking studio portraits and recording life at the university. But, even after a long day on campus, he rarely puts down his camera.
Instead, he can be found photographing in Los Angeles and surrounding communities, capturing such moments in history as Black Lives Matter protests, and homelessness, or traveling. When he studied photography at Cal State Fullerton, he made it one of his goals to publish a photo in National Geographic magazine, widely known for its high-quality photojournalism.
At the end of last year, he achieved this goal with a photo of Caitlin Rankin, a geoarchaeologist he had been working with, excavating the Cahokia Mounds State Historic Site in Illinois near the Mississippi River — part of the largest pre-Columbian city found north of Mexico. The photo appears in the November/December 2021 issue of National Geographic History.
You have a BFA with a concentration in photography and a minor in anthropology. That's an unusual combination. How did that come about?
I credit that to the general education requirements. When I arrived on campus, I didn't realize you could study such interesting topics by choice. I took a class, Anthropology 101 and just thought, "Yes!" Anthropology is really at the intersection of science and culture and religion. It is understanding the field of human experience on a profound level.
I came to Cal State Fullerton thinking I'd be an illustrator. I actually didn't take an art class until I was a year in and had fallen in love with photography on my own. I took a class in photo theory and it helped me understand the implications and underpinnings of why and how we construct meaning. As part of an internship in art class, I was assigned to the office of the mayor in Los Angeles (Antonio Villaraigosa, followed by Eric Garcetti). It was an incredible opportunity and helped develop my love of the city. After I'd finished my work at the mayor's office, I would go out and explore the city.
How many years have you worked at CSUF?
I started in Strategic Communications in 2010 as a student assistant. For the past nine years, I've worked here full time.
What are some of the challenges you've faced recently?
Some of the greatest challenges would be the world erupting as it has. History is happening almost every day. I feel such a connection to Los Angeles. Sometimes it's complicated and dangerous but it's also fascinating. When I was shooting the riots in the wake of the George Floyd murder, I saw a peaceful protest on the steps of Los Angeles City Hall. I didn't know what was going to happen. I left to meet some friends and heard over the radio that protestors had stormed the freeway. So I cancelled my dinner plans and went to see what was going on. That evening turned into a week's worth of coverage for me. I'd work for the university during the day and then head out to L.A. in the evening. The photos I took ended up being used in a digital project we called "Temperature Rising" at Cal State Fullerton. At the time, I felt compelled to be there, needed to be there. This was not the time to shrink away. Sometimes I was terrified to be there but would I go back? Absolutely.
What made you decide to photograph Cohokia? How did you learn about it?
At a sixth-grade Scholastic Book Fair, my mom bought me a book on pyramids and there was an image of Cahokia. That was my earliest exposure to that site. I have a love of ancient civilizations and I seek out new places. I started documenting pre-Columbian Native American lands during my travels throughout the Americas. I was especially fascinated while I was tromping around the central Mexican pyramids. These are the physical remnants of past great civilizations. Many people have no clue we have pyramids in the U.S. Photographing them and giving them a chance to be seen and understood is wonderful.
Your photography covers a broad range—protests, weddings, science, travel, portraits. How do you decide what you want to shoot?
In Spain, I saw a Roman tomb and I was struck by a similar tomb I'd seen when photographing sites of the ancient Minoans in Crete. These forms and shapes and ways of thinking about life have been transmitted through time and distance. It's the nature of discovery. Once you find one pyramid, then you look for others…Georgia has mounds, Ohio has ruins…. Quite honestly, I can't think of anything else I'd rather be doing. It's inherently special that I get to commune with that history.
Are there any subjects you especially like to photograph?
My greatest pleasure is that I get to interact with everything. Things are always new, always different. I don't do the same thing every day. When I look at LA, I sometimes see beautiful sunsets and other days, it's in flames. I have an endless fascination with the world.
The great thing is I get paid to look at stuff. I had a blast photographing Cahokia. Landing a photo in National Geographic was the icing on the cake.