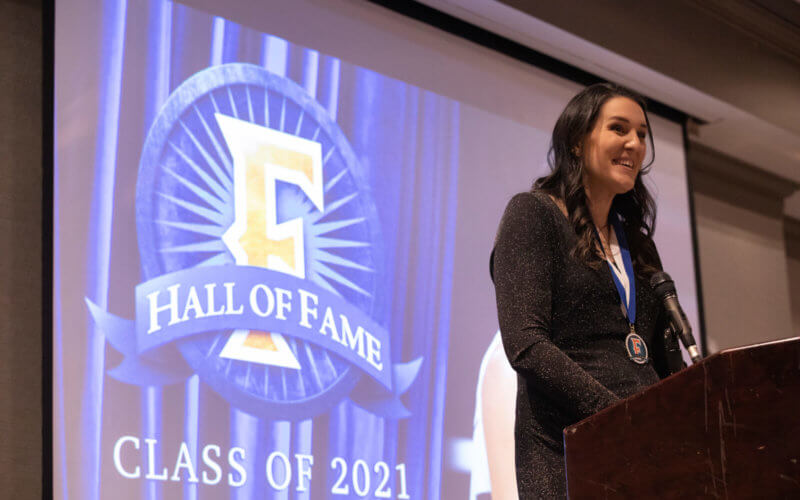 At its recent Athletics Hall of Fame event, Cal State Fullerton recognized some of the best Titan athletes who have ever played on behalf of the university along with a beloved and respected faculty member who was credited with helping some of those teams achieve their greatest glories.
Held bi-annually, this year's Athletics Hall of Fame honorees were:
Erin (Saddler) Henry, women's volleyball
Giovanni Lanaro, pole vaulting
Mike Pringle, football
Ken Ravizza, faculty/administration
1986 Women's Softball Team
Erin (Saddler) Henry
Erin Saddler Henry led the Titans to their first ever Big West Conference Championship along with the first NCAA Tournament appearance in 2010. She was named Big West Player of the Year that same year and later earned American Volleyball Coaches Association All-West Region and All-American honorable mention honors.
"The coaches I played for gave me opportunities and pushed me," Henry said. "The teams I played for — from middle school through college — became my lifelong friends. My family encouraged me every step of the way and spent countless hours driving me to practices and games every day, year-round. And thank you to the late Ken Ravizza who gave me invaluable advice, 'Control the controllable,' and helped me focus on what I could control."
Giovanni Lanaro
Cal State Fullerton pole vaulter Giovanni Lanaro competed as a Titan from 2002-04, setting records and making his mark on the international scene at several World Championships and two Olympics.
"I appreciate Coach Larry Elder who took a chance on a 'one event' guy," he said. "It's very unusual for a coach to recruit a track and field athlete who only competes in one area. I also remember Ken Ravizza telling me when I was competing at the NCAA championship to look at the sign listing the winners. He said, 'Look at that sign and know that you belong on it, too.' I never forgot that."
Mike Pringle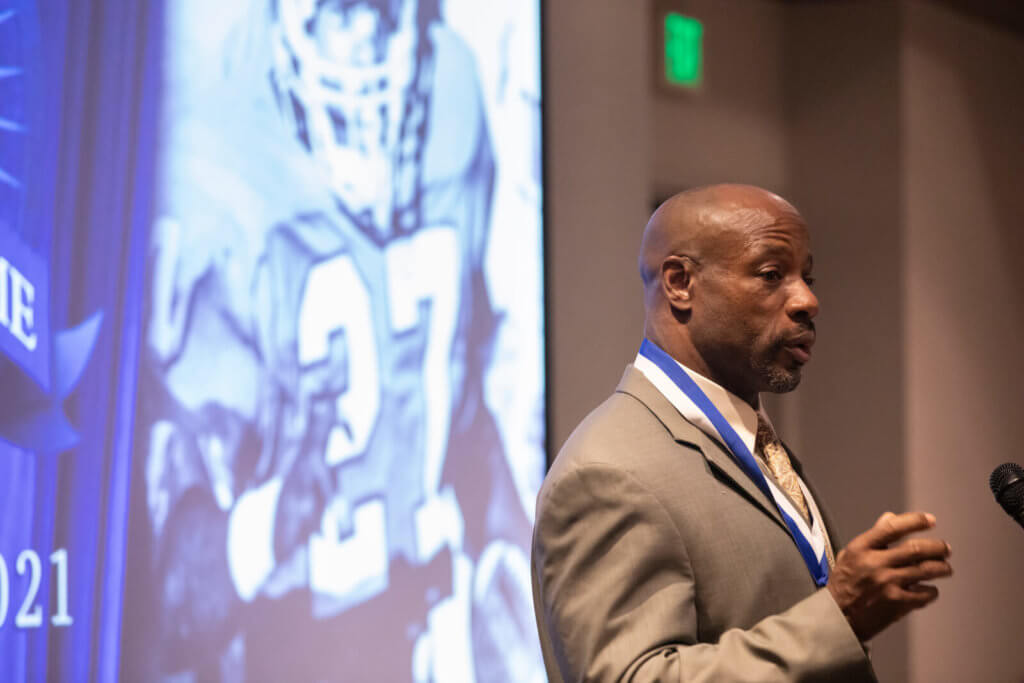 Mike Pringle played football for the Titans from 1988-89 where he became the program leader in rushing touchdowns, and second in both rushing yards and scoring. In 1989, he set the single season all-purpose yards record with 2,690. Pringle also shared the NCAA single-game rushing record at one point with 357 yards against New Mexico State.
Pringle was drafted by the Atlanta Falcons and later played in the Canadian Football League.
"This is a huge honor and you all don't know how happy you've made my mother," said Mike Pringle. "I was challenged every day at a high level at Cal State Fullerton. I learned discipline, that there were no shortcuts and to prepare like a pro."
Ken Ravizza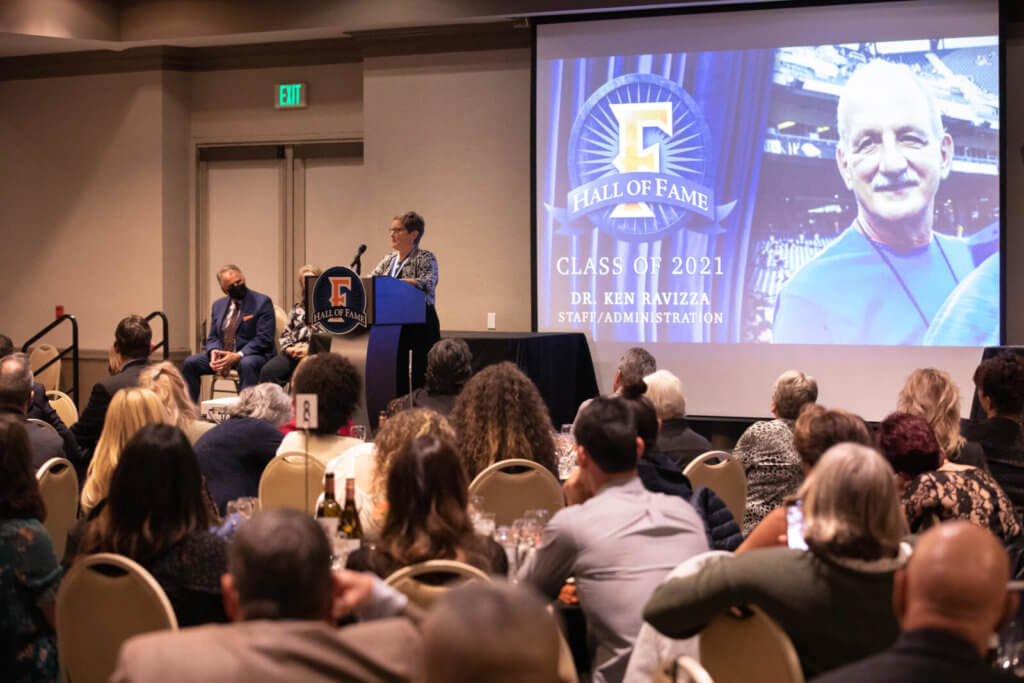 Renowned sport psychologist Ken Ravizza's one-of-a-kind methods to increase athletic performance have helped college and professional athletes be successful on and off the field. In addition to CSUF athletes, he also worked with such teams as the Chicago Cubs, Tampa Bay Rays, Los Angeles Angels, Olympic athletes and others.
During his 40 years at CSUF, Ravizza worked with multitudes of Titan athletes but is most well-known for his efforts with the university's gymnastics, softball and baseball programs. He supported the 1979 gymnastics squad that went on to win the Association for Intercollegiate Athletics for Women Championship. And in baseball, he was part of three of the Titans' four championship baseball teams. Ravizza passed away in 2018.
"I know there was initially some skepticism about Ken's work," said his widow, Claire Ravizza, who accepted the honor in her late husband's name. "He got his start with the women's gymnastics team when he told Coach Lynn Rogers, 'I think I can help those girls not fall off.' Before he knew it, he was also working with men's gymnastics, the baseball and softball teams, and others. Then, he started working with professional teams while still coaching and teaching at Cal State Fullerton.
"He always gave credit to Cal State Fullerton because this is where he got his start and developed and adapted his work," she continued. "He learned from the athletes and adapted his work because he knew different methods were needed for different teams. This university reinforced his desire to keep pushing."
1986 Women's Softball Team
The 1986 softball team, which went on to win the Women's College World Series in 1986, entered the postseason at 50-9-1. The Titans beat Texas A&M in the finals to take the championship.
Members of the 1986 National Championship team who are already in the Hall of Fame include Head Coach Judi Garman, Assistant Coach Kathy Van Wyk, and former players Susan LeFebvre and Connie Clark.
"Well, you kept the rowdiest group for last," joked Coach Judi Garman. "In 1980, our first season, we had no field, no equipment, no practice field and $4,000 in scholarships. But we had great players. The 1986 team was the best softball team to ever walk on the field. I remember Augie Garrido joking with me saying, 'Garman. You made a mistake. You now have nowhere to go but down.' But I want to acknowledge these ladies here who are the ones who made this all possible … and I am so proud of them."