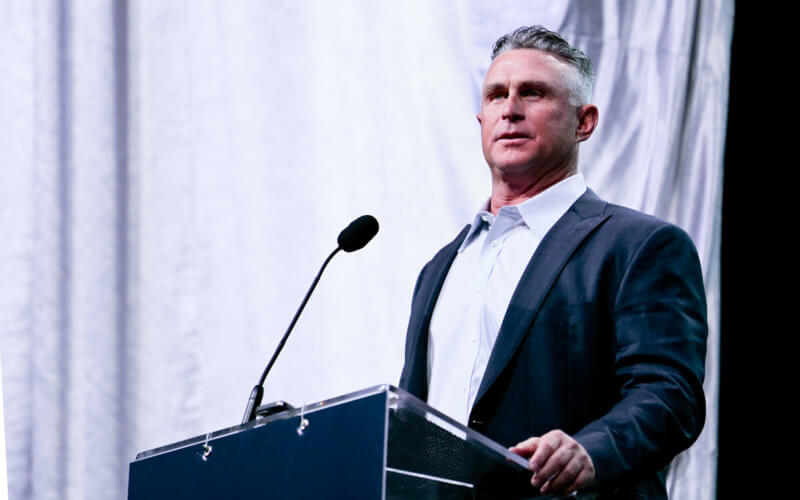 "The life lessons are what make baseball so valuable. There's a magic in it. The people are what make the game so special."

Augie Garrido
More than 450 guests gathered for Cal State Fullerton's annual Dinner with the Titans event Friday evening to show their appreciation and support for Titan baseball.
Players — past and current — also gathered to honor legendary coach Augie Garrido, who established the powerhouse Titan team and led it to four College World Series wins. A statue of Garrido was unveiled the next morning in front of the nearly completed $15 million renovation of the baseball facility.
The event raised more than $125,000 for the baseball program and also highlighted the strengths of current head coach Jason Dietrich, entering his first year at the helm of Titan baseball.
"Coach Dietrich personifies not just Titan baseball but the mission of the entire university," said President Fram Virjee in his opening remarks. "Our players are known for outworking, outhustling and just plain out willing everyone else to succeed … to get to Omaha, yes, but more importantly to get every student athlete to our commencement stage. They serve as well-educated community leaders, social justice champions, members of our future workforce, and, of course, better people."
That includes the 71 Titan baseball players who made it to the MLB. Among those attending the event included Phil Nevin, Tim Wallach, Michael Lorenzen, J.D. Davis and Jason Winder.
Titan baseball has produced 116 All-Americans, three Golden Spikes Award winners (Phil Nevin, Tim Wallach and Mark Kotsay), and 15 first-round draft picks.
Phil Nevin, one of those first-round draft picks who, in 1992, was the first player selected in the major league draft (going to the Houston Astros), served as keynote speaker. Nevin also earned the title of Baseball America's Player of the Year in 1992, participated as a member of the U.S. Olympic team and played 12 seasons (1995-2006) in the major leagues. He is currently serving as third base coach for the Los Angeles Angels.
"Throughout the industry, Cal State Fullerton baseball represents success, excellence and a dynasty," he told the crowd. "When players would meet the new guys at the batting cages, we'd ask them what school they were from. Whenever we heard, 'Cal State Fullerton,' you could see our eyebrows raise up a bit, followed by an 'Oooohhh.' We knew these guys were going to be good.
"When I heard that Jason Dietrich was chosen to serve as head coach, I congratulated him and he told me that he'd like to see the alums more involved," Nevin said. "I thought that was pretty meaningful. I remember when I was a freshman, I'd see Tim Wallach kicking it in the cage and that meant a lot to us. Those were teaching moments and as alums, we're going to get back to that."
Nevin also described what it was like to be coached by Augie Garrido.
"College years are impressionable times," he said. "It's important to have great leaders around and that's what Augie was. I remember at the College World Series in '92, we were up against Pepperdine in the final game. We had played a late game the night before but we were pumped because we knew we were going to beat Pepperdine — we'd beaten them before. And then we lost, 3-2. We were so upset. A lot of the players were crying.
"Augie came in and said, 'This day will define you for the rest of your life. You can move ahead or focus on a loss.' If you look at the players from that team today, many of them are successful businessmen, heads of companies, two pastors, active in their communities. What we perceived as failure helped make us better people.
"Because of Augie, we learned how important relationships are. Our teammates became our friends for life. We are all members of the Titan family. It doesn't matter what era you played in, if we never played together — we are a family. That's why I'm excited to be around Cal State Fullerton baseball. Go Titans!"