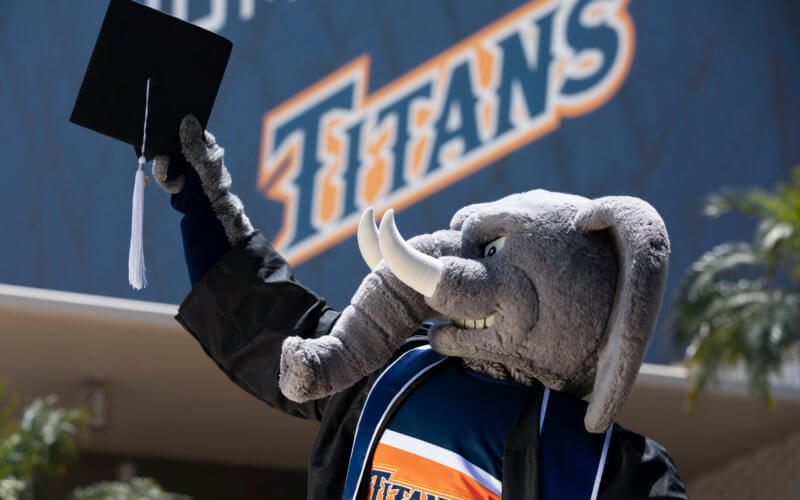 The Office of Financial Aid is quickly distributing state and federal emergency funds so students won't have to pause their graduation dates during an ongoing pandemic.
946. That's the number of students who were able to continue their education at Cal State Fullerton this spring despite fears of disenrollment due to a lack of funds to sufficiently pay down their balances in time for the spring payment deadlines.
Through the efforts of dedicated staff members in the Office of Financial Aid, one-time discretionary funding was used to help pay down these balances so 946 students could continue their progress toward graduation.
"Ensuring support and resources for students who may not have the financial means to continue their education is the goal of Cal State Fullerton, and our job is to secure any available funding to help them complete their education," said Jessica Barco, director of financial aid. "We used almost $3.6 million in one-time discretionary dollars to pay down spring balances."
The example above tells only part of the story. The Office of Financial Aid has a team dedicated to supporting and meeting student needs. They work and collaborate with partners throughout campus to better serve students. Under the leadership of senior administrators, they strive toward persistence and retention for all students.
To help support student success, the Office of Financial Aid continues to provide additional resources throughout the pandemic. This includes consideration of additional potential funding for students whose income was affected by the pandemic. Recently, the department also issued $700 grants to almost 3,100 students as part of a California Emergency Grant one-time funding issued under the Budget Act of 2021. The first round of $2.1 million was awarded on Feb. 2. There was also $118 million awarded and disbursed in federal, state and institutional financial aid to more than 23,000 students on the first disbursement of spring, in time for the spring payment deadlines in January. In early March, students who were new to CSUF in fall 2021 will have received $11 million through the Higher Education Emergency Relief Funding III.
"It is critical for many students to receive financial aid to progress to degree completion and pursue their dreams," said Barco. "Dispersing funds is only part of our job. We also focus on serving student needs and getting the word out to students that funding is available."
This is accomplished through a wide range of programs — workshops, webinars, information available through the financial aid website (such as "Ask Questions," an electronic ticketing system), in-person and virtual counseling and services (Monday through Friday), Instagram updates and more.
"We care for our Titans and want them to be able to earn their degrees. We work with them to help locate funding sources that will alleviate some of their financial burdens," she said. "Despite the extensive impact of the pandemic on our operations, we are committed to meeting the needs of our Titans so they can focus on their studies without the additional stress of trying to figure out how to pay for their university expenses."
For more information on financial aid, visit the Office of Financial Aid.