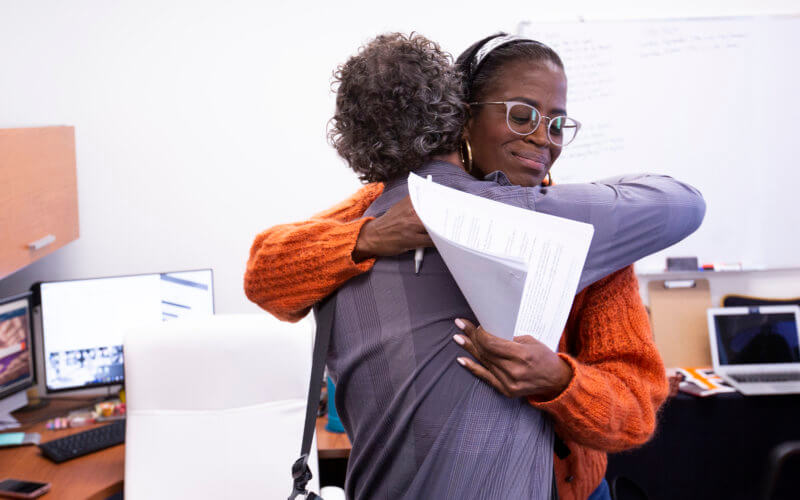 Earlier this month, two staff members from Cal State Fullerton's Project Rebound program, which offers support to formerly incarcerated students, received phone calls that would change their lives.
"I had just left a staff meeting and was taking a five-minute break when my phone started ringing," said Mir Aminy. "I didn't recognize the number but in my job as an enrollment specialist for Project Rebound, I get calls from potential students throughout the state. So I answered it."
The caller happened to be Governor Gavin Newsom. The executive clemency (pardon) Aminy had applied for had just been granted and the governor would be making a public statement in about an hour.
"At first I didn't believe it," said Aminy. "I thought someone was playing a prank."
Aminy's supervisor, Romarilyn Ralston, the program director of Project Rebound, had also been pardoned. When she received the phone call, she also didn't quite believe it at first.
"I had submitted an application for clemency in 2019 and received notice in January 2020 that it had been received," she said. "But then COVID hit hard and the world seemed to come to a halt."
Periodically Aminy and Ralston would hear that their cases were still under review. And time dragged on.
A Pardon for Mir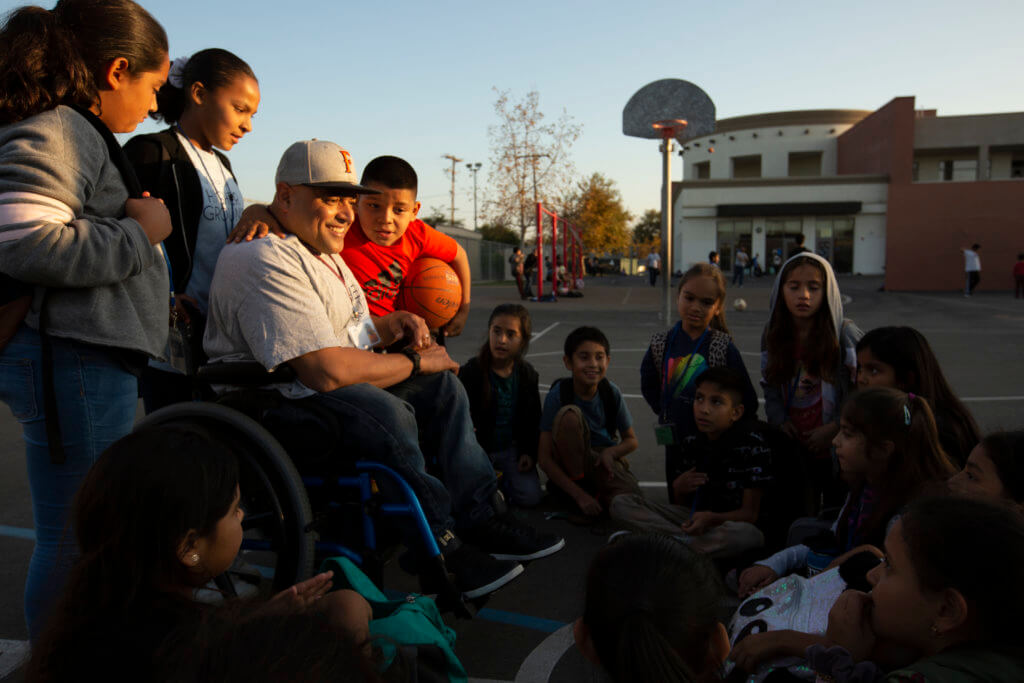 One month after Mir Aminy graduated from high school, he was arrested and sentenced to 18 years in prison for his involvement in a shooting between rival gangs. He would serve 16 years.
He also knew he would spend the rest of his life trying to make up for a terrible crime he committed as a young man.
Even after his release from prison, Mir had many obstacles to overcome. Using a wheelchair since he was a child, he couldn't apply for many of the jobs where formerly incarcerated men tend to find work — physical labor.
"Many individuals released from incarceration get steered into work in construction, driving forklifts, working in warehouses," Aminy said. "Because I'm in a wheelchair, those weren't options for me."
Instead, Aminy signed up for community college classes and eventually decided to attend Cal State Fullerton.
"The community college I attended was much smaller and my transition wasn't easy," said Aminy. "When I found Project Rebound, I had a sense of belonging.
"Not only are we 'nontraditional' students … we are the nontraditional of the nontraditional students," he continued. "Many of us spent years or decades in prison. We are parents. We've been out of school. We haven't lived in society … and because of our convictions, we lose out on employment and internship opportunities. There are a lot of pathways we simply can't pursue."
But, despite these issues, Aminy's biggest concern was that he wasn't a U.S. citizen. His parents immigrated from Afghanistan to America when he was two years old. The threat of deportation was real.
Aminy always thought of himself as American. English is his native language and America is the only home he's ever known. In fact, almost all of his relatives immigrated to America, too.
"After 16 years in prison, I kept thinking that now I'd be languishing in an immigration jail for years or sent to a dangerous country I didn't know. I still wasn't free. As you're probably aware, Afghanistan isn't really a safe place for Americans or those who help Americans," he said. "I have no memory of the country; I have no family or friends there to help me. Because of my disability, life in Afghanistan would be very difficult for me."
With clemency granted, he can now continue to move forward in gaining full citizenship. He'll have access to more employment opportunities, internships and licensures and be truly free without the threat of deportation looming over his head.
"I know this may sound strange, but to me, that piece of paper with my pardon means redemption," he said. "I see it as society saying 'We forgive you and acknowledge who you are becoming.' I live with regret every single day. I am ashamed of what I did many years ago and … this pardon allows me to heal and live up to my full potential."
Aminy will be graduating with his master's degree in counseling this May and plans to pursue his doctorate shortly after. In addition, he has mentored school children from underserved communities at Higher Ground, an after-school program. He dotes on his three daughters and his wife … as he tries to serve as an example of what is possible to other Project Rebound members.
Clemency for Romarilyn
"I truly appreciate the role higher education has played in my life," said Romarilyn Ralston. "I like the analogy of a caterpillar turning into a butterfly. I was a caterpillar and Cal State Fullerton offered me a safe place to cocoon. You go through all these transformative experiences and develop … and when you're ready, the university launches you into the world as a beautiful butterfly. With my pardon, I am now free to continue creating the world in which I want us to live."
Since 2016, Romarilyn Ralston has served in two roles — as program coordinator and then program director and co-chair of the CSU Project Rebound Consortium Policy and Advocacy Committee.
While serving time in prison for 23 years, she earned college credits and worked with Chaffey College. After her release, she earned a bachelor's degree from Pitzer College and a master's degree in liberal arts from Washington University in St. Louis prior to joining the Titan family.
After she received her call from the governor who granted her executive clemency, she did a "happy dance" … then froze.
"I started crying," she said. "I began to text friends and family, then called Brady (Heiner, executive director of Project Rebound) and said, 'I don't know what to do with this information.' His response was 'You can do whatever you want.' And for the first time since 1988, I felt like that was true."
Ralston vowed to spend the rest of her life trying to create a life that is meaningful and of service to others.
"I don't believe one should hide in the shadows because they committed a crime, and I refuse to allow my past to hold me hostage any longer," Ralston said. "My youth was a very bad chapter in my life. In my work, I tell people, 'You are more than one chapter or one situation in your life. Take the opportunity to do better.'"
So that's exactly what Ralston did.
"Education played a huge role in my life," she said. "When I hit the yard in 1989, I was introduced to college. I took my first college class in 1990 and fell in love with learning, continued to take classes, became a tutor to other inmates, helped create a GED program, took on leadership responsibilities and learned how to advocate for the women."
As part of her job in Project Rebound, Ralston helps develop policy advocating for the incarcerated.
"There are many misconceptions about people who are or have been incarcerated," she said. "The women I met in prison were survivors. Most dealt with so many different types of violence, under the most horrible conditions. The only information many people have is from the media and movies that project a specific stereotype. The women I met came from all different walks of life. Our experiences are all different. And we all deserve a second chance to become our best selves in spite of our past."
Since her pardon, Ralston feels differently about herself, too.
"I've been free more than 10 years but I never felt forgiven. The pardon did that. I worked really hard to show the community and my family that I am not my crime. I wanted them to forgive me. Forgiveness is very powerful and that's what my heart really needed. I struggled to forgive myself. But now, something has shifted in my soul. I can embrace forgiveness … and forgive myself."