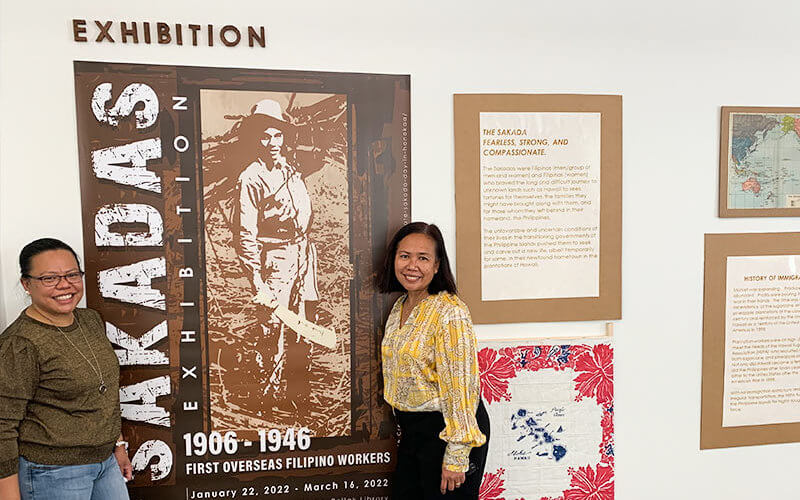 Every piece of history starts somewhere, but before storytellers can build connections to the past, they rely on the stories that they know best – the ones that live inside them. Cal State Fullerton student Andrea Jackson and alumna Eleonor Mapa Casey used personal cultural influences and narrative storytelling to bring two unique anthropology exhibits to life on campus.
"We Were There: Communities of Color in the Greater Los Angeles Area"
Location: McCarthy Hall, Fourth Floor Teaching Museum
Andrea Jackson enrolled in graduate school to study anthropology — a step in her educational career that she didn't ever think she would take because the road to receiving her bachelor's degree was longer than expected. However, she knew that she wanted to inspire people to interact with the history of their communities and the narratives that shaped them, and that dream led her to pursue her master's degree at CSUF.
To start, she dove into her own personal history for inspiration. As a second-generation Mexican and Guatemalan American, Jackson became interested in culturally diverse communities and how their narratives have been altered by social and political shifts.
Her exhibit showcases a condensed history of Los Angeles, focusing on communities of color, starting with Indigenous groups. She recounts the history of African Americans, Chinese Americans, Japanese Americans, Mexican Americans and Native Americans in the early 20th century in Los Angeles, and despite the brutality held within those histories, Jackson weaves in a note of hope for visitors.
"Andrea also highlights the strength, endurance, and perseverance of many of these folks and how they succeeded against all odds," said Barbra Erickson, coordinator of the Cultural Anthropology Program and anthropology professor.
While working on the exhibit, Jackson spent time speaking with people from different communities in order to find out how to best represent their narratives through artwork. The exhibit includes such cultural objects as photographs, clothing and memorabilia, some of which were lent to Jackson by interview subjects, as a means to present history through significant objects.
"I want to reinforce the idea that these are groups and peoples that are still present today. I really wanted to include these objects in my exhibit to tie modern residents to the history of the area in both time and physical space," said Jackson.
"Sakadas 1906-1946: First Overseas Filipino Workers"
Location: Pollak Library, Second Floor West Terrace
Eleonor Mapa Casey received her master's degree in anthropology in August 2021, but due to the pandemic, she wasn't able to curate an exhibit during her time at CSUF.
Casey worked in education and events management as an Overseas Filipino Worker, and drawing on that experience, she was inspired to return to CSUF to curate an exhibit that tells the story of Filipino workers who moved to Hawaii between the early 1900s and the 1970s, looking for employment opportunities.
After traveling to Hawaii to speak with people connected to plantations that were important in the early 1900s but have been gradually phased out over time, she curated an exhibition that documents the discrimination that Filipino workers faced in Hawaii, the success they found and the struggles that shaped their history.
The exhibition also explores the political and economic climate that set the stage for sugarcane and pineapple plantations to become hotspots for the recruitment of Filipino workers. The workers were recruited by the Hawaii Sugar Planters Association. Casey said that it's important to highlight the stories of Sakadas – also known as migrant workers – because their bravery and hard work created better opportunities for their descendants.
"I hope that the Filipino youth of today, especially those who study at CSUF, will look into the lives of Sakadas for inspiration, tenacity to persevere against all odds and the compassion to help those who need their help because that was what the Sakadas did," said Casey.
Both exhibits, though different in content, seek to explore the human condition with displays that prioritize people, personal narratives and community history.
"Now, more than ever, it is important for us as a society to remember life isn't about things, it is most importantly about people. How we treat each other, mutual respect and the human condition are of utmost importance … people matter," said Trish Campbell, exhibit committee chair and program coordinator for the Pollak Library.
The anthropological research that Jackson and Casey have curated will be on display through the end of spring semester.
To learn more about anthropology at CSUF, visit the department's web page.