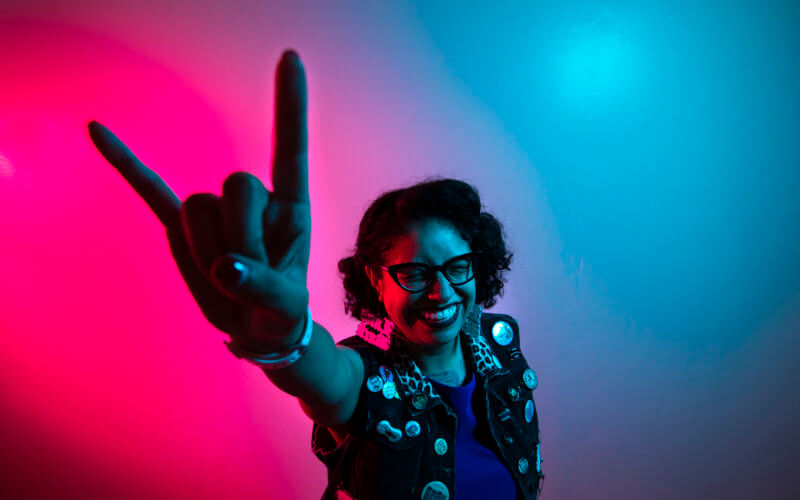 Marlén Ríos-Hernández is challenging the belief that punk music is made by and for white, cisgender men.
Ríos-Hernández publishes historical research that centers the queer Black, Chicanx and Latinx women and femmes who shaped Southern California punk in the '70s and '80s. Versed in ethnic studies and musicology, the Cal State Fullerton assistant professor of Chicana and Chicano studies says punk music was the "first language" of social justice and nonconformity for young women of color and LGBTQ youth, especially in Southern California.
"We (LGBTQ Black, Chicanx and Latinx women and femmes) have always been here," Ríos-Hernández said. "How our stories get told, and who gets to be heard, is what's different now."
Ríos-Hernández is also one of the founding members of PunkCon–– a biannual conference in Southern California celebrating punk scholars, activists, artists, musicians and communities since 2019.
Could you talk about why you do this work?
I came up in my own punk scene—and a predominantly brown one—in Southgate, California in the early 2000s. One of the things that really impacted me about that time—and still does today—is my punk scene gave me my first social justice language, or my first social justice lessons into activism and into feminism.
There were very big events that were happening during that time. Arnold Schwarzenegger was governor and was very anti-immigrant. You have the invasion of Iraq during this time. My brother was also deployed right after 9/11. I was starting to have a lot of sociopolitical questions at that moment. When I was going to backyard shows, all of those things collided in very beautiful ways. The goal with my teaching and research is to show those intricacies.
What does punk add to the study of Chicana and Chicano cultures?
Punk tends to really be seen as white. I cannot emphasize enough how cemented that is. Chicanx and Latinx communities don't see themselves in the Sex Pistols. Students might think "It's gonna be a while, unfortunately, before we find the one band that sounds like me." My hope is that I'm part of that journey with students to say, "Oh, no, let's expedite that process a little bit." All these bands are great, but there's been other Chicanx, Latinx or Afropunk bands that also exist. They just, for whatever reason, are not highlighted as much.
What I bring to the table for this department and for students who are interested in pursuing this kind of work is that Chicanxs were there. In a discipline like Chicana and Chicano studies, we often think about youth subcultures that are musically inclined as the Zoot Suit Riots of the 1940s. While that was also a very horrific time for a subculture that was brutalized by LAPD and law enforcement, not that long after you have the same things happening to punk youth who are also Chicanx and Latinx identified.
Then, there's the importance of subversive arts in Chicanx and Latinx communities. Especially in Mexican or Latinx culture, you're going to have what we call roquero, or rocker, family members. So much of our culture is arts oriented. My work shows how subversive music has an ancestral path to our histories.
You study the influence of Alicia Armendariz, the East Los Angeles punk singer known as Alice Bag. Are there other Chicanx punk artists who don't get enough recognition?
Yes, someone I think about a lot is Michelle Gonzales, drummer for the East Bay Area feminist punk band Spitboy. There's also Teresa Covarrubias, singer of the Chicanx punk band The Brat out of East Los Angeles. There's also the punk musician and producer Lysa Flores from East Los Angeles.
Are there lessons from the punk movement that can be applied to social justice movements in 2022?
These women understood what it's like to belong in a space that is so feminist and political, yet also maintains patriarchal structures that need to be called out consistently. Women and femmes in punk like Alice Bag have all done something to retell their narrative. They've all done something to put out their own stories, put out their own archives and they've certainly gone out of their way to correct the mistakes of other historical accounts. They put their books out. They did interviews. They all did something to set the record straight. It's not enough to exist in the periphery because they bring so much to the table.
What makes PunkCon different from other conferences?
From what I understand, there aren't any other recurring academic conferences that are all about punk. Where I got my biggest inspiration for this was actually the Womxn Who Rock Community Research Project run by University of Washington professor of gender, women and sexuality studies Michelle Habell-Pallán. Women, queers and people of color who are into punk or alternative scenes just want to find each other and gather in a safe space. We (PunkCon organizers) are also from the punk community. We're not looking at punk from an "outsider-in" perspective, where we have no stake in what happens. We certainly get and have received pushback for hosting this conference, but we really indulge in that tension because that's what makes punk so unique. If a space is curated correctly, everyone gets to be heard.