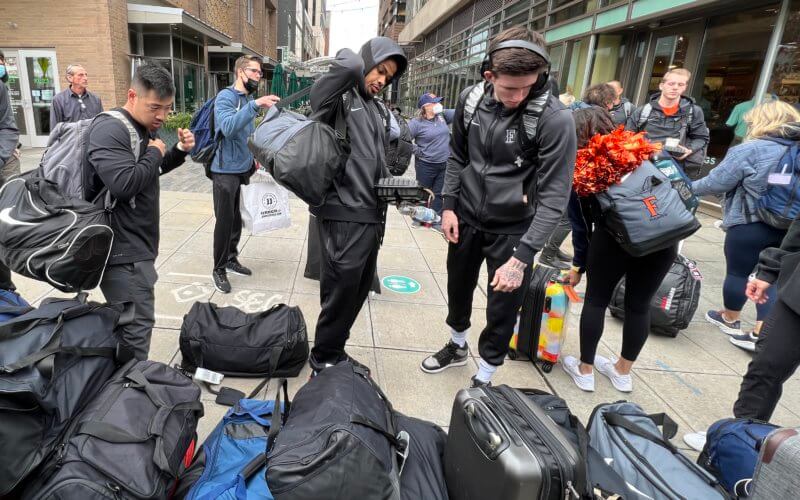 Check the suitcases, load up the backpacks, and get comfy because the Cal State Fullerton men's basketball team is traveling to Greenville, South Carolina, to play the Duke Blue Devils in the first round of the NCAA Championship.
The team posted a winning record of 21-10, were crowned the Big West Tournament champions after defeating rival Long Beach State in a pressure-packed game last week, and they punched their ticket to the NCAA tournament for the first time in five years.
The team, an entourage of coaches, support staff, Titan cheerleaders, dance team members, and, yes, even Tuffy had an early morning sendoff Wednesday from Titan Gym as a few die-hard fans wished the team well, including President Fram Virjee and Julie Virjee.
"We are very proud of you guys," said President Virjee, who will attend Friday's game at Bon Secours Wellness Arena, before a campus police escort led the team bus out of the parking lot. "Go, Titans!"
For many of the travelers, the day was all about being in the moment.
"This is historic," Coach Dedrique Taylor said while the team boarded the bus at Titan Gym. "I'm excited for the community, the school, and these guys. This is what they worked for, and I want them to appreciate the moment."
Taylor is the first coach in program history to lead the Titans to the NCAA Tournament on two separate occasions. He is also the first coach to have two 20-plus win seasons and the first to have 10- plus conference wins in four different seasons.
What will it take to stop Duke and end coach Mike Kryzyzewski's legendary career?
"You don't win 21 games by accident," Taylor said. "We will be ready to rock and roll on Friday."
Guard Latrell Wrightsell, Jr. said travel day means the team gets to play together one more time, before the perform on the biggest college basketball stage.
"I'm just happy to be here. It's a blessing, and I can't thank God enough," Wrightshell said. "I'm ready to get this opportunity started."
As a cheer squad member, Megan Buelna was on the sidelines rooting for the men's basketball team during its 20-plus win season and the Big West tournament championship. Six cheer members and six dancers are on the trip.
"It's extra special to be part of this," Buelna said. "Since it's so far away, not many fans get to go watch … I'm very proud of this team."
Gwen Leija, athletics business manager, has been looking forward to this travel day for nearly 11 years.
"Days like today are what is so great about athletics and being part of the university," Leija said.
And as the plane landed on a drizzly Wednesday day in South Carolina, the weather did not wash away the broad smiles and hope for these traveling Titans.