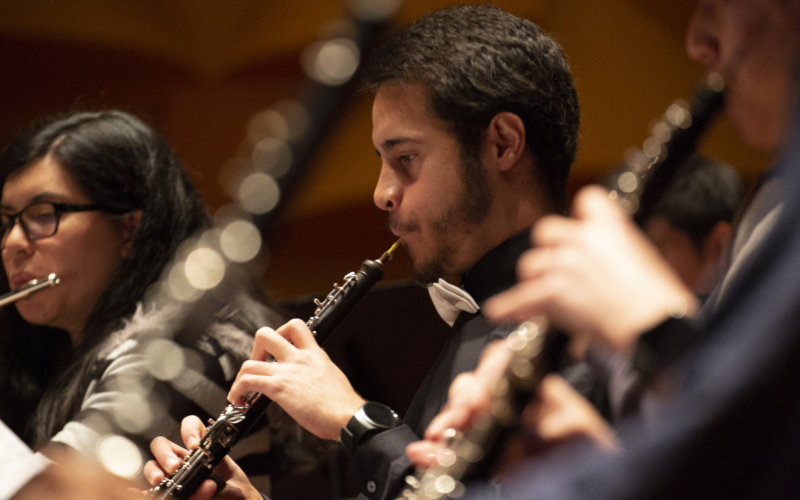 Years of playing the oboe, overcoming obstacles and perfecting his musical craft have finally paid off for Cal State Fullerton alumnus Jesus Ramos. He recently landed a prestigious English horn position with the Puerto Rico Symphony Orchestra.
In 2017, just as Ramos was applying to graduate school, Hurricane Maria devastated his home in San Juan, Puerto Rico. He went weeks without power and reaching out to universities became impossible. When he was finally able to do so, the oboist learned that deadlines had passed. Yet, Ramos refused to give up.
He followed up with Rong-Huey Liu, who leads Cal State Fullerton's School of Music oboe studio, and she empathized with the struggling young scholar, wanting to help. Knowing his talent and promise from previously working with him at an international chamber orchestra, Liu mentored Ramos, guiding him through the Master of Music graduate program and his musical journey.
"He doesn't give up, and he is always finding solutions, no matter how difficult the situation is," said Liu.
After applying to CSUF, Ramos received the Jeffrey and Andrea Sward Scholarship for Double Reeds, endowed annually by Jeffrey Sward '75, '76, '78 (B.M. music, B.A. mathematics, M.M. music-performance) and his wife, Andrea '73, '75, '77 (B.A. psychology, M.S. library science, M.S. education-reading). Ramos credits the School of Music for supporting his dreams and teaching him invaluable skills like time management and healthy competition that musicians need to be successful professionals.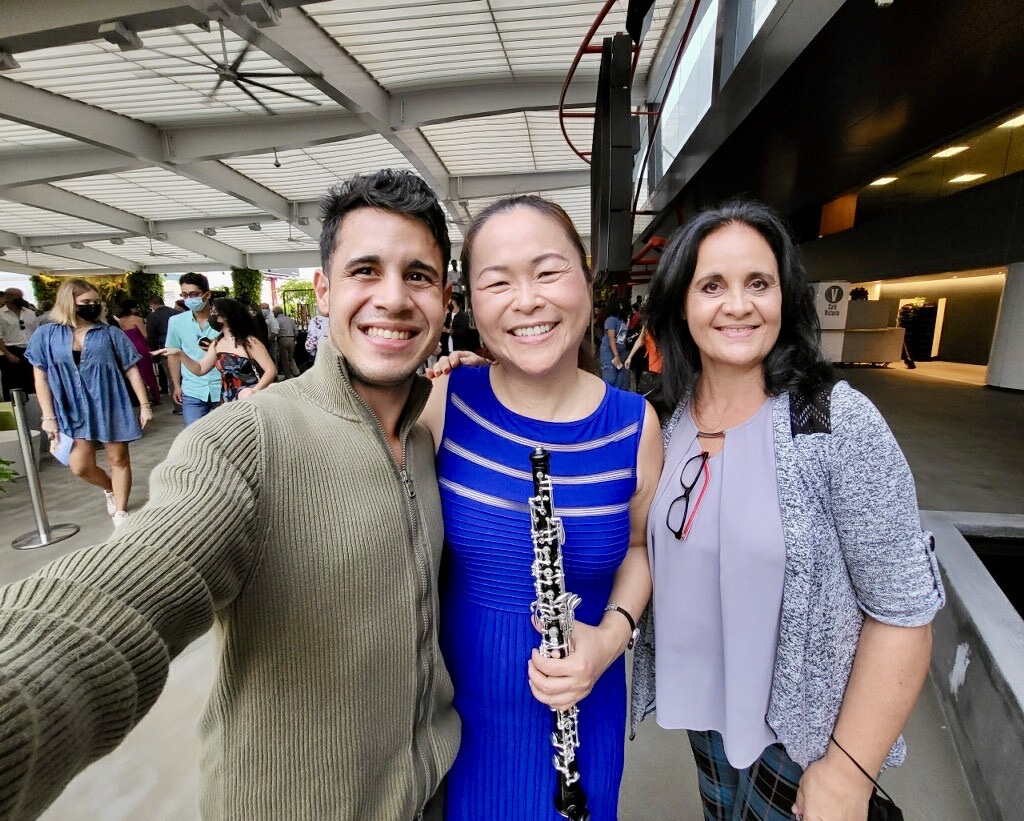 After graduating with a Master of Music-performance degree in 2020, Ramos set off into the world to pursue his passion for playing music. With the help of CSUF's music program and his experience playing with numerous orchestras, composing music and teaching oboe, he landed a position with the Puerto Rico Symphony Orchestra.
"My position with the Puerto Rico Symphony Orchestra is for the oboe and English horn," said Ramos. "I am responsible for playing second oboe and the English horn for the symphony's weekly concerts in addition to participating and teaching in some of the social and educational programs the symphony offers."
"To win any orchestra job is one of the hardest job interviews in the world," explained Liu. "All classical musicians are trained as Olympic athletes, spending countless hours, months, years to perfect our crafts. In five minutes of time, it determines your life path."
Ramos offers this advice to Titans musicians who want to achieve success:
"Be passionate, hardworking and unwilling to give up. Nurture the relationship with your professors and mentors, take all the opportunities you can and surround yourself with supportive people who want you to succeed. Believe in you!"
As Ramos looks back on his accomplishment, he thanks CSUF for its support.
"CSUF provided me with a great music education and an immeasurable support network," said Ramos. "The experiences I got from playing in the orchestra, band, chamber music and my incredible oboe professor, Rong-Huey Liu, have shaped me into the musician I am today."
Visit the School of Music website for more information.