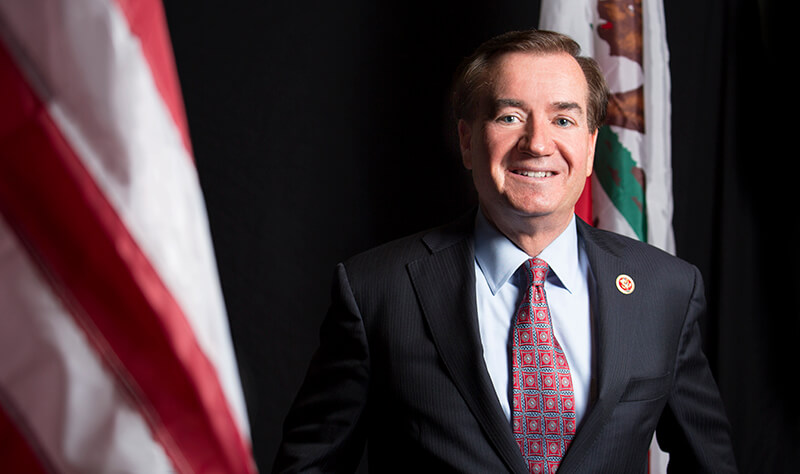 Former U.S. Representative Ed Royce '77 (B.A. accounting, finance) and other distinguished guest speakers will speak on campus Tuesday, April 5 about foreign policy challenges with a focus on Russia and China currently affecting the United States. 
The half-day symposium, which will begin at 1 p.m., features both foreign policy and academic experts. This free event will be held in the Titan Student Union. Parking in Lot A is $10.
Representing California's 39th Congressional District from 1993 to 2019, Royce served Orange County for more than 25 years. He also served as Chair of the House Foreign Affairs Committee from 2013-19. Royce will provide brief remarks and serve as a panelist.
The keynote speaker is James Jay Carafano, vice president, Foreign and Defense Policy Studies, at the Heritage Foundation. A graduate of the U.S. Military Academy at West Point, Carafano served 25 years in the U.S. Army, retiring as a Lt. Colonel. He holds a doctorate from Georgetown University as well as a master's degree in strategy from the U.S. Army War College. His recent research has focused on developing the national security required to secure the long-term interests of the United States.
Those who will also speak on panels are UC Irvine Professor Heidi Hardt, UC Riverside Professor Paul D'Anieri, Eric Gomez, director of defense policy studies at the Cato Institute, CSUF Assistant Professor David Traven, and CSUF Professor Alexei Shevchenko.
Hardt's research examines transatlantic security, European security, defense and international institutions (including NATO, the European Union and the Organization for Security and Co-operation in Europe).
D'Anieri's expertise includes extensive research focusing on the relationship between Russia and Ukraine.
Gomez's expertise focuses on nuclear deterrence, strategic stability and the impact of conventional military strategy on nuclear escalation, with a regional focus on East Asia.
Travin's research interests are in international relations, specifically the law and ethics of armed conflict.
Shevchenko's research includes international relations theory and Russian and Chinese foreign policy.
For more information, visit http://www.fullerton.edu/roycesymposium/