A baby with a brain tumor, a patient with acute appendicitis and 11 orphans at risk for human trafficking — these are a few of the Ukrainian refugee cases Dr. Eric Hargis '08 and his team have seen in recent weeks at the U.S.-Mexico border.
Hargis has been serving as the medical director of a grassroots clinic in Tijuana, providing aid for hundreds of Ukrainian refugees escaping war in their homeland. The refugees are attempting to reach their families in the U.S. through the southern border, where it has been easier to obtain a visa.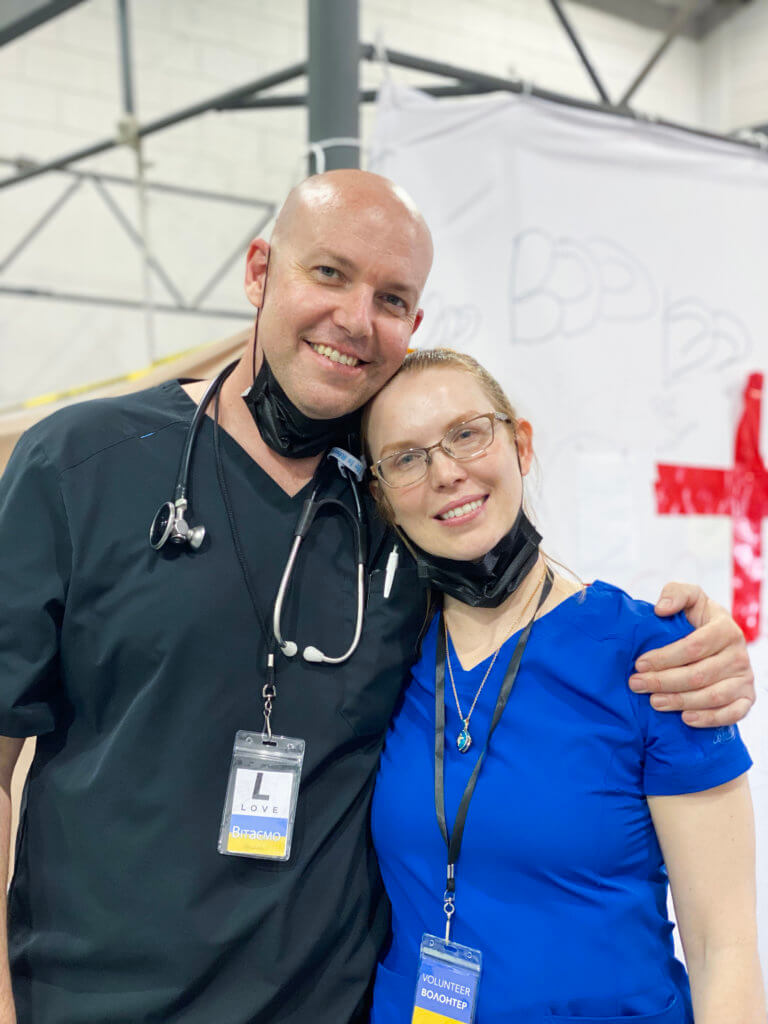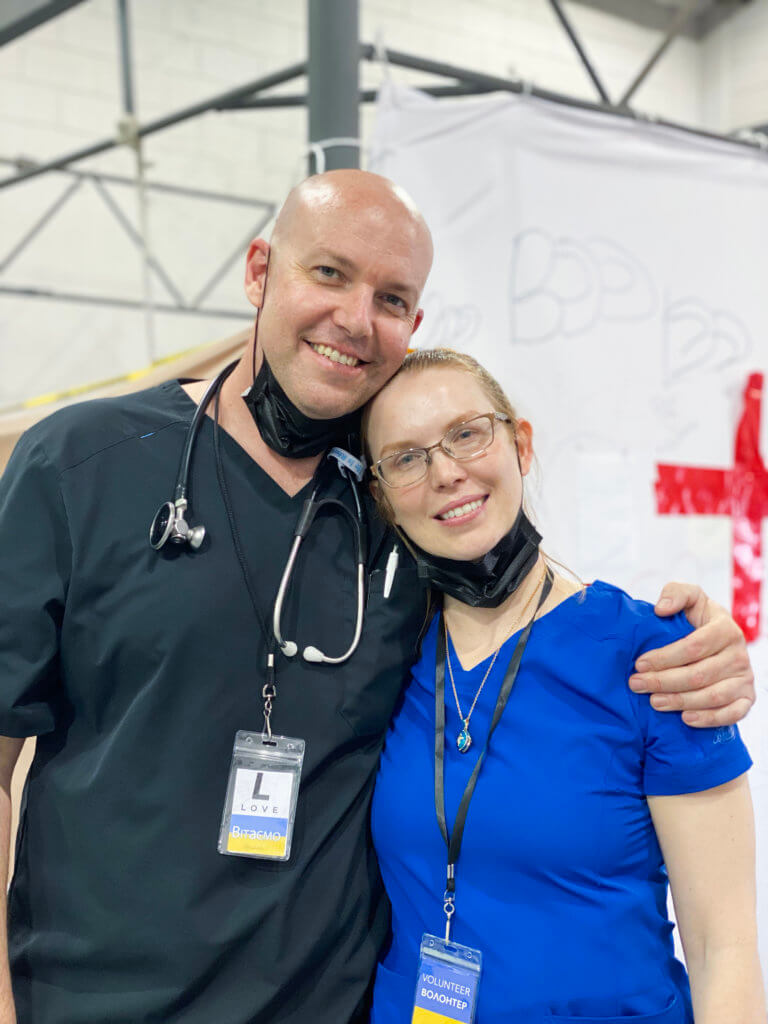 The Cal State Fullerton alumnus and his wife, Christina Hargis '10, both earned bachelor's degrees in health science before pursuing careers as a doctor and physician assistant, respectively. The couple initiated the clinic in Tijuana after learning that Ukrainian refugees were in need of medical care.
"At one point, the wait time for entry into the U.S. was up to four days," said Hargis. "We were having a pretty serious medical emergency every day.
"A lot of these people left Ukraine with whatever they had in their pockets and whatever they had on their bodies. Some of them have chronic medical issues and have run out of medication while being on the run for a month. Others have gotten sick while traveling, and dehydration is a big problem," he added.
"We also have unique challenges to think about, like human trafficking, because we're dealing with an extremely at-risk population — 40% of whom are children."
Building a Clinic From the Ground Up
When Hargis arrived in Tijuana in late March, he found a pop-up tent with first-aid kits, a bottle of Tylenol and a couple of volunteer nurses. He immediately went to local pharmacies and started buying supplies.
The mayor of Tijuana donated a boxing gym to establish the clinic and Hargis stepped up to lead the effort, responding to some 300 messages a day ranging from logistics questions to patient emergencies.
In a matter of weeks, the clinic secured examination tables, a wide range of over-the-counter and prescription medications, and other emergency medical supplies. The clinic has conducted physical exams, pregnancy checks, fetal heart monitoring, and the management of acute and chronic illnesses. It has also operated as a 24-hour urgent care — staffed by more than 130 rotating medical volunteers.
Hargis and his team developed partnerships with the medical community in Mexico, U.S. Border Patrol, and such humanitarian agencies as the Mexican Red Cross to provide ambulatory services and expedite medical emergencies.
"If we weren't there, Ukrainians would have been waiting for days on end for medical care," said Christina. "They already have so much trauma from what they've experienced in Ukraine."
At the clinic's peak, approximately 80 patients were seen per day. The clinic will soon shut down operations with the implementation of President Joe Biden's new "Uniting for Ukraine" program, which aims to streamline the visa process for refugees entering the United States.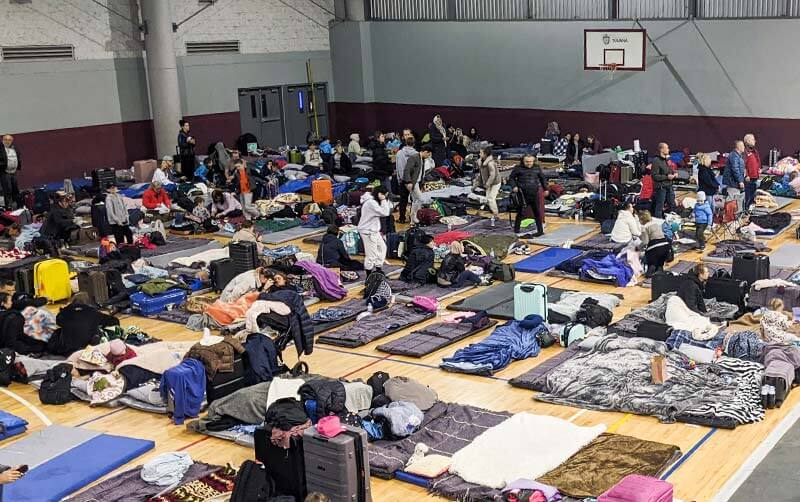 "It's compelling," said Hargis. "You see mothers with their infants sleeping on the floor in a gym and you see the looks on people's faces. You can tell that they haven't been treated like human beings. Their dignity and their humanity have been stripped away.
"One of the really important parts of our mission has been to return that dignity and to treat our patients with great care."
Pursuing Careers in Health Care
Before becoming a double-boarded physician in family and addiction medicine, Hargis recalls scoring a 37 out of 100 on a Cal State Fullerton organic chemistry test and thinking he wasn't going to be a doctor. Panicked, he went to his professor who said, "Thirty-seven is pretty good!"
"That's how steep the curve was," explained Hargis. "I can tell you now that I know a lot of physicians who went to a lot of different schools — and coming out of CSUF, I was as prepared as anybody else."
Leading a hands-on laser research project was one of the highlights of Hargis' undergraduate experience, while Christina remembers traveling to the U.S.-Mexico border twice with the Flying Samaritans club to assist in volunteer-led medical clinics.
"Having exposure to a variety of experiences while I was at Cal State Fullerton was the most helpful for what I'm doing now with my career and as a medical volunteer," she shared.
The couple also credit Laura Chandler, assistant professor of public health, for encouraging their career aspirations.
"She was always there if you needed support or a cheerleader," said Hargis. "She made you feel like all things were possible."
Giving Back to a Personal Cause
"I don't think any person with a soul can look at the images we're seeing come out of Ukraine and come away unaffected," said Hargis.
"The State Department's decision this week to change the visa process took us all by surprise," said Hargis. "We are working with our partners to help them transition to the new reality, but that means the clinic in Tijuana is closing in the next week. It's hard to see what the future holds, but I'm proud of the work we have done and the hundreds of patients we have served in our clinic."
With the clinic closing, supplies will be donated to Mexico City to help Ukrainian refugees and to humanitarian organizations in Tijuana working with refugees.
For Christina, who is Ukrainian American, getting involved in the clinic has helped her cope with the devastation she sees abroad.
"It has been so cathartic to help fellow Ukrainians who have escaped the war by providing medical care and making their transition to the United States easier," she said.
"Ukraine will never be the same: It will be tainted with all the casualties of war and the destruction of its beautiful cities. That will never fully ever go away," said Christina. "But Ukrainians are strong and resilient — I'm trying to stay as hopeful as I can."