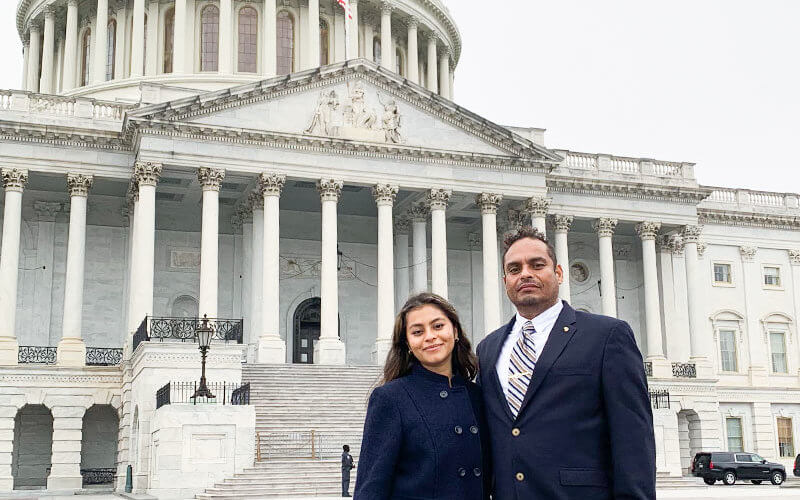 The Cal State DC Scholars program has given hundreds of Cal State Fullerton students access to the nation's capital since 2006. Until now, the program has never seen two students from the same family.
During her junior year of high school, Kamille Morales traveled to Washington, D.C. for the first time to visit her father, Joseph Morales, who was interning for the Cal State DC Scholars program.
Although disinterested in the family trip at first, she quickly became invested after seeing her father working in Congress, in addition to one of his female cohort members who was interning for then Sen. Kamala Harris (D-CA).
Returning home, Kamille Morales set her sights on attending CSUF and becoming a DC Scholar herself. The political science junior is now one of 15 students interning in Washington, D.C. this spring at congressional offices, advocacy groups, nonprofits, executive agencies and business groups.
"One of the great things about the Cal State DC Scholars program is the breadth of students it serves — any major, any age and any interest," said Meriem Doucette, associate professor of public administration and interim director of the program. "Joseph Morales came to speak with the spring cohort of students about the impact the program had on his career. Although we frequently bring in alumni, we've never had one also be a parent of a current student."
In 2018, Joseph Morales '18 (B.A. criminal justice) interned for then U.S. Rep. Darrell Issa (R-CA), who oversaw California's 49th Congressional District including portions of northern San Diego County and southern Orange County.
"It was meaningful for me to represent the district where I'm from, which included the city of San Juan Capistrano that welcomed me after retiring from the military," shared Joseph Morales. "In one of my first meetings, the issue of base housing for military families came up.
"As a veteran, I was deeply touched because I too once lived in base housing and understand the problems these families face. I submitted my research to the staff, but unfortunately my internship was too short to see the outcome," Joseph Morales continued.
Following in her father's footsteps, Kamille Morales is also interning with California's 49th Congressional District office. She corresponds with constituents via letters and phone calls and conducts research on key issues.
"My congressman was working on a bill in which I had to look up Veterans Affairs hospitals to see how many were named after men compared to women," explained Kamille Morales. "President Biden ended up signing this bill to name a VA hospital after a woman of color. Knowing I had a hand in putting that together was so rewarding."
For Joseph Morales, being in the nation's capital was an eye-opening experience.
"The DC Scholars program has shown me that the government needs the people," said Joseph Morales, who now works for the United States Department of Justice.
Kamille Morales credits the program for reinforcing her future goals.
"Hearing the different stories of fellow CSUF alumni who have gone through the program has really empowered me," she said. "Some of them are working in Congress alongside people who come from distinguished schools. As a woman of color attending CSUF, it gives me confidence knowing I can be in their shoes one day.
"I also have to give credit to my dad because he put himself through college as an older adult and broke down barriers in pursuit of his goals, which has been very inspiring to watch," added Kamille Morales. "He told me to take in as much I can in Washington and appreciate the work that goes into building democracy, and I'm planning to do just that."
To learn more about or apply for the Cal State DC Scholars program, visit the program webpage.