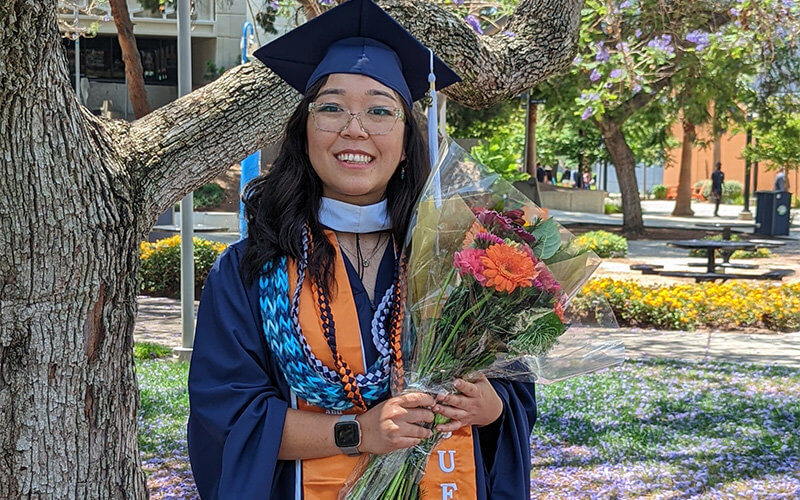 Michelle Okawa, M.A. American studies
Scholar George Lipsitz once said, "I stumbled into American Studies the way most people do, by accident."
For many of us here in American Studies, this quote resonates deeply. Some of us discovered American Studies while fulfilling a GE requirement. Many found an exciting course while browsing the catalogue. (I mean who wouldn't want to take on American Monsters?) And, for others like myself, we decided to try something new by jumping in from a different field.
No matter how we stumbled into American Studies, it is the warmth and support from our faculty and our peers that caught us along the way. And now, on this day of commencement, it is NO ACCIDENT that we are here. It was through our hard work, dedication, resiliency, our struggles and our successes that made it possible for us to be American Studies graduates.
During my time here as a graduate student, I've had the pleasure of serving as a co-editor-in-chief of our department's student-run journal, "The American Papers." I've twice served as a teaching assistant, delivering guest lectures on Japanese American Beauty Pageants and Techno-Orientalism in Popular Culture.
As I reflect on my time here, the first thing that comes to mind is not so much these achievements that look good on paper, but rather the incredible people I have met along the way. My American Studies peers — the ones you see here sitting before you — have built and sustained a community, and I wanted to briefly highlight what they have done.
Last month, the American Studies Student Association organized a completely virtual, weeklong conference that offered students a space to present original work on incredibly personal topics. The American Papers editorial board spent the entire summer evaluating student submissions for publication. And, just a few weeks ago, students experienced the excitement of seeing their work in print for the first time.
All of this was accomplished by American Studies students, many of whom work full time and take care of family members, which was made all the more challenging during the pandemic.
I am so proud to be an American Studies graduate. And, I think I speak for all graduates when I say: Thank you to the department for welcoming us into a space where we could flex our academic and creative capabilities while being unapologetically ourselves. Thank you to our families and friends for supporting us throughout our academic journeys.
And, to my fellow graduates, thank YOU for making American Studies a home where we could all learn and grow together.