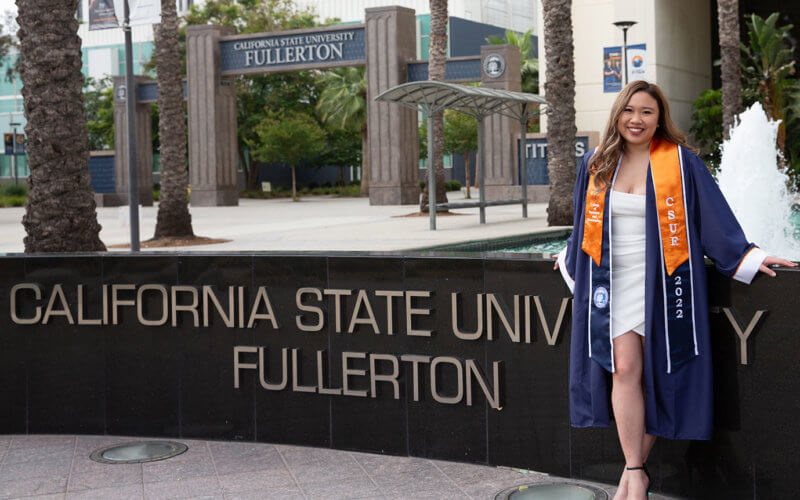 Vivian Yenson, B.A. business administration
Class of 2022, as we turn the page and enter this next chapter in our lives, we start a new beginning with unlimited possibilities. But before we take this next step, let's reflect on the lessons we've learned, the memories and priceless friendships we've made, the laughs we shared, the tears we may or may not have shed over our accounting exams, and who can forget about the parking tickets we got when we were running late to class and parked in the faculty lot (not that I know from experience or anything).
So much has changed since the first day when many of us first stepped on campus in fall 2018. We survived a pandemic with countless variations, gas prices skyrocketed, our campus finally got a new parking structure and most importantly we survived a boba shortage with no casualties. (I know I'm shocked, too.) We are an incredibly unique class who started college in person, spent almost half of our time in college online and came back as seniors. Despite all this, we are still here today and ready to graduate so let's give a big round of applause for the Class of 2022.
As freshmen, one of our first struggles was to find a spot to park on campus. As sophomores, we were settling into a spot we liked on campus, getting involved in organizations, making new friends and new memories until we heard about an extra-long spring break we were going to have because of this little sickness called COVID-19. Little did we know, we'd be spending our next year, meeting each other through computer screens back at home, waiting for our professors to find the unmute button while other students couldn't seem to find the mute button.
Our class routine became waking up, joining Zoom, heading back to bed and waking up when the professor asked, "Did you have any other questions?" because you were the last student who hadn't left the Zoom. (I'm kidding, I promise.) This year, we finally came back to campus. Some stepped on campus for the first time during their very last year.
A shout out to all my amazing transfers here today. Our college experience may have been one of a kind, but it shows our resilience. When we see challenges like the ones we faced, we take them head on because we are capable, we are adaptable, we are strong, we are Titans. Although we may be leaving the university, we carry the lessons that we've learned at CSUF that have made us stronger and ready to take on the world. As you turn your tassel, throw your cap in the air and celebrate this joyous occasion, never forget that "It Takes a Titan" to overcome the obstacles you've faced these past few years. Even if you don't know what road lies ahead of you or if you're scared about what your future holds, remember "It Takes a Titan" to get where you are today, conquering all these challenges and changes. Although you may not have control over changes that may come your way, remember you are capable of dealing with the toughest times and being successful because you are a Titan!