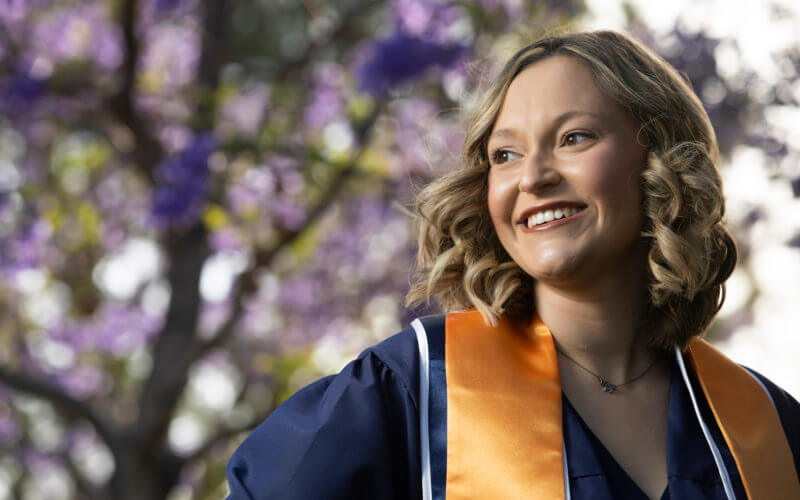 Cal State Fullerton's Class of 2022 has demonstrated, time and again, that they have what it takes to successfully navigate a period of pandemic and uncertainty to achieve their ultimate goal: a college degree.
It is anticipated that about 100,000 family members, friends, faculty and staff will gather at multiple locations across the campus to celebrate four days of commencement ceremonies, beginning Monday, May 23, and running through Thursday, May 26.
Two honorary doctorates will be presented this year: one to Gaddi Vasquez who most recently served as senior vice president of government affairs for Edison International and Southern California Edison, and the other to Jeffrey Van Harte, chairman and chief investment officer who founded Jackson Square Partners in 2014.
A descendant of migrant farm workers, Vasquez served as U.S. Ambassador to the United Nations Organizations in Rome, Italy, from 2006-09. From 2002 to 2006, Vasquez served as director of the United States Peace Corps and became the third longest-serving director in the Peace Corps' 60-year history.
His public service career includes service at the city, county, state and federal levels of government. He has served as an appointee of three California governors and was appointed by President George H.W. Bush to two federal commissions, including the President's Commission on White House Fellowships. He currently serves on the board of governors of the California State University Foundation as well as several other civic and community boards.
"Gaddi Vasquez is not only a wise counsel, mentor and confidant to many at CSUF, including me, but is also an enormous advocate for Cal State Fullerton and for higher education generally," said President Fram Virjee. "Gaddi gives tirelessly of his time to our Titan family, especially to our amazing students. We are blessed and honored to bestow this honorary doctorate, the highest of honors CSUF confers, upon Gaddi – ambassador, civic leader, justice advocate and now, Titan."
Van Harte, a CSUF alumnus who received his bachelor's degree in business administration-finance in 1980, has been a longtime supporter of the College of Business and Economics — first donating funding to establish its Applied Securities Analysis Program and then helping to expand it and establish the investment management center, Titan Capital Management. Van Harte has also supported every college throughout the campus as well as athletics and the Division of Student Affairs. He was honored as a 2012 Vision & Visionaries Distinguished Alumnus.
"Jeff Van Harte is truly a campuswide advocate and investor with his support," said Greg Saks, vice president for university advancement. "Cal State Fullerton is thrilled to honor one of our most distinguished alumni with this unique and special honor."
For more information on Commencement 2022, including individual college schedules, information on parking, livestreaming and more, visit fullerton.edu/commencement.