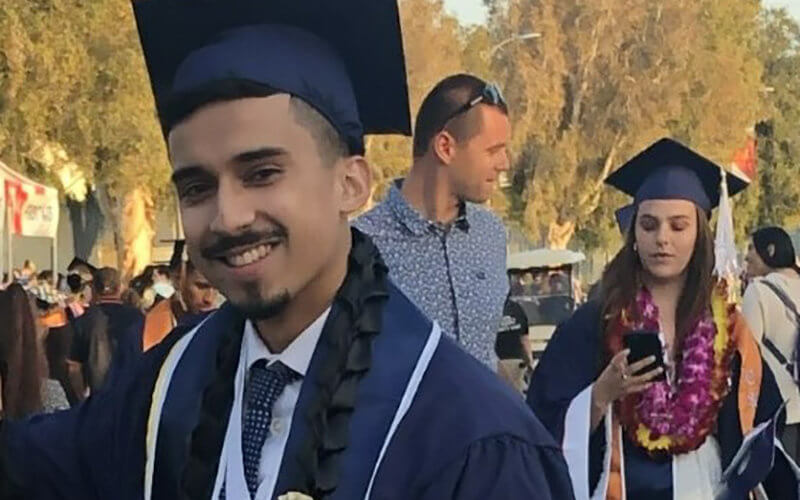 Peter Mancilla, B.A. criminal justice
Good afternoon graduates, faculty, family members and friends. Thank you all for being here to celebrate the Class of 2022.
Before I proceed further, I would like to share a personal fun fact. The last time I spoke publicly in front of a large crowd, I was a three-and-a-half-foot-tall third grader who had just lost the spelling bee in front of the whole school. The word that disqualified me was "cheetah."
Ever since that day in 2003, I have avoided two things: public speaking and the cheetah enclosure at the zoo. However, a lesson among many that I have learned at Cal State Fullerton has enabled me to bury that phobia and stand here today.
That lesson is that I am greater than my fears. Besides allowing me to deliver my speech, this lesson has allowed me to persevere in the face of uncertainty. I was able to overcome a fear of losing my identity when I switched my major from business to criminal justice. I overcame a fear of failure when I remained in school despite witnessing my friends drop out because of COVID. I overcame a fear of incapability when I added political science as a minor. And today, I overcame my fear of public speaking.
Overcoming fear is one of the many abilities that I have harnessed over the years. However, I would be remiss if I took all the credit. At this time, I would like to acknowledge our faculty whose sacrifices and diligence made this all possible. From patiently teaching us advanced concepts to helping us refine our goals, the professors of the P.A.J. division are truly superlative. I would also like to acknowledge my fellow graduates for helping us shape each other. Collaborating with you all was fundamental to my growth, comprehension and knowledge. I hope that many of you feel the same way towards me.
I would like to end my speech by emphasizing the excellence of the Class of '22. There is no better embodiment of the term "titan" than my fellow graduates. Despite adverse conditions such as COVID and virtual learning, we demonstrated resiliency to the finish line. This is the group that gets things done. If I could bet the remaining $5 in my bank account on the success of any of you, I would.
As the honorable Michael Scott once said, "I'll catch you on the flippity-flip." Congratulations, Class of '22.