College of Education and College of Engineering and Computer Science graduates participated Monday evening in the first two events of Cal State Fullerton's 2022 Commencement ceremonies, which took place at Titan Stadium and the intramural field.
College of Engineering and Computer Science
As the sounds of bagpipes filled the air, Dean Susan Barua, Distinguished Faculty Marshal Doina Bein, CSUF President Fram Virjee, faculty members, followed by the Class of 2022, paraded into the intramural field.
Virjee told the graduating students that they "accomplished the extraordinary" and persevered in spite of the pandemic.
"You've turned hardships into remarkable achievements," Virjee said.
"Now it's time to look into the future — to write the next chapter of your life. To contemplate what you will do to bring your dreams to reality; what you will do to change the world … to make the world a better place."
While the world may not have returned to a "pre-pandemic normal," and some may be feeling anxious or even fearful as they enter the workforce, Virjee reminded graduates that they are ready for the next chapter of their lives.
"You have refined your resilience and your tenacity, you have mastered out-of-the-box thinking, and problem-solving and skills that you will need," Virjee said.
Barua applauded the graduating students for their hard work, determination, perseverance and adaptability through extraordinary circumstances during the pandemic. Through their college education, Barua shared that students develop robust technical and analytical skills to undertake new challenges in an ever-changing world.
"From the time a student enters our college they are surrounded by a committed team of professionals who work hard to make sure that students are taken care of and provided the support to succeed," Barua said.
"Your contributions in the areas of robotics, artificial intelligence, transportation, green energy, biomechanics, assistive technology, and human-centered design built for a diverse range of special needs and users, will help society seamlessly integrate technology with the human experience."
Barua noted that today's workforce requires an appreciation and sensitivity toward a diverse range of ideas, people and technological approaches. Historically, the STEM — science, technology, engineering and mathematics — disciplines have not always provided equitable opportunities for women and underrepresented individuals to enter and advance in the workplace, Barua continued.
Graduating senior and college commencement speaker Dimitra Doiphode underscored her own struggles and self-doubts as a South Asian woman in STEM.
"Looking around my classes, I could see that I was definitely in the minority," said Doiphode, who is graduating with a bachelor's degree in computer science.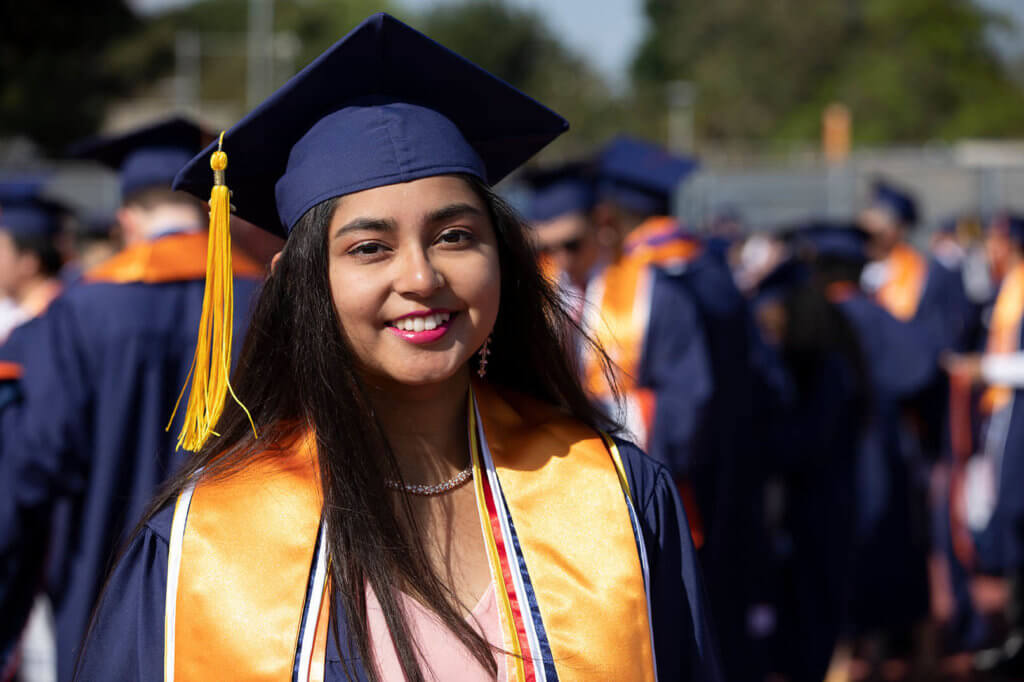 "But as I sought out different organizations that represented people like me, such as the college's various programs for women in STEM and our school's Indian student association, I had a renewed sense of confidence and spirit, as well as communities to call my own."
In addition to Doiphode, two classmates delivered commencement speeches — and recounted the long hours spent in the classroom, in labs or studying. In spite of obstacles and challenges, they pushed forward to the finish line.
"We are now the innovators of tomorrow, and as such, we will be looked upon to help our society move forward into the future," said Aaron Mendis, who is earning a bachelor's degree in electrical engineering.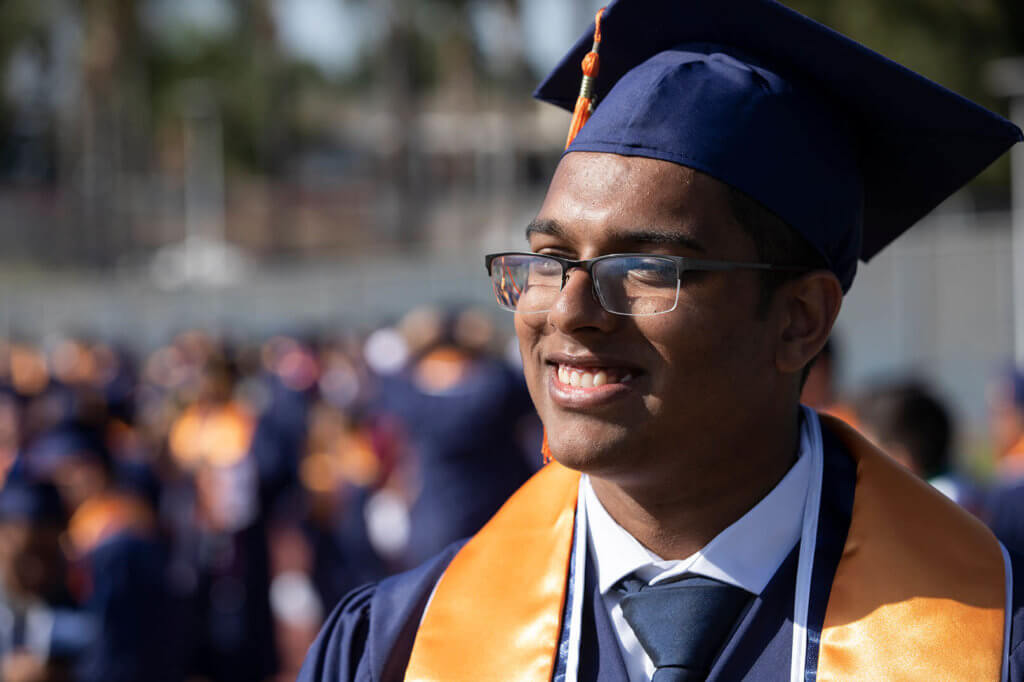 Graduate student Sean Phayakapong shared how since the age of 8, he always wanted to become an engineer after attending a career fair. Today, he is armed with a master's degree in environmental engineering.
"It was no easy feat to juggle a full course load and work full time," Phayakapong relayed. "I challenge you to aspire, strive if you want something so badly that you push yourself further than you think you are capable.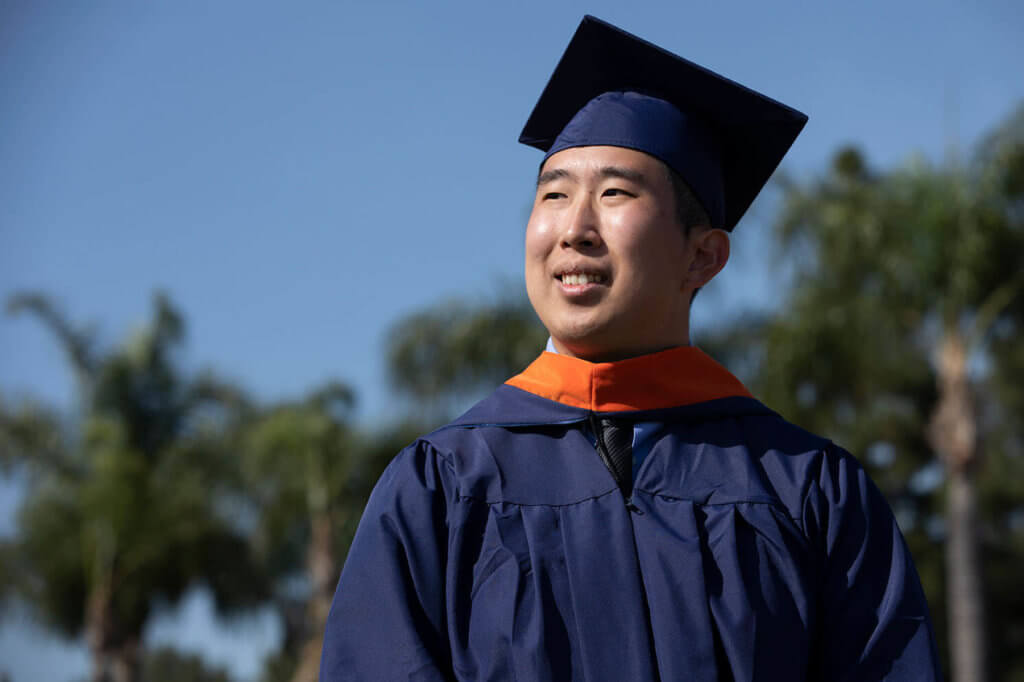 "Apply to that job that you don't think you are fully qualified for, take the long road, stop and smell those roses, and go as far as you can dream, because you never know where you will end up."
Barua, in closing, reminded the Class of 2022 that they are well prepared for the workforce because of their experiences in a diverse college community and initiatives toward the creation of a more equitable and inclusive environment.
"As you enter the workforce, I encourage you to bring these experiences into your professional positions, where you will become future leaders who open doors and create pathways to increase diversity in STEM — and change the landscape of engineering and computer science."
College of Education
College of Education leadership applauded students who completed coursework for the credential and graduate degree programs, reminding them that this is only the beginning of their education journey.
At Titan Stadium, the college's faculty acknowledged how the COVID-19 pandemic had not only affected students' academic careers, but also left a disproportionate impact on communities of color through higher infection rates, mortality rates and unemployment rates.
Natalie Tran, chair and professor of secondary education, was named the college's 2021-22 Distinguished Faculty Marshal. When speaking to graduates, Tran emphasized how important it is for future educators to respond to societal inequalities with compassion, understanding and love even though it is not always easy.
"More than ever, we need strong teachers and leaders," Tran said. "As you work with students and families, I urge you to look deeply into the sufferings caused by racial and social systemic inequalities. This is a shared responsibility. It's important that we commit ourselves, individually and as a collective, to understand the roots of these inequalities, and to transform the suffering caused by these inequalities."
As a champion for diversity, equity and inclusion in education, Tran founded the university's National Resource Center for Asian Languages to advance K-12 teaching and learning of Asian languages. Tran also launched a partnership with the Westminster School District to create the first Vietnamese-English dual immersion program for preschool to eighth grade students in California.
Tran encouraged graduates to examine their beliefs, practices, biases and privileges in the various spaces they occupy and influence – from their classrooms to their neighborhoods and in their broader communities.
"I hope that you will rise to the challenge to cultivate love and be the teachers and leaders that will serve all students," Tran said.
Dean Lisa Kirtman led a moment of silence to honor Laurie Dickey, late lecturer in elementary and bilingual education who died during the 2021-22 academic year, and other loved ones who died this past academic year.
Dickey's career accomplishments included bilingual teaching, curriculum and staff development, after-school programming, and advocating for the needs of youth from historically marginalized communities. During the ceremony, the college announced it has established the Laurie Dickey Future Teacher Scholarship to honor Dickey's passion for teaching.
"As you are well aware, these last few years have been difficult for so many of us in ways we could have never imagined," Kirtman said. "Many of us lost loved ones much too soon and while they cannot be with us to celebrate today, they are always in our thoughts and I know they would be proud of our students."
In a speech titled "What it Means to be a Just, Equitable and Inclusive Educator," educational technology graduate Brandy Garcia highlighted the importance of celebrating students' diverse cultural identities, while also acknowledging the challenge of creating and teaching a lesson plan that meets the needs of individual students.
"Although this task is ever-changing and monumental, the value that it has for both students and teachers is even greater," Garcia said. "We can build up our students to help them see their value in who they are. We can implement lessons that both promote student growth intellectually and celebrate diversity. The word 'all' should not be feared but be fully embraced."
Before conferring the graduates' degrees, Carolyn Thomas, the university's provost and vice president for academic affairs, gave a commencement address asking graduates to put lessons from their coursework into action to ensure every student can reach their full potential.
As future educational leaders, "You will have answers on how to best facilitate student learning for the next generation," Thomas said. "Not only have you lived it, you have also studied it, you have felt it, you have pushed into it, you have passed it and you have emerged stronger for it.
"What you've learned in this college is not only necessary, it is revolutionary."
The college also recognized its 2022 Carr Fellows named for Edwin Carr, the late professor emeritus of education and economics, and its 2022 outstanding graduates who achieved academic excellence by earning a 4.0 GPA.