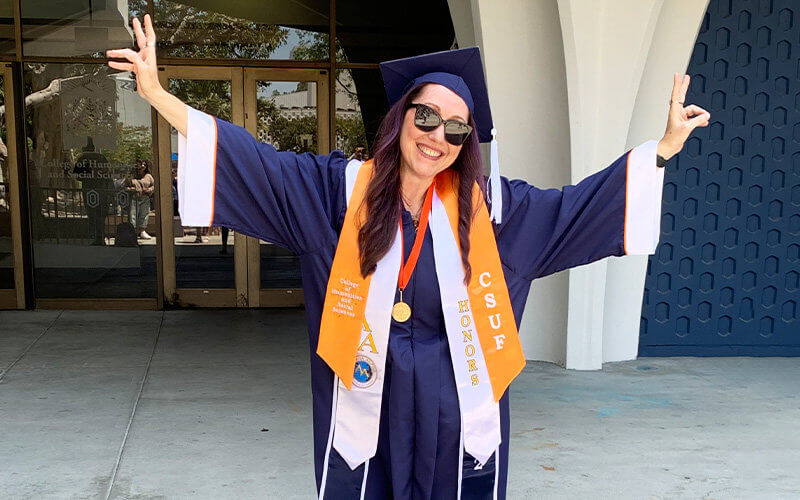 Denise Allen, B.A. geography-environmental analysis
First off, I want to thank my family and friends for their unconditional love and support. I would also like to acknowledge and thank the outstanding geography and anthropology departments' faculty for being so understanding, supportive and encouraging during my time here at CSUF. And to my geography friends, old and new, this experience certainly has been bittersweet. I really hope to spend more time together on new adventures making lots of fun-filled memories.
It is such an honor to be up here in front of so many beautiful smiling faces today. That's something I wouldn't have had the opportunity to say to you last year. The last couple of years have been so challenging for us all in our own ways, but significant challenges don't come without tremendous rewards. And speaking of rewards, that reminds me of a story I'd like to share with you.
When I was in kindergarten, I finished an assignment. When the class finished, we were all supposed to get Oreos and go to recess. But there was another little girl who I could see was really struggling, so I went over and helped her. Once we were done, I went to get my Oreos. The teacher said it was too late. I can vividly remember being so upset and shouting, "It's never too late!" Now, I want you all to remember that today — that 5-year-old version of myself and her wisdom and kind heart. I cared enough to help someone else, and stood up for myself and something I believed in at the time.
Many of us have had those 'Oreo moments.' Moments that we've been kind and helpful, but still had to prioritize our goals and stand up for ourselves and what we believe in, in order to achieve our dreams — even when so many urgent matters were going on with our families, friends and in our personal lives. We've had to push harder for what we wanted than ever before. It has been a difficult couple of years, but we are a strong group. We have learned to pivot and how to be more resilient in the face of adversity amid a global pandemic.
I hope you all truly understand how exceptional we all are. It is hard enough to go through college, but we went through it with a unique set of circumstances, and they really showed us that we have grit and what capable individuals we all are.
I hope this time has taught you that now is the time to chase your dreams and go after whatever it is that really makes your heart sing. Whether it's a degree, a job, a travel opportunity, that Twitch or YouTube channel, or taking a leap to start a new business, just go for it! Because the result will always be a better version of yourself, you will always learn valuable lessons, and at the end of the day, I bet you that you will succeed and be in a much better place than you ever could have imagined.
I know this because I am standing here now as a better, kinder, more intelligent, more evolved version of myself in a better place than I ever could have imagined. Not to say that I haven't faced my own challenges, because I have, but those challenges and how we face them are what makes us who we are. I really do hope you chase your dreams and find fulfillment.
I wish you all the best from the bottom of my heart. I send you all so much love and to those of you who have lost and truly struggled, I extend my deepest empathy and compassion and want you to know that you are not alone. I am really proud of every one of you here today because getting through the last couple of years, whether in school or not, has been a challenge. Yet, we are all here today, under the beautiful Fullerton sky, living, breathing, and ready to take on another day and oh so ready for the next part of our journeys.
Our capacity is immense, just as massive as our struggles, if not even larger. But we are equipped for these challenges and whatever challenges may come our way. We are strong, we are resilient and we are Titans in the truest sense. So, Titans, I say to you, congratulations! Now go get those Oreos!