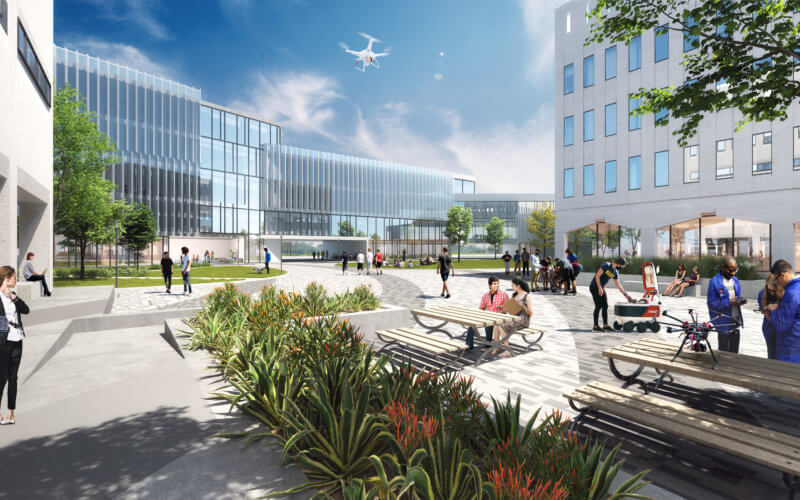 Friday the 13th was a lucky day for Cal State Fullerton's College of Engineering and Computer Science. That was the day it was announced that the governor's May Revise includes $67.5 million from the state of California to be applied toward construction of the university's Engineering and Computer Science Innovation Hub.
The funding from the state's May revise budget will allow the Engineering and Computer Science Innovation Hub to expand campus infrastructure to support the growing need for a highly skilled, STEM-trained workforce for all industries.
Within the past decade, there has been a 147% increase in enrollment growth within the College of Engineering and Computer Science (from 1,900 to 4,700 students). In addition to enrollment growth, the industries that CSUF students are preparing for is evolving. This innovation hub has the potential to be a central part of Orange County's growth, radiating inward and outward, to create talent pipelines through education, hands-on learning, and state-of-the-art spaces that support a community of innovators.
"When we think about the future of augmented reality, artificial intelligence, EV design, cybersecurity, robotics, advanced manufacturing — this innovation hub — is an investment-worthy equalizer for educational opportunity and a workforce multiplier that Orange County and our region needs now," said Michael Karg, executive director of development.
The CSU system awards one in 16 of all Bachelor of Science engineering degrees in the United States. With 82% of ECS alumni staying in the region after graduation, the innovation hub has the potential to impact the region's need for software developers, cybersecurity, computer hardware and tech professionals.
"This funding is an important first step to having spaces that maximize student opportunity and potential," said Susan Barua, dean of the College of Engineering and Computer Science. "Yes, it will take investments to construct this structure, but what's most inspiring to me is thinking about how this will change the narrative for future graduates. The innovation hub, and the work that will take place in the structure, will change their lives for the better."
"Funding Cal State Fullerton's Engineering and Computer Science Innovation Hub will support accelerating workforce demand for decades and will help strengthen California's position as a leader in the engineering and computer science industries," said California State Sen. Josh Newman (Senate District 29). "I'm pleased that the governor included a substantial investment toward its construction in his May budget proposal, and look forward to seeing this state-of-the-art facility come to fruition."
The May revise budget still needs legislative approval this summer. Additional funds will be sought to fully fund this project. A combination of additional state support, with campus support and philanthropy, will play a role in construction of the ECS Innovation Hub. In fact, the funding request received support from members of Orange County legislative delegation, local chambers, nonprofit advocates, business organizations and regional employers.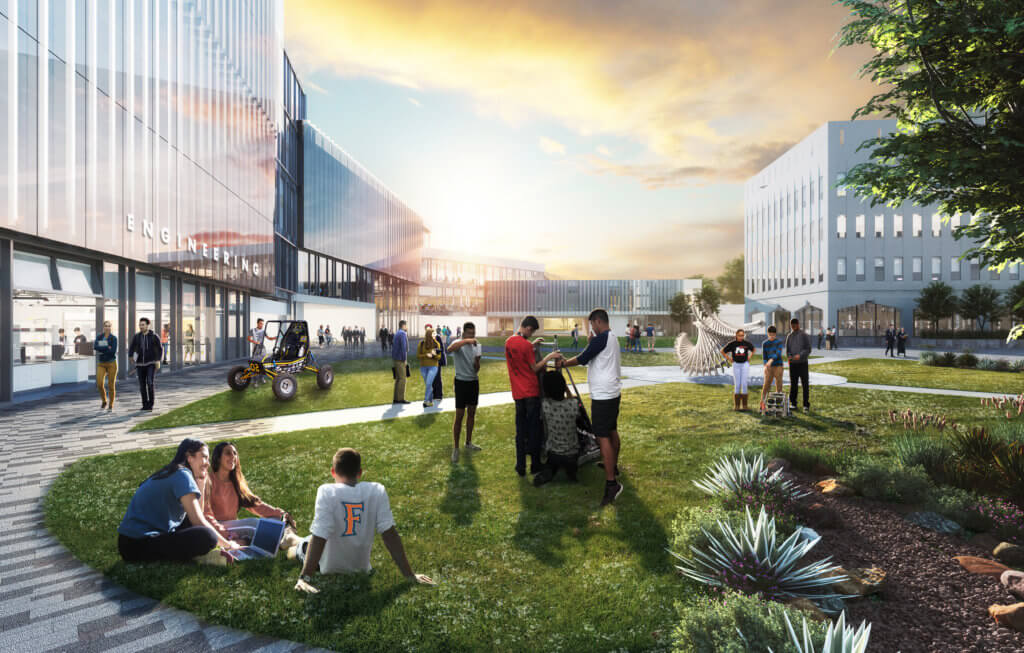 "This project is a game changer not just for our campus, but for Orange County and the Southern California region," said President Fram Virjee. "As the largest undergraduate university in the state, CSUF students represent our economic, innovation and entrepreneurial future of the region and a state. This initial investment from the state is a positive step toward a collective effort to transform engineering and computer science education and innovation in Orange County — at the K-12, university, and industry levels — to attract, retain and graduate the technology leaders of tomorrow."
In addition, funds will allow the college to modernize and expand the hub so it can accommodate enrollment growth, create space for student and community research innovation, as well as increase, diversify and prepare the future workforce for highly skilled and technical careers.
"Orange County faces a shortage of qualified and diverse engineers and computer scientists for industry growth," said Barua. "The innovation hub is a critical component in preparing our students for highly skilled technical and management careers. With the college experiencing significant enrollment growth, it not only requires space but investment. With this modernized hub, students will be able to fully engage and be a part of emerging fields and technologies, stand at the forefront of industry readiness, and collaborate to find solutions that address today's, and tomorrow's, challenges.
"Since technology is constantly evolving, providing space for partnerships with local communities and the private sector will be critical for students to join the STEM workforce."