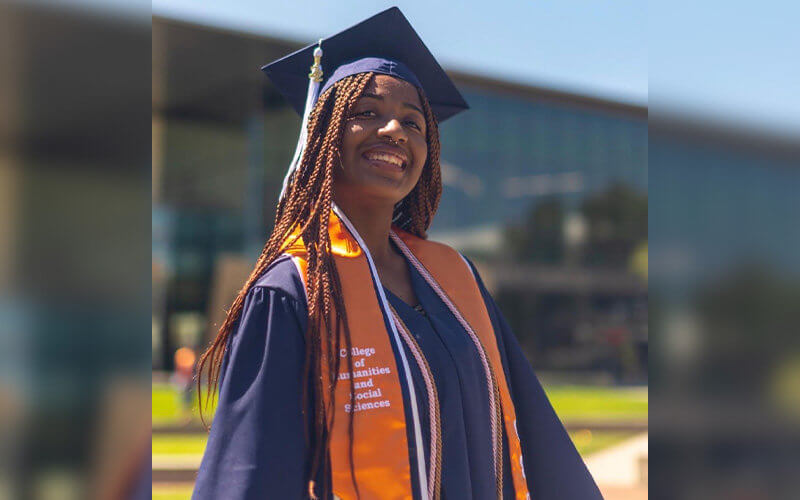 Janae Scott, B.A. history
Hello everyone, I hope everyone is having a somewhat smooth morning! My name is Janae Scott and today I am representing the History Department.
When I first received the email saying that they wanted me to represent the History Department at commencement, I was flabbergasted and very overwhelmed, so much so that I thought about rejecting the offer. But, I knew that if I did not take this opportunity, I would regret it later. With that, I can proudly say that I am completely honored to be representing the History Department and being up here doing this speech, not only as one of the very few Black students who are able to speak at commencement but also pushing my comfort zone by speaking to so many people at once.
My first semester at CSUF was very overwhelming. The new campus, new people, new professor, and on top of that, I had to move to Fullerton. Soon, the overwhelming feelings started to turn into excitement after I had made some new friends at the Transfer Student Orientation. My first semester here started off decent. I was going to class, doing my homework, and struggling to figure out how to use Chicago-style citations.
Then, one morning, I had gotten an email saying that school was going to be closed for about two weeks. 'Hmmm, okay, this whole thing should only last for two weeks and no longer,' I thought to myself. Soon after, I saw myself moving back to Victorville to attend a brand new school called Zoom University! This made me feel extremely isolated and alone. Luckily, I was able to make some more friends, some people that I remember seeing in my classes when the school was still open. We worked together via Zoom and what came out of it was a revitalized club called the History Student Association. That club is our literal child and I am so proud to see how far we have come. If anyone here is interested in joining, feel free to follow us on Instagram to find out more information haha.
I started out as the Vice-Chair, Treasurer, and the ICC Rep for our first semester. Then, on top of that, I had to deal with classes. On top of those things, I had to also deal with my personal life since I was back home stuck in the house. Needless to say, the first semester of the club being official was very overwhelming haha. This club helped me and my friends who were part of the club get closer to the History Department and realize how much they supported us and really wanted us to thrive, not only as a club but also as individuals.
Now is the time for me to start thinking about the future and what I am going to do after I graduate. Let me tell y'all that 'I have absolutely no idea what I am going to do' is an understatement. But, honestly, it's okay. And, if you're like me, just know that you are not alone.
I wanted to take this time towards the end of my speech to thank my family, my friends, and my partner for the constant support and reassurance. Without y'all, I wouldn't know where I would be in life. Class of 2022, we did it! I hope y'all are able to think back and reflect on everything that you achieved and feel proud. Remember, it's okay to show off your accomplishments, Just like Maya Angelou said: 'All great achievements require time.' Remember to be your biggest supporter and your biggest cheerleader. Thank y'all for listening and, to the Class of 2022, congratulations!!