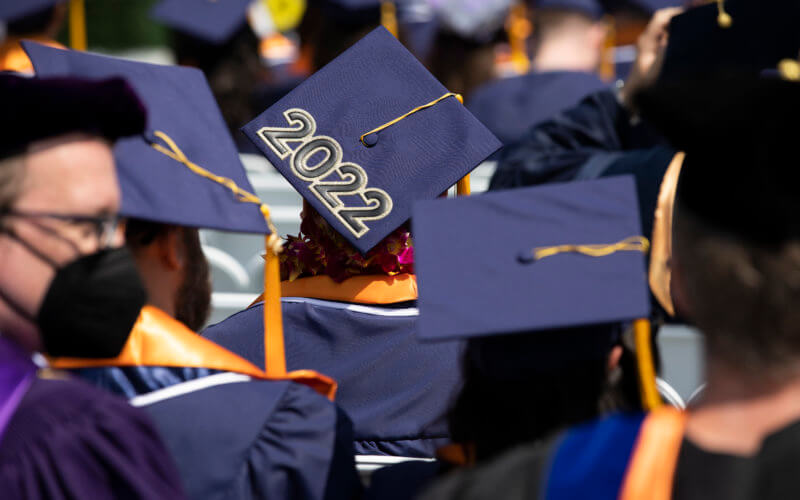 Ecenur Sivri, M.S. Teaching English to Speakers of Other Languages (TESOL)
Good morning, graduates! I am humbled and honored to be your commencement speaker and I will be speaking on behalf of the modern languages and literatures department. I would like to thank our extraordinary professors, administrators, family members, friends and peers for gathering here today. I have learned so much from each and every one of you, and I will cherish it forever.
On that note, I think it is safe to say we have all had a difficult couple of years. Within these two years, we have experienced a pandemic, financial insecurities, racial injustices, job losses, grievances and the struggles of adapting to online classes. Nevertheless, everyone here today has managed to accomplish a major milestone in their lives. Personally speaking, within these two years I have lost my job, I was separated from my husband who's currently still waiting for his visa and I have had to cope with the passing of my grandmother due to Alzheimer's disease.
Regardless of the hardships I have had, I am grateful for the opportunity I have been given to receive an education. Growing up in a single-family household as a first-generation student, I knew it wouldn't be easy. I had already accepted that being faced with hardships was just part of the process. An article I read recently by Study International stated the U.S. Education Department's National Center for Education Statistics has done a study that shows children whose parents attended college are much more likely to attend college and graduate themselves. Therefore, I have also beaten my odds and am now a rare statistic because I have graduated with a bachelor's degree in sociology and now I am graduating with a master's degree in education with a certificate in TESOL, despite my parents not having a college degree. After years of studying with my close-knit study group, with Zoom meetings that lasted several hours, and countless sleepless nights trying to finish our 45-page paper on Cronbach's Alpha reliability formulas or preparing for a seven-hour comprehensive exam, I'm ecstatic to say it is finally over!
It has been a long-awaited, anticipated and tiring journey nonetheless. My family hasn't seen me come out of my room for two years now, so it's nice to finally see what they look like as I was starting to forget. Besides my hardships, I have made lifelong friendships and have built connections I never imagined. Speaking of family, my mother is here today in the crowd and I wanted to mention her briefly. As a middle school graduate herself, this ceremony is very meaningful for her. She is standing tall today, very proud and thinking everything she has dealt with is now worth it. I had made her a promise that I would never take my life for granted because I have been blessed with the chances some might dream of. I want to tell her now that I have kept my promise. That, to me, is enough to do this all over again. My mother is now asking me when I will complete my Ph.D. Oh boy, can you believe her? The answer is never, Mom. Never. I'm joking. I'll let you know when my trauma is over.
I hope to be a motivation to future students who might feel flustered with the hardships they are currently facing. Just know that it will pass, and nothing is accomplished without effort. As a Turkish American speaking in front of many language learners and diverse students, it is only proper for me to give you a famous Turkish quote. In Turkish, there is a saying "zaman herseyin ilacidir," which translates to "time is the best medicine."
To the future teachers, administrators, politicians, artists and more, I have one last piece of
advice. You will influence the next generations after you and every step you take will be
impactful. That being said, remember to walk with meaning. Thank you, and congratulations to the Class of 2022!