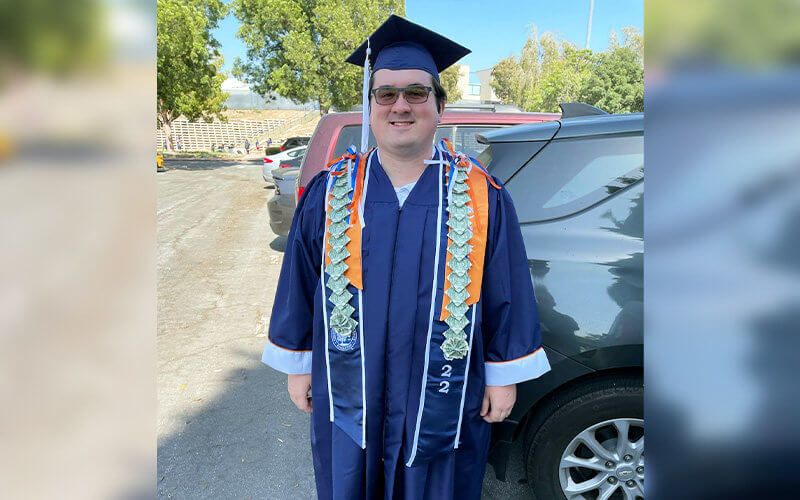 Bronson Vazquez, B.A. religious studies
Hello, Class of 2022. It wasn't so long ago that I was able to be here, at Cal State Fullerton, to watch my mother walk during her commencement. And the fact that our seats have switched fills my heart with no small amount of joy.
While I'm here, I'd like to thank those closest to me: my mom, my dad, Grant, Joey, Jason, Nica and Tito for always being there for me, and supporting me, and for being the reasons that I never give up. I'd also like to thank the wonderful people in the religious studies department, especially Professor (Jeanette) Solano, Professor (Zakyi) Ibrahim, Professor (Mugdha) Yeolekar, and Professor (Benjamin) Hubbard, for taking such an interest in my success as a student.
These last few years have been especially trying for us, not just in America, but also globally. Despite technology improving our ability to communicate, we seem to be less keen to interact and more likely to isolate, even when we aren't forced to.
I've heard it said that if you want to keep polite company polite, do not talk about family, politics or religion. Anyway, I'm going to talk about religion. Religion is a strange beast. On the one hand, religion is rarely talked about, save for very specific circumstances and environments. On the other hand, religion is often core to many people's identities, guiding their moral code and giving them a community to be a part of. Religion is an answer to the many unanswerable questions of the universe, and a reason to continue to survive in the face of life's many trials.
This dichotomy of being a taboo topic, as well as the power it has in everyday life, is what drew me to study religion. I wanted to learn more about religions that were not as common as Christianity is in America. Because of the program here, I was able to do just that.
Being raised Catholic meant that was the only kind of spirituality I had ever known. But, visiting a Buddhist temple showed me how practicing spirituality took more than the one shape I was taught. Studying the history of Islam showed me the importance of religion in defining a group of people's morals and values. Discussing the Hindu pantheon showed me how belief in higher power could take many different forms than the one I was accustomed to.
But, in the course of learning about the theology of Hinduism, the ritual practices of Buddhism and the history of Islam, what I actually ended up gaining was a more complete and intimate understanding of the people that practice these religions, a more rounded and complete education into other cultures, not only in Southern California but also around the world.
It is this understanding that I take with me into the world. This insight into a rarely discussed, yet nearly universal aspect of humanity, that allows me to better connect with others, to see who they are at the most fundamental level and to hopefully foster a stronger base of understanding between ideologically different people.
Moving forward, the knowledge given to me by the religious studies department to interconnect and understand differences form the basis of global unity we all strive toward. Life's trials won't end with pandemics, or wars, or hate. It will be up to us, this new generation of graduates, to walk side by side into a tumultuous future, and from there, a brighter, more connected tomorrow. Thank you.