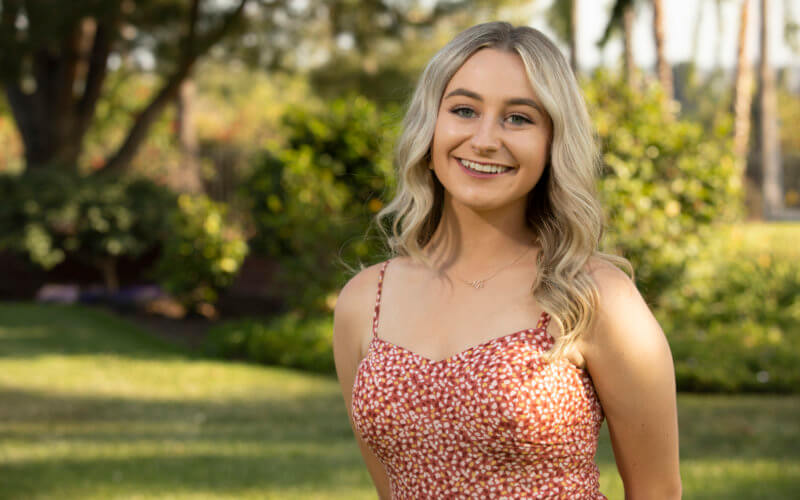 While the last few years of college haven't been easy due to the pandemic, graduating Cal State Fullerton President's Scholar Amaya Gregory spent close to 400 hours serving her community – and excelling in academics and as a student leader.
She also found her calling as a future physician.
Gregory, the first in her family to attend college, is graduating summa cum laude with a 3.98 GPA. She is earning a bachelor's degree in biological science-cell and developmental biology with minors in chemistry and kinesiology.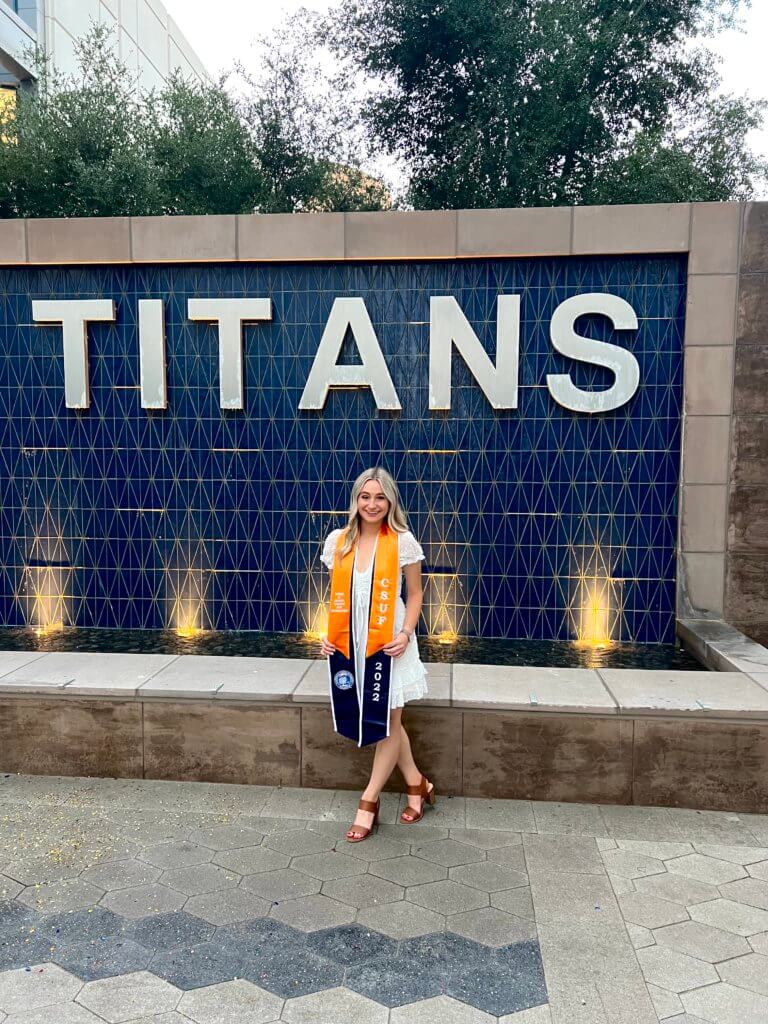 In July, Gregory begins medical school at Burrell College of Osteopathic Medicine in New Mexico, with the goal of becoming an anesthesiologist and serving underrepresented populations. She is entering medical school under the U.S. Army's full-ride Health Professions Scholarship Program. Through this program, she will graduate medical school as a captain, and after completing residency, will serve as an Army physician for four years.
"After serving as a caretaker for a family member, spending over 200 hours in a hospital setting, volunteering in a research lab and attending several medical conferences, I have fallen in love with medicine," Gregory said. "Most importantly, I have found a purpose in serving those in need."
Gregory is among the Class of 2022 graduating President's Scholars, a comprehensive, rigorous program that offers experiences and opportunities in academics, leadership, service and mentorship. The program's 19 graduating seniors were recognized at the May 4 President's Scholars Reception.
During her time at CSUF, Gregory has been on the Dean's List every semester and is the recipient of a 2020 Russell V. Benson and Betty L. Benson Emeriti Scholarship. She has been involved in numerous campus clubs and organizations, including serving as captain for the women's club soccer team and as a student representative on the California State University Student Health Services Committee.
Her senior thesis focused on an interdisciplinary analysis of the Walt Disney Co's best practices and ways to improve health care.
Why did you apply to become a President's Scholar?
For starters, one of the biggest pillars of the President's Scholars Program is community service. In this program, I had the unique opportunity to volunteer hundreds of community service hours in many different ways. Whether it was beach cleanups, helping out at a zoo, packaging food in a soup kitchen or helping out at a walk fundraiser for adults with disabilities, I became connected to my community. This program also became my immediate family upon entering CSUF. From the first day of school, I had a place to call home and people to call my best friends.
How has the program empowered you in your college journey?
The President's Scholars Program has allowed me to grow as an individual and a leader. In addition to service, I've made connections to staff, faculty and alumni, which elevated my academic career and helped me thrive and succeed. Serving as the president and social chair of the President's Scholars Student Association helped to strengthen my leadership, communication and time management skills.
Did you face any challenges in college?
During the pandemic, it was challenging to uphold the traditions of this incredible program and lead some of the busiest, most involved and most accomplished group of students – and it was not always an easy task. However, I feel that these challenges only highlight the perseverance of the scholars. As a member and leader, I am proud that I was able to help keep us connected as a family during these hard times.
Cal State Fullerton's commencement celebrations will take place May 23-26.