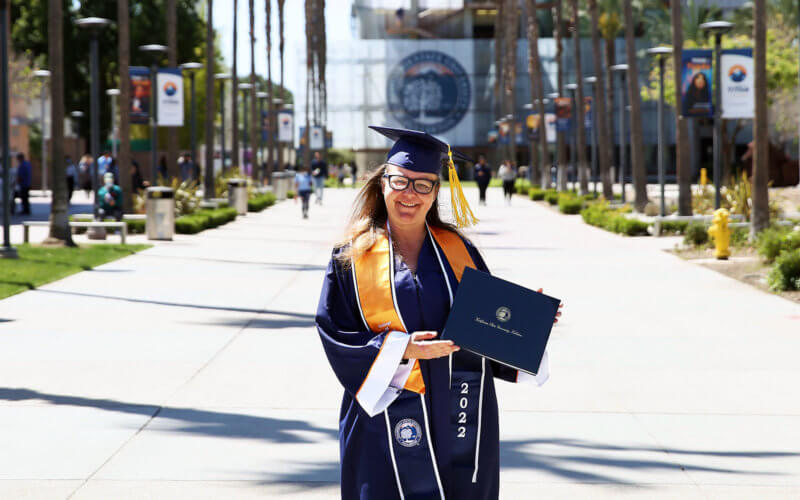 Ashley Scholder, B.S. geology
I want to begin by saying that I'm both honored and humbled to be standing here looking out at all of you. It's a beautiful sight. Thank you.
As a "mature" undergraduate, I was concerned about being accepted and fitting in across the apparent age gap. But, to my delight, from the very beginning my peers laughed at my outdated jokes and my love of a well-constructed Excel spreadsheet! Thank you for that!
Those small acts of kindness bridged any imagined age gap. With that supportive mindset, we reveled in each other's successes and supported each other through temporary failures — a true team was built.
As I stated, I was accepted from the first day as an "extra" by an incredible group of geology students and every other person I met at CSUF. That told me all I needed to know about Cal State Fullerton. What matters here at CSUF is grit, determination and a shared dream of a brighter future. The hallways of DBH (Dan Black Hall) and McCarthy Hall are littered with the future scientists and mathematicians of the changing world, cultivated and nurtured by a dedicated faculty — and I am so proud to be part of that world.
Another thing we all share is that an incredible team at home has supported us. For me it has been my amazing husband, my children, my parents, my in-laws and a growing group of friends. I was lucky to have such tremendous support. Without it, I would still be years away from a degree. Lastly, I cannot forget to mention the company that lit my scientifical fire, Diaz Yourman and Associates; they are truly a company that grows their employees.
My hope for all of you is to find a company that feeds your quest for continued education! So everyone take a second and look to those lucky people who got a ticket, wave and yell THANK YOU AND LOVE YOU to those who are sharing your accomplishment today!
Some of you may have noted that the last two years have been, let's say, tumultuous. Let me take you back to March 2020. I was in a physics class checking email on my phone. What's this? It's a note from our president: Cal State Fullerton is shutting down … interesting. As we students started murmuring about the unknown future, our professor calmly assured us that class would continue, and we would work it out together. We all gathered our things and headed home for what turned out to be three semesters.
Over these last two years, I've watched professors and students adapt and conquer every pitch thrown at us with style and grace for much longer than anyone anticipated. Zoom. Breakout rooms. Hey Vince, you're still muted. But our professor was correct, we adapted together. Each and every one of us sitting in these seats today have come through one of the most dramatic shifts in our society's history with all the Titan grit and determination we could muster, and today, we're all the better for it. As "The Boss" says, "Someday we'll look back on this and it will all seem funny."
As we now know, science is at the forefront of society, and natural sciences and math are more important than ever before. As scientists, we stand on the shoulders of those who came before us and we learn far more from their failures than their triumphs. Likewise, the fear of failure shouldn't hinder our quest for excellence! Heck, I'm sure we can all think of at least one geology exam we've collectively failed. If science stopped where failure began, where would it be now?
Like many colleges, the College of Natural Sciences and Mathematics houses many disciplines. We've all heard science calling us in a different way and answered with enthusiasm. But unlike other colleges, we also have shared experiences: Chemistry 120A — yikes! Math 130 — ya! We all started in the same classes, walked the same path for a while, then diverged to follow different directions of our respective majors.
My boss once told me, "We can't all be great at everything, so pick one thing and be the best at that!" We've all chosen that best one thing: volcanology, organic chemistry, statistics, whatever it might be. But our shared history is also a bond. These different paths have created a team that I am incredibly proud of, and if I ever get the chance, I would hire anyone of you out there in a heartbeat because I walked part of the path with you once, and that means something extraordinary.
I have had the honor to work under Dr. (Matthew) Kirby for my thesis project. I chose him because he found significance in the sediments of my hometown lake, so it was a natural choice. We are all lucky to have encountered such unique and passionate professors who only want to see us succeed no matter how much we may "fish" for answers!
The professors here are the best, hands down — and striving to follow in their ginormous footsteps is a goal in and of itself. Their pride in providing an education for our future biologists, physicists, chemists, geologists and mathematicians is apparent in every lecture and is positively infectious. Thank you, professors, for taking the time to express your passions through PowerPoint — even if you were muted for that first part!
With CSUF as our diving board as we leap into the future, I hope we use our connection made here and the education we received to make something substantial happen for the human race. The tools, the drive, the passion are ours now — let's use them to change the world one experiment at a time!
From the town of Lake Elsinore, Ashley Scholder, 43, ventured off her small farm after high school. While her path took her places far from higher education, she eventually found her calling as a draftsman at Diaz Yourman and Associates. As a mother and a wife, and a former roller derby athlete, she found a renewed sense of self-power that she forgot she had. Understanding that to raise strong children, one must lead by example is just one of the reasons that brought her back to college to obtain a bachelor's degree in geology, and ultimately, make her family proud.
Today, Ashley graduates cum laude with a 3.68 GPA and is the recipient of the 2022 Outstanding Academic Achievement, B.S. Geology Award. She also was awarded the Beardsley-Kuper Field Camp Scholarship from the Association of Engineering Geologists (AEG) Foundation, which will provide full tuition for a monthlong field camp in June to finish her degree program. Upon graduation, she plans to change her work email signature to say "geologist" immediately and has plans to take the GIT (Geologist in Training) exam next March. When she passes, she will then prepare for the PG (Practice of Geology) examination.