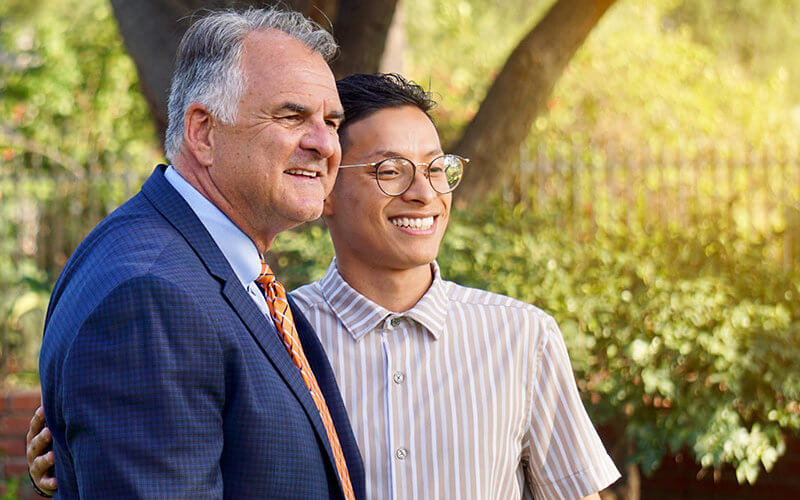 At age 4, Juan Garcia became part of the foster care system. By the time he was 7, he never saw his biological parents again.
Garcia found a home with foster parents and their two children. He spent his childhood with his foster family and called it fortunate that his brother and two sisters also grew up in the same house.
"My foster parents didn't treat us differently; we were part of the family," he said.
His foster parents instilled in him the importance of academic achievement and higher education to better his life. In high school, he was a standout varsity track and cross country runner, and worked hard to get good grades to attend college.
"Because you are a foster youth does not mean that you amount to nothing. I did not let my past get in the way of what I had in store for myself. Instead, I focused on my goals," Garcia said.
This month, Garcia is graduating with a bachelor's degree in public health from Cal State Fullerton — made possible because of the support from his foster family, the nonprofit OC United and the university's Guardian Scholars Program.
"Being a part of the Guardian Scholars Program has helped me to reflect on my life and my college journey," Garcia said. "Knowing at age 7 that I would never see my parents again was one of the hardest things to accept as a kid.
"Guardian Scholars helped heal my scars by creating a community where foster youth can come together and relate to one another. Most importantly, the program empowered me by helping me gain access to higher education."
Garcia is among 26 graduating Guardian Scholars who were recognized for their achievements at a May 5 reception. Launched in 1998, the program, funded through donor and community support, offers a range of services and resources to current and former foster youth exiting the foster care system.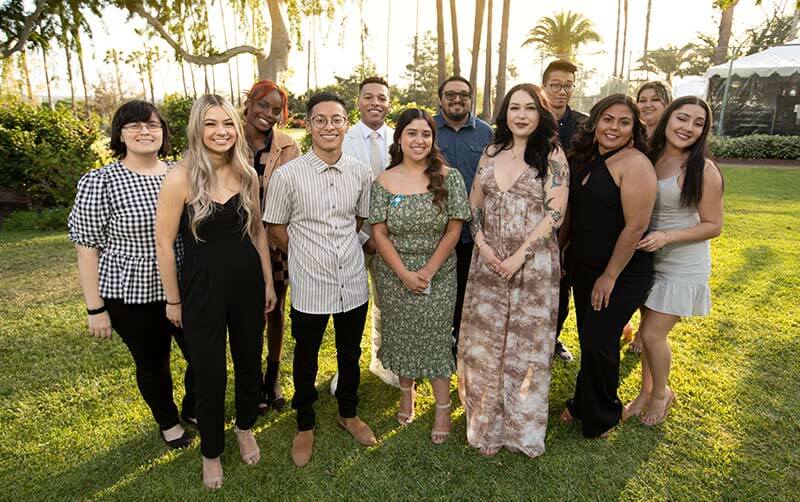 "Earning a college degree is a step to reaching other goals that I have in mind, which includes being financially stable, buying a house and landing a career that I love," he said.
Garcia, who focused his studies on nutrition, is the first in his family to earn a college degree. He hopes to be an inspiration to his five brothers and sisters — three biological siblings and two foster siblings he grew up with in his foster care home in Fontana.
His career goal is to become a registered dietician, and later, pursue a master's degree.
"I chose this career path because physical health is so important and is easily overlooked. As a nation, we are currently in an obesity epidemic and I want to help people who struggle with obesity and eating problems," he relayed.
For Garcia, the leap from high school to college was trying, since once accepted into CSUF, he did not know how he would pay for college or where he would live. He learned about the Guardian Scholars Program, sought assistance and became involved.
Program staff guided him and helped him secure off-campus housing in Fullerton through partner organization OC United, which assists transitioning foster youth.
Two months into his first semester, he got the call that he was awarded a full-ride Guardian Scholars scholarship. At the start of his second semester, he was gifted an older model Honda Accord from a donor through OC United. Instead of riding a bike to campus, he now had a car to drive.
During his college years, Garcia worked full time in retail sales, and volunteered and interned at community organizations that provide services to foster youth and low-income families in Orange County.
"Being involved in these organizations enhanced my college experience because I got to help others in need. I was once a person who needed help, and now, it is my turn to give back."
He is the recipient of the Guardian Scholars Rookie of the Year Award, Guardian Scholars Community Service Award for his volunteer work, and maintained a 3.0 GPA.
As Garcia prepares to graduate on May 24, he credits Guardian Scholars for changing the trajectory of his life.
"This program has been the biggest blessing of my life. Being connected to the scholarship program early on helped me achieve my college dream. It's an accomplishment that I can cherish — and no one can take that away from me."
Visit the Guardian Scholars website for more information about the program. Cal State Fullerton's commencement celebrations will take place May 23-26.