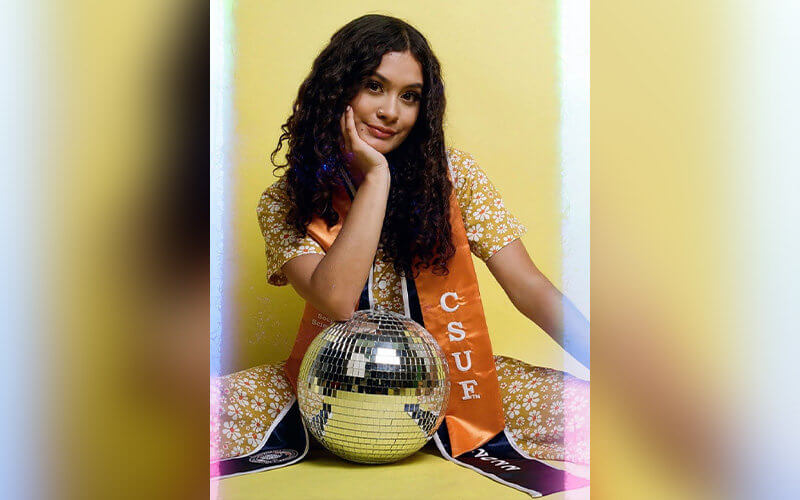 Sophia Briseno, B.A. sociology
¡Buenos días familia y amigos! Good morning family and friends! I am incredibly thankful for being nominated by Dr. Traylor as the sociology department commencement speaker this year. I want to thank my sociology professors for responding to my endless questions throughout the years, AKD Sociology club for allowing me to grow as a leader, my friends for helping me navigate the world, and my family por siempre apoyándome en todo lo que hago. Los amo mucho!
When I got asked to speak here today. I was in complete shock. I thought, 'why me?' This doubt of myself made me realize that I suffer from imposter syndrome. I told myself to step back and think about how far I had come from my freshman year when I didn't even have a clue what major I wanted to pursue. I encourage you to step back and reflect on the last couple of years of your life and all that you have overcome to get to where you are today. For one, you graduated with your degree in unprecedented times, and there are so many more accomplishments that you harbor and may fail to recognize.
As a first-generation Latina and college student, I can vouch that it's challenging to navigate a system that was not meant for me to succeed in. This is resilience. Many of you and I are breaking barriers and venturing into the unknown. We come from different backgrounds, life stories, and experiences that make us who we are. I grew up speaking Spanish at home. It was not until I got to grade school that I learned English. I was raised in a predominantly white, middle-class Californian suburb which sounds like the dream for immigrant parents; however, the education system is not always geared to help minority students thrive. During parent-teacher conferences in second grade, my teacher told my mom to stop speaking to me in Spanish at home as it was backtracking my progress in English. I never thought much about this situation when I was younger, but through my sociology education at CSUF, I have learned how institutions such as the education system can impact one's life tremendously. I am fortunate enough that this hurdle did not dramatically impact my life and did not silence my voice. It made my voice louder. Now I face the opposite problem. I have excelled in English, and my grammar in Spanish … wellll, it is constantly corrected by my loved ones.
My sociology professors at this institution have taught me the significance of being culturally competent in everything I do, and I hope society learns to do so as well. I am continuously grateful to my peers and educators for pushing me and engaging in thoughtful conversations with me throughout the last four years. The sociology department at CSUF is truly one of a kind.
Keep fighting for the injustices that face our world daily, whether related to academia, systemic racism, LGBTQ+ rights, women's rights, Mass shootings because we demand policy and change as thoughts and prayers are no longer serving us. We demand action now. Unfortunately, I could be here all day listing everything wrong with the world, but I believe in us. Through our sociology education we have learned and even lived the inequalities we have discussed. Not only will we have learned about these heart-wrenching subjects, many of us will work hands-on to create the change we want to see in the world.
Good luck to each and every one of you. I know there's a bright road ahead. I want to leave off with a quote by Nelson Mandela, "It always seems impossible until it's done." Congratulations, Sociology Class of 2022! Si se puede!