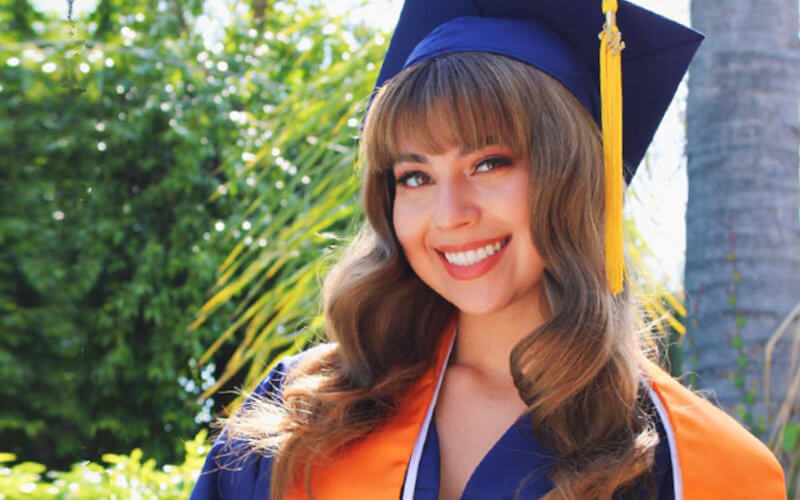 Add together a drive for academic excellence, a dedication to research and a passion for uplifting fellow Titans — and the sum is Madeline Ceccia, an applied mathematics student who garnered the Alumni Association's 2022 Outstanding Senior Award.
"Cal State Fullerton gave me so many opportunities to persevere in becoming an accomplished graduate," Ceccia said.
A first-generation college student and woman in STEM, Ceccia said that the award is much more than an academic accolade — it's also a testament to her personal growth.
"I struggled a lot with imposter syndrome. This award symbolizes my victory over that self-doubt and celebrates my achievements," explained Ceccia. "I hope that in being the recipient of this award, other females in STEM and other first-generation college students will see themselves in me and be inspired to persevere."
Since she was in middle school, Ceccia has dreamt of becoming an engineer in the aerospace industry. Graduating summa cum laude with her bachelor's degree in applied mathematics, she is on her way to reaching her goals. She begins her new job this June as a systems engineer for Raytheon Intelligence & Space.
"Madeline empowers women to not only feel like they belong in STEM, but she also inspires them to lead our next ventures into the exploration of outer space," said Ricardo V. López, vice president of student alumni engagement for the Alumni Association Board of Directors.
Ceccia joined the Titan community in 2019 as a transfer student from Citrus College. Since then, she has dedicated her time to being a leader on the CSUF campus.
Her first job on campus was as a STEM peer adviser through Project RAISE, where she consistently went above and beyond to provide guidance to fellow transfer students. During her time with Project RAISE, Ceccia participated in workshops, outreach and daily communication with up to 30 students per semester, many of whom she continued to support throughout their time in college.
"I opened my heart to students when they were facing personal struggles like anxiety, stress and financial woes. I let students in on my own struggles, so I could help them navigate their situations," said Ceccia. "Many of the students I advised were transfer students like me and even though it was my job to empower them, they did the exact same for me."
In addition, Ceccia served as the section editor for Dimensions, the College of Natural Sciences and Mathematics' journal for undergraduate research. She also created an impressive research resume of her own, publishing three articles in academic journals.
Her original research titled "Fibonacci Gaps" was published in the spring 2021 issue of MathAMATYC Educator, a journal of the American Mathematical Association.
"I am so proud of Madeline for being named the Alumni Association's outstanding senior. Her work on the 'Fibonacci Gaps' article was both comprehensive and inspired. She is a fine young mathematician and a wonderful person. I know she will have a positive impact in whatever she does," said Martin Bonsangue, professor of mathematics who helped her with the research.
Ceccia thanked her professors, faculty and peers for empowering her to achieve her dreams.
"CSUF is one of the most inspiring and encouraging places I have ever been," said Ceccia. "All the opportunities I had at CSUF, whether they were on-campus jobs or research, helped me believe in myself so that I could become the accomplished individual I am today."