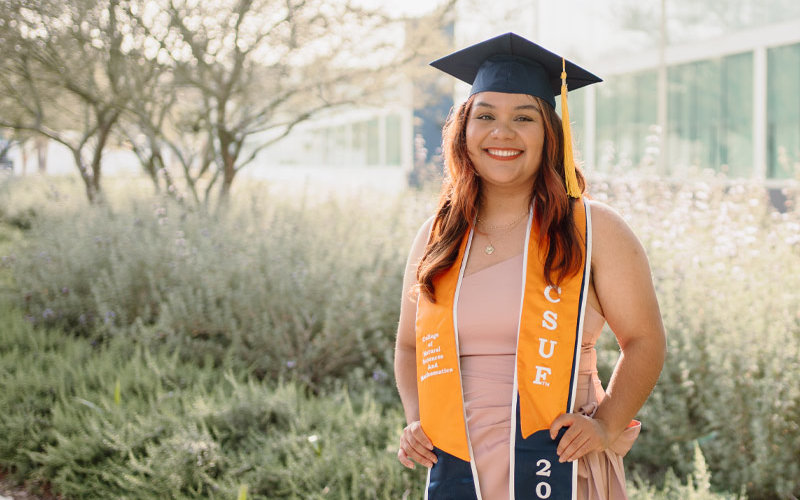 After marine biology student Leeza-Marie Rodriguez graduates from Cal State Fullerton this week, she will be the first in her family to earn a college degree — and the first to be accepted into a doctoral program.
Rodriguez will attend UC Santa Barbara this fall to study ecology, evolution and marine biology.
"I will be working to understand how marine environments are responding to climate change. I am interested in testing various restoration and conservation strategies focused on marine coastal and intertidal habitats," she said.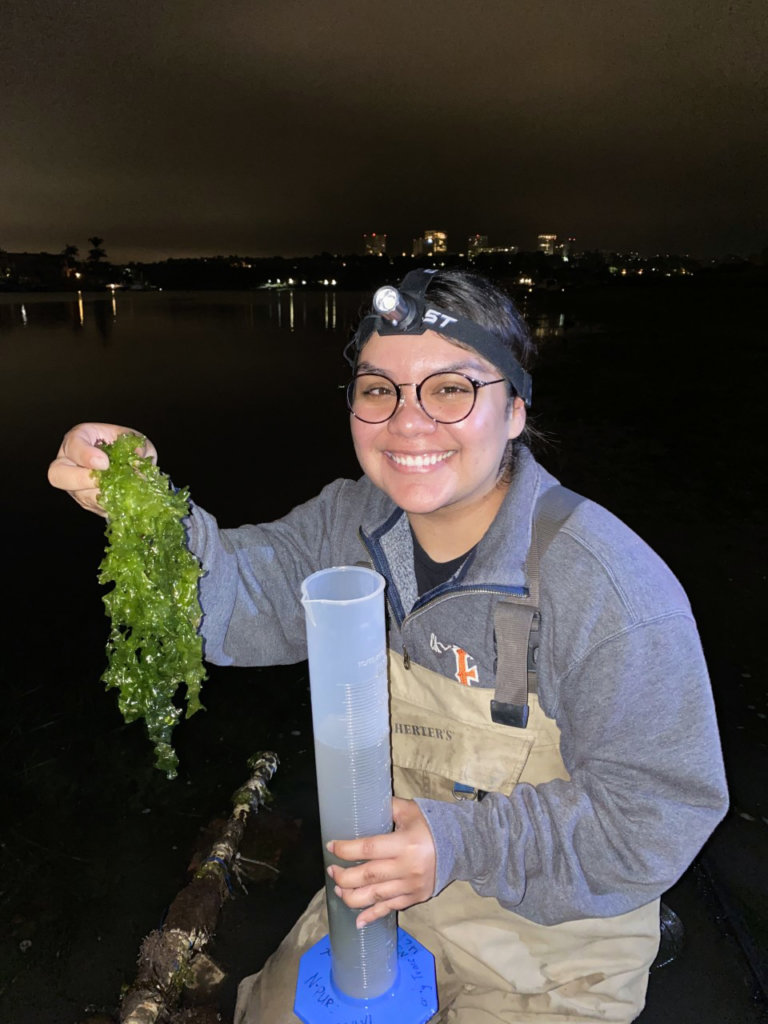 "Ultimately, I aim to provide insights into realistic and equitable conservation methods that can help preserve marine ecosystems in the face of ocean acidification. Combining traditional ecological concepts, environmental education and socioeconomic issues, will allow my graduate work to simultaneously protect coastal habitat and marginalized communities."
To help her reach her goal of graduate school, Rodriguez is the recipient of the highly competitive 2022 Graduate Research Fellowship from the National Science Foundation. The prestigious fellowship provides three years of financial support within a five-year fellowship period — a $34,000 annual stipend and $12,000 cost-of-education allowance to the graduate institution.
The award supports outstanding graduate students in NSF-supported STEM — sciences, technology, engineering or math — disciplines who are pursuing research-based master's and doctoral degrees at accredited U.S. institutions.
"This fellowship will allow for a much smoother and equitable transition into graduate school. I will be able to focus on conducting and creating a research project in my doctoral program — instead of worrying about the lack of funding and it becoming an obstacle in obtaining my doctorate," she said.
For the last three years, Rodriguez has conducted undergraduate research under the mentorship of Danielle Zacherl, professor of biological science, and learned valuable lab and field skills to prepare for her graduate studies. Zacherl also was instrumental in helping her apply for the fellowship.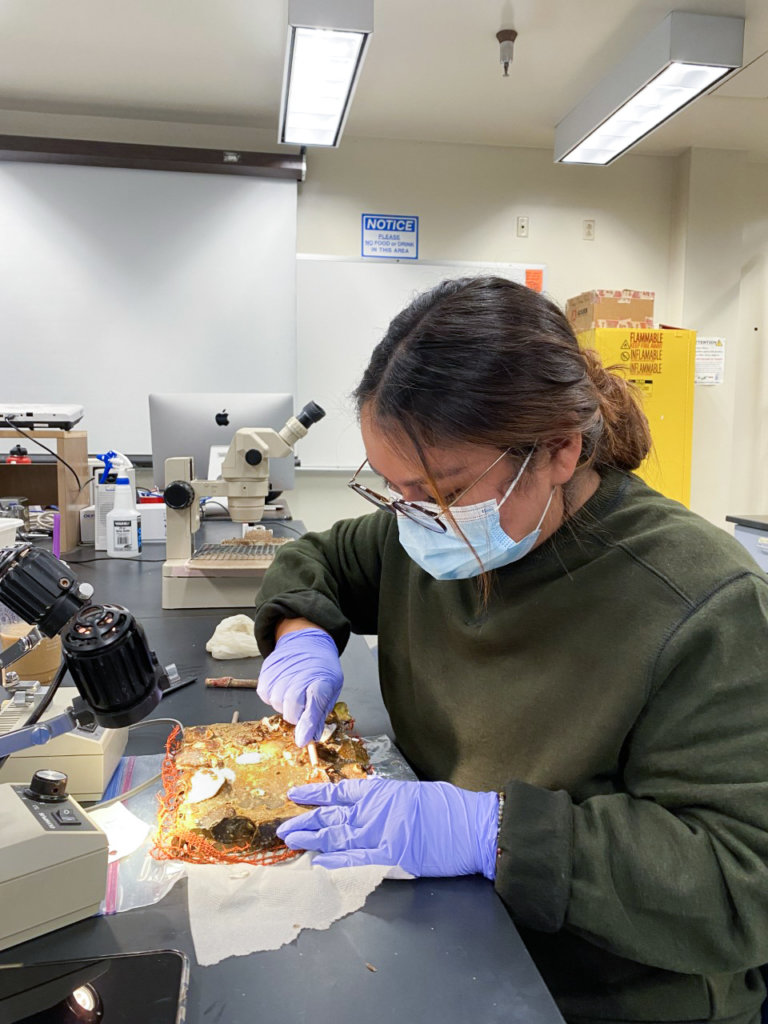 "Dr. Zacherl's enthusiasm and passion for marine ecology and conservation work was what inspired me the most to pursue my research career," Rodriguez said.
Zacherl shared that Rodriguez has the enthusiasm and academic acumen for a career in research.
"Leeza has deeply impressed me with her dedication, insight, creativity and scholarship," Zacherl said. "As a Mexican American woman, she is an underrepresented scholar with great aptitude for research and infinite potential for even more growth."
Rodriguez also is a 2021-22 CSUF Louis Stokes Alliance for Minority Participation (LSAMP) research scholar. The NSF program aims to increase the number of underrepresented students who graduate with degrees in the STEM disciplines.
"Leeza is a very determined, hardworking and exemplary scholar. She participated in all program activities with enthusiasm and was punctual in fulfilling the program requirements," noted Zair Ibragimov, professor of mathematics and director of the CSUF LSAMP program. "Without a doubt, receiving this highly competitive fellowship award is a huge accomplishment and a big honor."
Researching Spaghetti-Like Aquatic Invertebrates
Rodriguez's undergraduate research project focuses on a nonnative bryozoan colony, known as Amathia verticillata, which may have impacts to the native Olympia oyster restoration work Zacherl and her students have been involved in along Orange County's coast.
The nonnative bryozoan are microscopic aquatic invertebrates that live in colonies and look like a big pile of spaghetti, Rodriguez explained.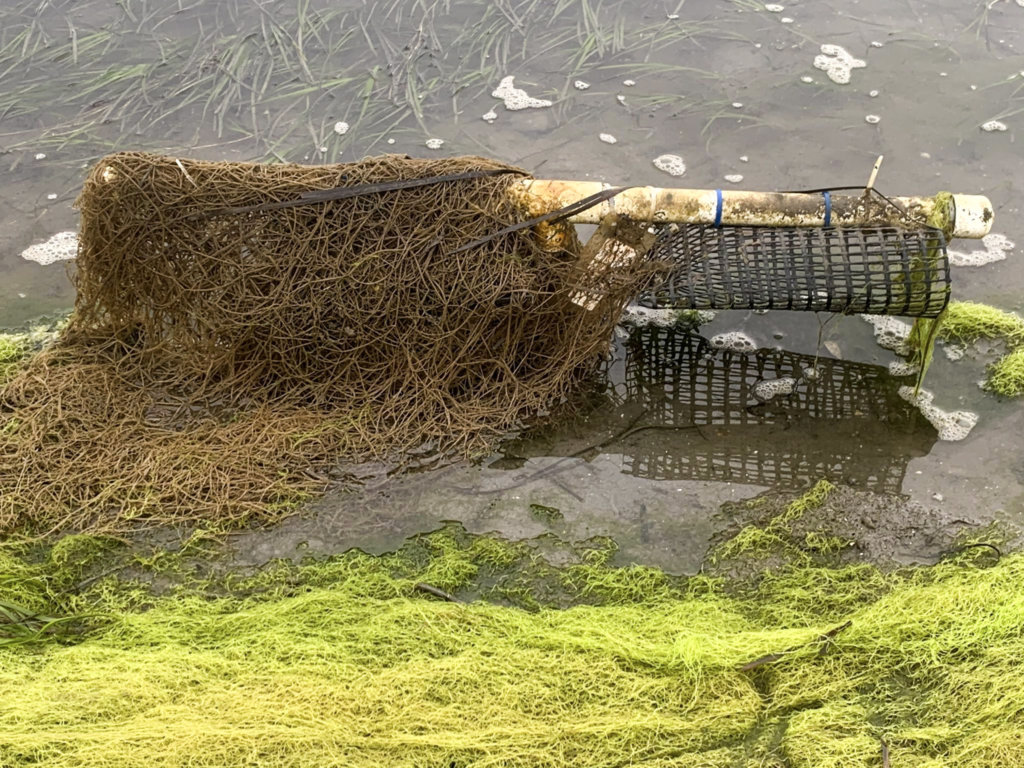 "When I first heard about the species I'd be studying and that it looked like spaghetti, my interest was piqued," she said. "I've always admired how diverse marine ecosystems are, especially physiologically, so by combining my love for being out in the field and working with invertebrates made this project a great fit for me."
Through her study, she discovered that this bryozoan could have both positive and negative impacts on oyster populations.
"This was one of the most fascinating things to me about this project because it shows that in very specific environmental conditions, nonnative species can be an ally to native species," said Rodriguez, who is working on finalizing her senior thesis about the project and plans to publish results in a scientific journal.
Rodriguez's career goal is to work at a federal agency and continue research in marine conservation efforts.
"Coastal habitats are already feeling the impacts of climate change, and by the end of the century, they could be altered catastrophically, displacing millions of people, especially the low-income and historically excluded."
Cal State Fullerton's commencement celebrations will take place May 23-26.