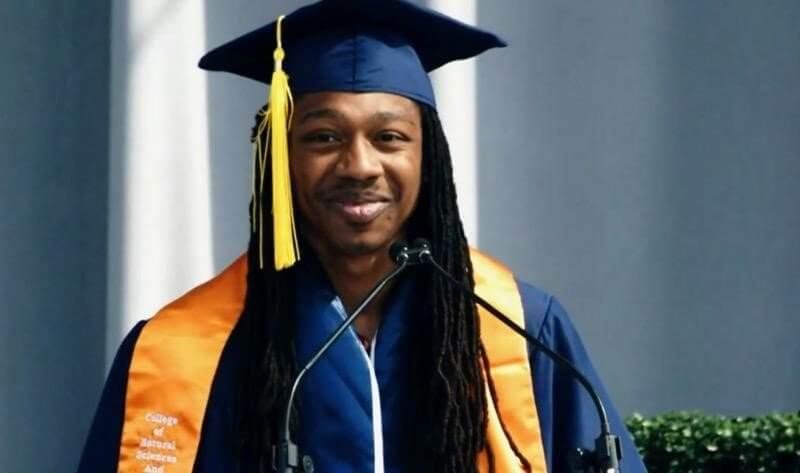 Tahj Stewart, B.S. biological science
Good morning, everyone! My name is Tahj Stewart and it is my great honor to be speaking today as commencement speaker. Being a part of the Class of 2022 is synonymous with how it feels after riding a high velocity, loopy roller coaster.
When I started at Cal State Fullerton, I chose to be a biology major. As I progressed through the major, I got called nerdy by my colleagues many, many times. But in the beginning, I had my doubts and thought about pursuing kinesiology instead. Standing in front of you all today, I can now say the biology major has chosen me.
Being an NSM major, like us young adults like to say colloquially, was dummy hard. It was a hard, sacrificial, sleepless, arduous process, so standing here today was not an easy feat and took strong mental commitment. I now can say strongly that it's been worth it, and I'm pleased to be standing here speaking in front of such intelligent and dedicated individuals. I want all of us to embrace today full-heartedly and understand how grand of an accomplishment this really is as we sit here wearing our square caps and long gowns.
In reference to the roller coaster analogy earlier, the numerous twists and turns induced by the COVID-19 pandemic beginning in spring 2020 threw us and the rest of the world into a radical, social and educational change causing two very unorthodox years spent at Cal State Fullerton.
But I wouldn't hesitate to do it again.
With COVID-19 in mind, I would appreciate it if we all take a brief moment of silence to acknowledge and pay respect to the family and friends who have fallen from COVID-19. Thank you.
While I'm on this platform, I want to briefly pour out my love and gratitude to friends, three individuals from my family and a few faculty members who really stood out to me.
I want to thank all my friends I made at CSUF. I was blessed with receiving an immense amount of love from you all when it came to homework help, a place to stay some nights, personal advice, communicating to me what I need to work on academically and personally, and getting me out of my comfort shell.
I want to thank my mother, Tonya Stewart; my sister, Kaitlon Stewart, who is an alum of our College of Humanities and Social Sciences; and my father, Dacqrin Stewart. These three unbelievably strong individuals always push me to my capabilities and the love instilled in me from them is the love I will be sure to give back to the world.
I want to thank Dr. (Merri Lynn) Casem, chair of the Department of Biological Science, who reinforced my love for studying biology when I took "Intro to Cell and Molecular Biology" during my first semester at Cal State Fullerton. I want to thank Dr. (Joel) Abraham. I will always remember that moment in Zzyzx where he walked in on me making a Triller dance video to a song called "Goat" by Lil Tjay. He is someone I idolized and looked up to for his charisma, intelligence and the way he carries himself. I want to thank NSM Graduation Specialist Sam Barrozo. I really appreciated his kindness and his ability to present himself consistently with energy and a willingness to aid students with their academic endeavors. Lastly, I would like to express my gratitude to Dr. (Catherine) Brennan for being my professor for immunology this last semester and for encouraging me to apply to become one of the commencement speakers.
As NSM majors, whether you learned about cells, atoms, circuits, tectonic plates or math, one thing that unites us all is our curiosity about the world around us, and we must stay curious and come ready to solve problems with critical thinking skills and knowledge we attained.
As our world continues to change right before our eyes with environmental, technological and social advancements, we as NSM majors who are the future doctors, engineers, nurses, scientists, statisticians, physician assistants, environmentalists, physicists and other careers in our expansive field, need to remind ourselves constantly to keep our love for others high, our ethical integrity high and our passion high.
We are the ones who can change our perspective of the world. We must manage problems promptly with dignity and with respect for all cultures — even if it doesn't align with one's own viewpoint. It's the constant awareness of our differences that acknowledge truly how similar we are.
Congratulations, Class of 2022 NSM graduates! We did it y'all, we got our degree! Working collectively, the world can be the dream we depict it to be.
Originally from Houston, Texas, and raised in San Diego, Tahj Stewart is graduating with a bachelor's degree in biological science with a concentration in cell and developmental biology. He plans to pursue a career as a medical doctor. He has worked as a tutor and teaching assistant at Allen Elementary School. Tahj is an orientation leader and continues to work as a kids' sports and life coach, all while maintaining Dean's List status for six consecutive semesters. Tahj enjoys music, drawing and meeting new people, while exploring new creative ways to build his imagination and knowledge.