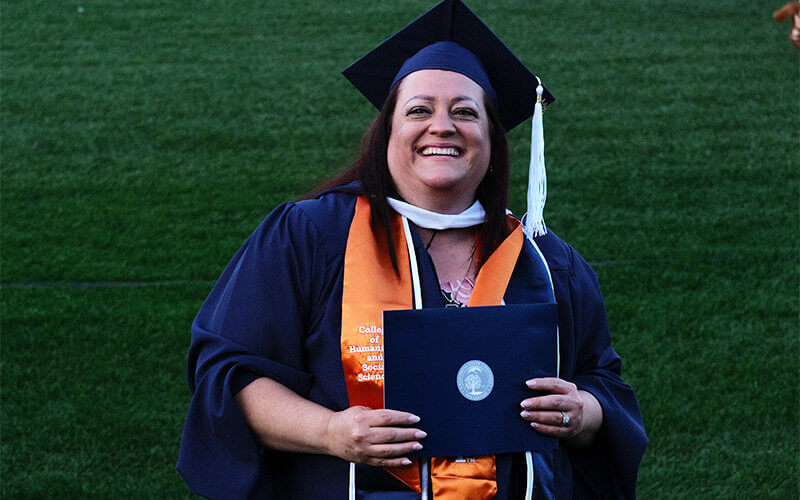 Vivian Valenti-Flores, M.A. political science
Good afternoon, fellow classmates, administrators, faculty, family and friends. I'm so proud to stand here with you today as someone who has made it through to the other side of my degree program, of the pandemic that has forever changed our lives, and as someone who is so grateful to have had the opportunity to be a political science graduate student here at Cal State Fullerton.
But, I wasn't always this person. Before this, I was a public administration student who changed her mind, and her major, halfway through the program. This put me in the extraordinary position to have had the opportunity to learn not only how the great thinkers of our time have worked to understand our experiment in democracy and freedom and the global landscape of modern times, but also how our American political institutions can and should serve the public's needs. I think it's fair to say — having just navigated our way through such a devastating case study — that the lessons we have learned are innumerable. There is much work to do.
I came to this program and this campus a little later than the traditional graduate student might, having chosen to raise two kids and my kid brother after our parents passed away before attending college. But, one of the perks has been being able to have my son walk me to class and realizing that my daughter and I had the same professor for math at two different schools one semester.
I'll never forget picking her up after school one afternoon. She was telling me about her math class and the joke the professor had told in class that day. The next day in my class, my professor told the same joke, and I thought, 'What are the odds?' So, the next day when I picked her up after school, I was eager to ask her, "Is your math teacher Prof. Petrie? She looked at me stunned, only to respond with, 'Yes?' That's when I told her, 'My math teacher is Prof. Petrie, too!' We spent the rest of the semester messing up his jokes and punch lines in class.
When I applied to be a graduate student here, I wrote in my personal statement that the best part of my day is when I get to help people. Luckily, that still remains true today. I leave here with a deeper understanding of how to do that and why it is necessary to continue to make change when and where we find inequities and social and systemic injustices. My time here has only made me more effective in doing so.
When we leave here today in pursuit of our dreams, we will all go forth as braver, kinder, stronger, and more educated citizens. Survivors of both the pandemic and the first remotely taught graduate program, and also, as Zoom experts. One of the many things we all have in common is that we want to be involved in making this world a better place. So, I stand here before you today, promising to continue to learn and grow every day, committed to being an example of the change I want to see in the world. I'll ask all of you to make the same promise and commitment to yourselves and your fellow humans, because we are the future. What happens now is up to us.
I would like to thank the faculty for being truly amazing, for handling themselves and all of us with grace and patience, and for finding a way to traverse and navigate all the obstacles over these last two years. I would like to thank my classmates for the enlightening and thoughtful discussions, the companionship, and the moral support. And, most importantly, I'd like to thank my family who ate fast-food dinners and spent their evenings without me more often than I'd like to admit. None of us here today could have achieved this great accomplishment without your support.
Please, be proud of the work you did here, and of the work you will continue to do. Take care of one another as we continue to try and heal and find our way forward in these turbulent times, and never forget that we are Titans destined for greatness. Congratulations to the Class of 2022! Let yourselves be great! The world is counting on you!