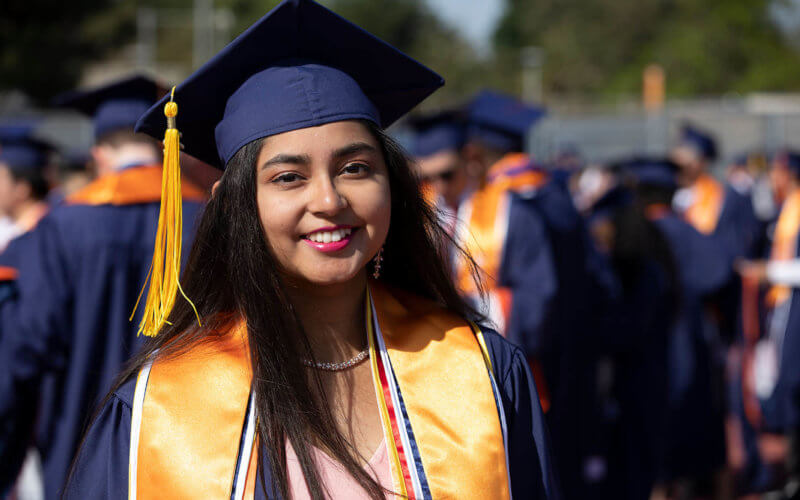 Dimitra Doiphode, B.S. computer science
Good afternoon ECS administrators, staff, families and friends, and the graduating Class of 2022. I'm honored to be up here addressing you on this special occasion. Throughout our college experience, we have each experienced both successes and setbacks, and in the end, we persisted through it all.
When I began my time at Cal State Fullerton in fall 2018, I was still adjusting to the changes from high school to college, and I wasn't even sure if I could take on the computer science major. As a South Asian woman in STEM, looking around my classes I could see that I was definitely in the minority.
But as I sought out different organizations that represented people like me, such as the college's various programs for women in STEM (science, technology, engineering and mathematics), our school's Indian student association, and even the Daily Titan newspaper, I had a renewed sense of confidence and spirit, as well as communities to call my own.
Just as I was finding my niche, the COVID-19 pandemic hit, shaking up our idea of "normal." While many aspects of our learning experience and campus life have adapted in response to the pandemic, one thing has remained the same: The unyielding Titan spirit present in the faculty, staff, and all of us students. Whether it's classmates coming together to work through problems together, or professors providing their insight to help us reach our potential, we have all seen, and been a part of, that Titan spirit.
As an executive board member on the university's Engineering and Computer Science Inter-Club Council, I organized a "meet and greet" with the deans, department heads and program coordinators in spring 2021 — a time when the future transition to in-person classes was still uncertain. As Dean (Susan) Barua and the ECS team answered the student clubs' questions, it was clear that their leadership and dedication to the campus community served as a role model for those around them.
From the senior design teams' creations that soar to success to identity-based organizations that foster inclusivity within STEM fields, in my role as a part of the ECS ICC board, I have been lucky to witness the various clubs' achievements that put Cal State Fullerton on the map, as well as the hard work that goes on behind the scenes to make them happen.
Four years after first stepping foot on campus, I'm grateful that I had the support of my family, peers and the college in succeeding on my most trying, yet rewarding, academic journey yet. My parents and sister always had faith in me, and without their unconditional love and guidance through the ups and downs, I wouldn't be standing here on this stage today.
As we close out the end of one chapter, we also welcome the beginning of a new one. This new chapter means entering unfamiliar territory, encountering obstacles and navigating the unexpected changes in life. It also means making new friends, overcoming those obstacles and growing as scholars and individuals. The Titan journey never ends, and along that path, we're never alone because we will always have our family, friends and peers supporting us. To my fellow Titans, I encourage you to celebrate, and remember this moment and this achievement, because Titans Reach Higher.