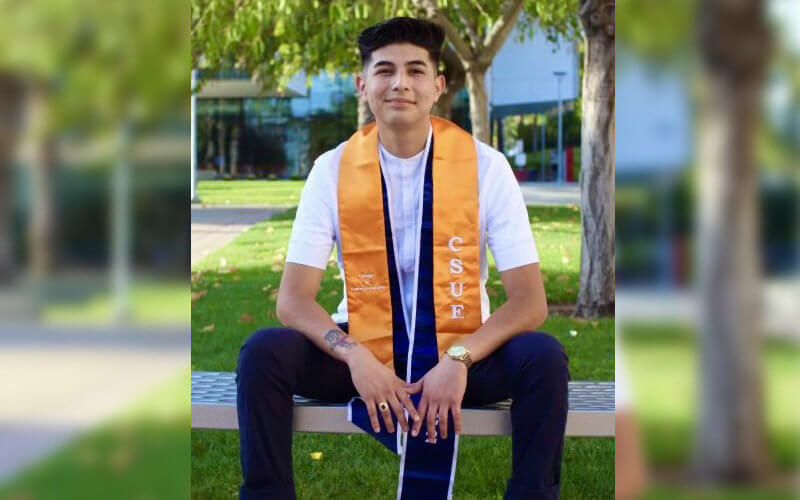 Luis Bustos, B.A. communication studies
Hello, everyone. Before anything else, I would like to say thank you for giving me this opportunity to speak for a few minutes. I know every one of us has waited such a long time for this moment, so I'll try my best not to take too much of your time.
As I stand here today looking at each and every one of you, I am just filled with amazement and wonder. So many different people from different backgrounds and experiences have all come together for the same purpose — to pursue higher education to make a difference in our lives and the lives around us. We made it! No matter what happens in the future, I want each one of you to be proud of who you are. You are the spectacular individuals I have the honor to speak in front of today.
When we look back on photos and memories of this day, we must first acknowledge our academic accomplishments and successes — things that could have only been attained through each person's personal passion and perseverance. Acknowledge that passion we felt when we were sitting through our lectures, and we learned something that connected with us on a personal level. All of us have different origins where that passion was formed. Maybe you gave a speech in class and you fell in love with public speaking. Maybe it was a conversation you had with a fellow student that made you appreciate interpersonal communication. Or, maybe it was one wonderful professor who sparked a passion through their teaching — one who made you realize this is where you want to focus your education.
The other part is perseverance. It took perseverance to work a full-time job and pursue your education, or to stay up all night finalizing a paper that was due the next morning. It took perseverance to face a global catastrophe and still rally ourselves to continue with school through a difficult world. It took perseverance to believe in ourselves in moments of doubt, and to know we would make it to this day and become legendary.
I want to take a moment to celebrate the person behind that nice cap and gown — the person you are outside of the classroom, the person many of us never got to see behind the scenes who crafted their own destiny. Every one of us had our own journey that made us who we are today. We all dealt with struggles and barriers in our lives that we felt would never end. But, we pushed through. We didn't let ourselves fold under the pressures of life.
We rose to the occasion and became greater than ever before. We finally understood why things needed to be so hard. We have all grown and matured through the good and bad. However, those bad moments are not what define us as individuals. The hard work it took to arrive at this amazing, wonderful moment each one of us has earned defines us. And, it is just one moment in a lifetime of good moments each of us will experience with time.
As my time is up, I ask each and every one of you for a round of applause, but not for me.
Applaud the people standing in the crowd who are here to celebrate you, because they are your biggest supporters. They are here because they knew you would eventually become the amazing individuals you are today.
Applaud the students sitting around you. They are not just people to fill seats. No, they are your peers who worked just as hard as you to get here. You should be just as proud of them as they are of you for making it to this moment.
Lastly and most importantly, give a round of applause to yourself — the only individual who understands the personal journey you took to make it to this moment. Applaud the person who I believe — and everyone here with us believes — will not only change the world for the better but will also inspire the next generation through the foundation they lay.
Thank you, everyone. And, once again, congratulations!