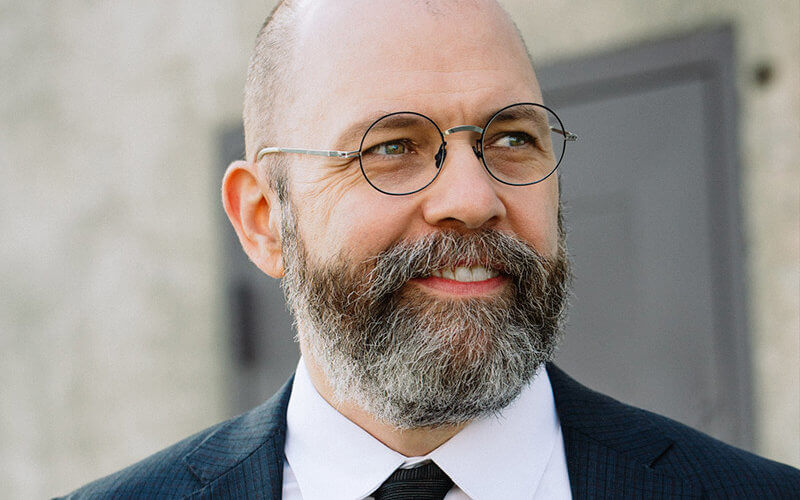 As a college student amid the height of the HIV/AIDS epidemic, incoming Cal State Fullerton dean Jason Smith spent much of his time volunteering in the LGBTQ community to help prevent the spread of the virus, which at the time had no widely available treatments.
It was through this work that Smith had the opportunity to meet the late Larry Kramer, an LGBTQ and AIDS activist who inspired him to see the links between health, politics, discrimination and justice.
Seeing the law as "a powerful tool that can be used to both improve or worsen health," Smith sought a law degree and eventually made his way into higher education to continue his mission.
Smith, an expert in bioethics and health law, has been appointed as the next dean of CSUF's College of Health and Human Development following a national search, effective July 1.
"I am very excited to join the Titan family and especially the College of Health and Human Development, which is home to amazing faculty, staff and students doing outstanding work in all areas of human health and welfare," said Smith. "This role is particularly important as California grapples with the challenges of the climate crisis, ongoing inequities and the COVID-19 pandemic."
Smith is currently an American Council of Education fellow at UC Santa Cruz. Prior to that, he served as chair of the Department of Public Health at Cal State East Bay and taught courses in bioethics, health humanities, law and policy.
He has published research on such topics as the economic and social conditions that influence individual and group health differences, public health law, the climate crisis and public health. Smith is also a member of the American Society of Law, Medicine and Ethics board of directors.
"Jason's passion to improve health and the human experience, a central mission of the College of Health and Human Development, will extend the possibilities of the college in the years ahead," said Carolyn Thomas, provost and vice president for academic affairs. "I am particularly enthusiastic about his deep commitment to equitable outcomes for students and the socioeconomic mobility that is possible for them and their communities through higher education."
As dean, Smith's vision remains the same as it was as a volunteer in the community: to reduce health inequities.
"CSUF has an important role to play not only in providing opportunities and education for our students, but also in supporting and improving the welfare of our surrounding community," he said. "The College of Health and Human Development is primed to build upon that goal."
In addition, Smith plans to focus on expanding the college's partnerships with the community; offering more experiential learning opportunities; supporting sustainability and climate resiliency efforts; and linking the college's mission to improving the health of Orange County through teaching, research and service.
His first order of business, though, is simply to listen. "I want to understand what is important to our Titan community, as well as our neighbors, employers, alumni and county."
Smith holds a juris doctor from Northeastern University School of Law, a master's degree in theological studies from Harvard Divinity School and a bachelor's degree in English from the University of Tulsa.