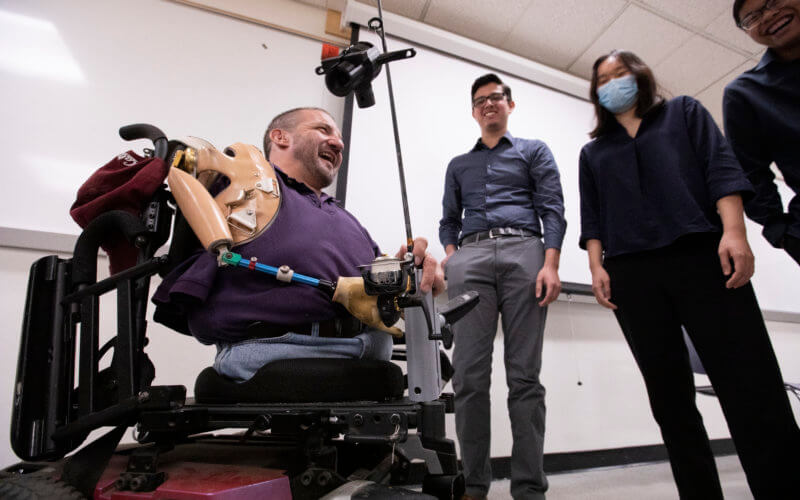 Cal State Fullerton mechanical engineering student Scott Salling had a promising career in the U.S. Navy. But at age 27, his service was unexpectedly cut short after he was diagnosed with cancer.
After six surgeries and five rounds of chemotherapy to treat three types of cancer in his abdomen, he was forced to leave the military after serving 10 years — and wondered what was next for him.
During his cancer treatment at the Naval Medical Center San Diego and involvement in the Wounded Warrior Project, Salling met fellow service members dealing with physical wounds, including the loss of arms and legs. He was moved by their determination and desire to achieve better functionality to live their best lives.
"I felt hopeless since there was nothing I could do to help," he said. "But then I started speaking to people with an amputation and noticed small tweaks that could improve their prosthetic devices. This is when I knew I wanted to become an engineer."
Salling found a new purpose: Earn an engineering degree and pursue a career developing affordable and life-changing prosthetic devices to replace limb loss.
"Helping others and doing things for the greater good is what I loved most about what I was doing in the military. I know that I can do that again," Salling said. "The technology for prosthetics is incredible; the problem is, it is often unobtainable due to the cost. I am determined to change that."
Real-World Lessons in 3D Printing
Fast forward to the spring semester class Salling was enrolled in: Sagil James' upper-division course, "Additive Manufacturing Engineering," which provides an overview and trends in additive manufacturing processes.
The newly created course includes a project using 3D printing — known as additive manufacturing, which is the process of creating physical objects from digital 3D model data and depositing materials layer-by-layer — on a real-world application.
Enter Ruth Cho, community living advocate at the Dayle McIntosh Center in Anaheim, who approached James, associate professor of mechanical engineering, after a random internet search last fall. His research expertise includes innovative and advanced manufacturing technologies and processes, and computer-aided design.
Cho enlisted James' help on behalf of a co-worker in need of a new prosthesis for his right arm.
"After exchanging messages, engaging in Zoom meetings, and experiencing the compassion, willingness and creativity of Dr. James and his students, we found this wonderful opportunity to spread awareness about disabilities and accessibility — and focus on the creative ways independence can be achieved," Cho said.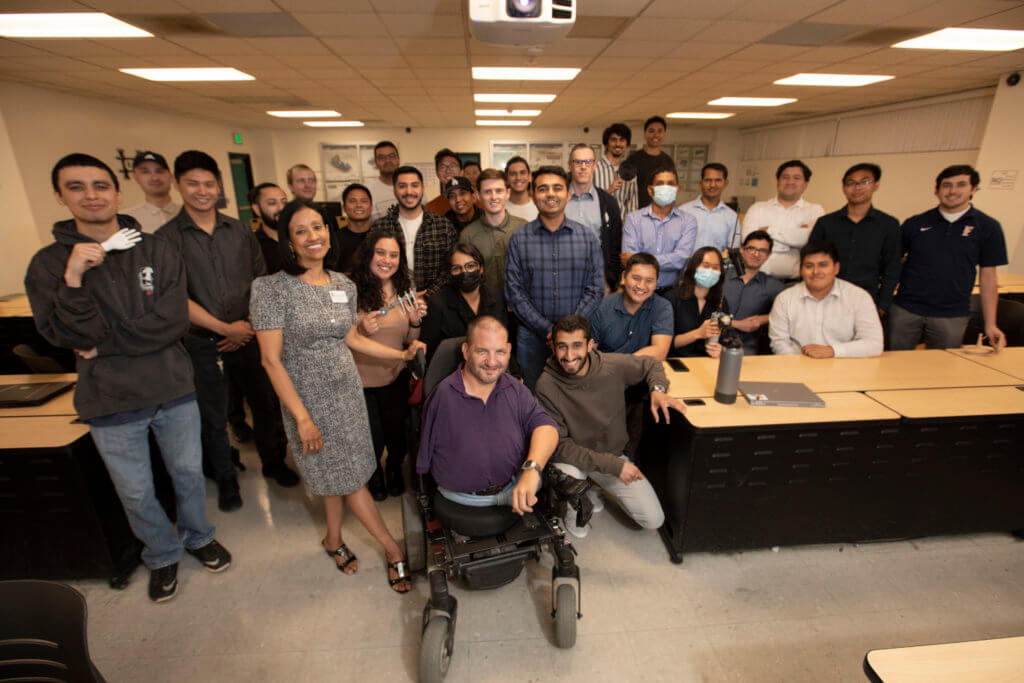 James turned to his class of 33 students, including Salling, to take on the challenge of using 3D printing to create a functional prosthetic arm for Richard "Rich" Skerbitz, born without legs and one arm.
"The goal of this project is to explore the possibilities of using the concepts of 3D scanning, universal design principles and 3D printing technologies to redesign and fabricate customized and affordable prosthetics for the arm and hand," James said.
Salling and graduate student Ram Saroop, who are directing the project, met with Skerbitz to assess his personal needs and customize a prosthetic arm to augment a 20-year-old assistive device he uses for driving.
The students' goal for the project is to design and manufacture a prosthetic arm for Skerbitz that has multifunctional, interchangeable modules that he can use for different tasks and activities.
The class was split into seven groups, in which each team focused on a specialized task for the prosthetic arm and hand, such as handling kitchen utensils, using a fishing rod, operating a vacuum or playing a guitar. Using computer-aided design software, they created modules for each task, then manufactured small-scale prototypes on a 3D printer.
"Modern technologies, such as 3D printing and 3D scanning, help reduce the manufacturing steps," James explained. "This project is a demonstration of the real-world capabilities of 3D printing technologies and universal design, which is an innovative method for designing accessible and inclusive solutions for a range of users."
Salling and Saroop, who plan to graduate next year, and a new team of students, will continue the project over the summer and fall semester to develop the final iteration of their 3D-printed prosthetic arm and modules for Skerbitz.
Salling, 37, married and the father of three young children, works in the aerospace industry and plans to become a patent attorney to make prosthetics more accessible.
"My desire is to provide Rich with a new chapter of opportunities," he said. "I'm hoping this project will institute a future line of quick access modular assistive devices that Rich can use to improve his daily life, while encouraging the development of new creative, cost-friendly and attainable prosthetic solutions."
Using 3D Printing Technology to Meet an Individual's Needs
Skerbitz, community transition coordinator at the Dayle McIntosh Center, visited the class in May to listen to student presentations about the progress of their project. He also shared his enthusiasm and appreciation for their work to design a prosthetic that meets an individual's needs.
"I'm impressed by this class's passion and empathy of not only building something but also making that personal connection," he said.
Not only was he pleased with the prototypes, Skerbitz expressed how he hopes working together with the class changes students' perspectives about people with disabilities and the devices engineers can design to benefit these individuals.
"I hope this project helps to breakdown attitudinal barriers and the stigmas that exist against people with disabilities, in which there is a tendency to regard a person with a disability as someone who can't be independent, or that they are of lesser value than anyone else," said Skerbitz, 49, who shared that he lives independently, drives a car and loves fishing.
"A person in a wheelchair is not confined to a wheelchair," he added. "People with disabilities are individuals with abilities."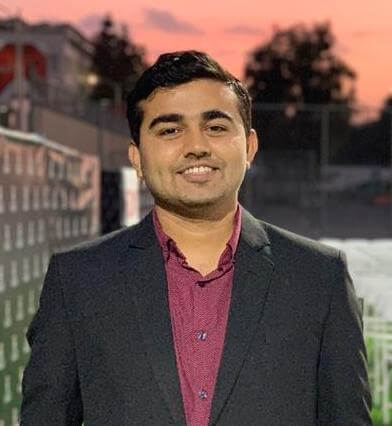 Saroop, an international student from Pakistan, said that collaborating with Skerbitz has made him more aware about how to treat people with disabilities and foster a culture of mutual respect.
"This project increased my knowledge regarding challenges faced by people in need of an artificial device, such as a prosthetic arm or hand, how they overcome obstacles — and the importance of how engineers can create a better future for people with disabilities."