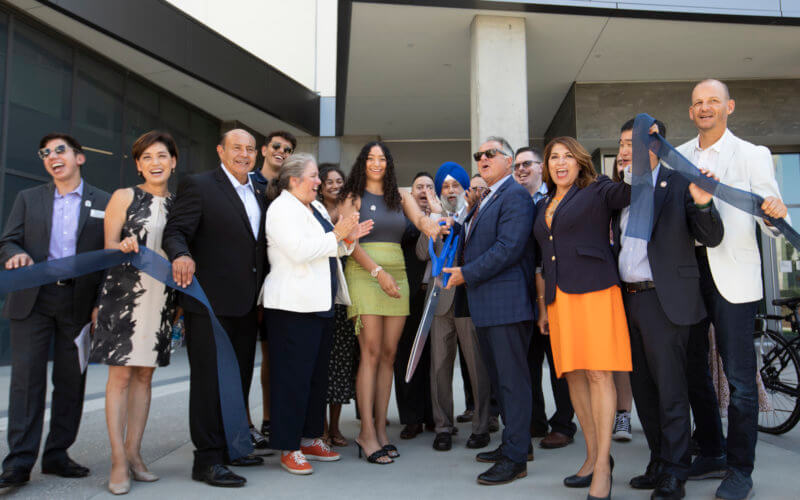 This fall, 600 new students moved into Cal State Fullerton's newest housing community. The new development is the first "suite-style" community and will complement some of the university's traditional residence halls and apartments.
The campus held a ribbon-cutting ceremony to thank the many people involved in planning, developing, building and supporting the new housing community.
Larry Martin, executive director of Housing and Residential Engagement/Titan Experience, welcomed the crowd and spoke about all the steps involved in planning the three new halls: Noble, Redwood and Laurel.
"There are so many people involved in making his dream become a reality," Martin said. "It was exciting to see students moving in. Having well-designed student housing makes the campus more engaging for our students and enhances their college experience."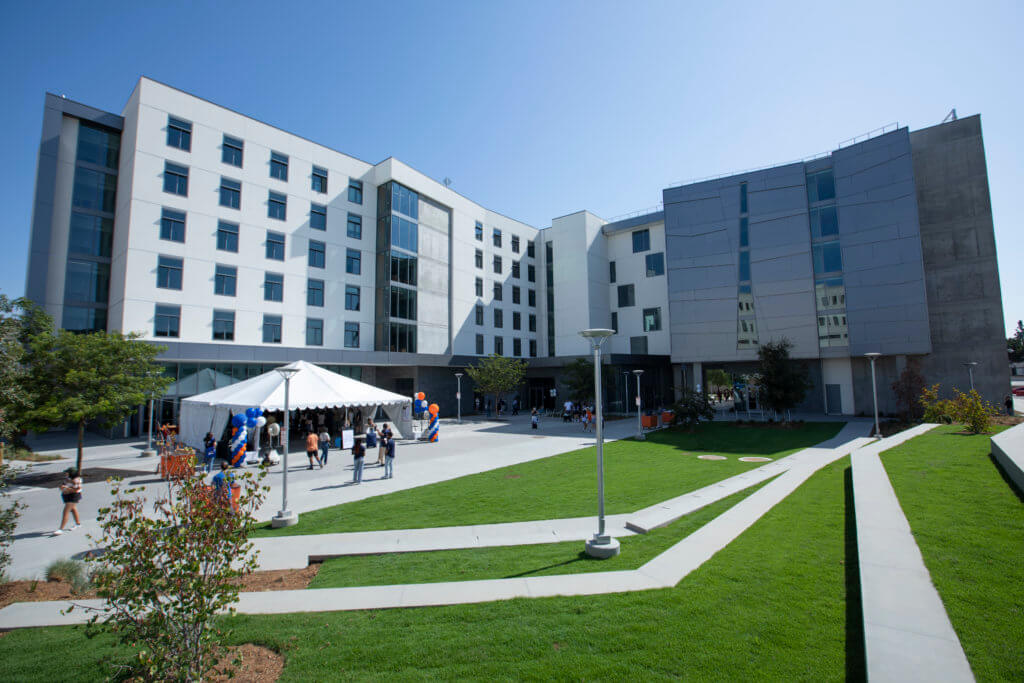 "We broke ground for construction of this housing community in 2020," said Tonantzin Oseguera, vice president for student affairs. "We were in a pandemic and some wondered, 'Is this the right time to be doing this?' and as true Titans, we said, 'Yes, it is'…and we did it in style. We wanted to create a true community for all our students."
"There were times I thought this day would never come," said President Fram Virjee. "It was five years of planning, construction and collaboration. This complex is one more step in building a transformative institution that will transform our students. They, in turn, will transform Orange County, the state and the nation."
Virjee also related how he met many of his lifelong friends in college…as well as his wife, Julie.
"In this community, our students will find their friends for life," he said.
Also in attendance were Congresswoman Young Kim, Congressman Lou Correa, State Senator David Min, Assembly Member Sharon Quirk-Silver and Assembly Member Kevin McCarty.
In the new housing complex, students will live in a suite with seven other students. There are four double-occupancy rooms, two bathrooms and a small kitchenette. Each floor has five suites with active and study spaces for all to enjoy. The building has three wings, and students will have access to the Gastronome and other services as well as residence hall parking.
Currently, the university offers two different styles of housing in addition to the new suites: Shared residence halls (primarily occupied by first-year students) and shared apartments (primarily occupied by new transfer, upper division and graduate students).
The addition of this new facility will bring total on-campus housing capacity to 2,200 students.
"We need to meet the demand for student housing as we encourage more students to live on campus," Martin said. "We've noticed a shift in students' attitudes about on-campus living. They recognize the convenience and the opportunities to connect with campus resources while really getting to know their peers."