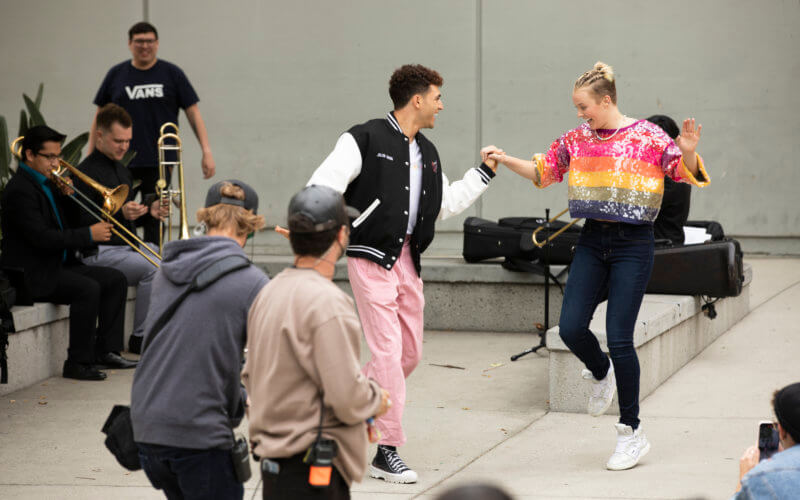 Singer, dancer and media sensation JoJo Siwa became a Titan for a day, dancing her way through the Cal State Fullerton campus and exploring different majors.
Her visit to campus was part of a docuseries called "JoJo Goes" which premiered on Facebook Watch on June 23. The series is available to stream now, and viewers can watch with friends on Watch Together via Messenger and Instagram video calls.
"JoJo Goes" gives the world a glimpse behind the glitter — into JoJo's evolving adult life. A childhood spent in the spotlight has kept JoJo busy, but in each episode, she will have the opportunity to try new experiences that she's always wanted to have. JoJo's bows have found a new home, dancing shoes are traded for combat boots, and the only twirling and spinning involved happens in JoJo's head as she races to remember doctor codes and steps to save a patient's life.
The young star was joined by Titan Orientation Programs leader and Class of 2022 graduate, Ghadir Saad. Saad gave Siwa a tour of CSUF including the Titan letters in the heart of campus, the Pollak Library and housing.
"Showing JoJo around CSUF was so rewarding because I was able to highlight everything I love about the campus while also giving her a chance to see all the amazing resources available for students to help them succeed here," said Saad.
Siwa also visited the Career Center to sit down with Laura Neal, a career specialist for the College of the Arts.
Neal helped Siwa explore different college majors and future career paths, specifically focusing on her interest in drama and performance. Like many Titans planning for the future, Siwa took a career aptitude test to help guide her toward the right major.
"Academic learning is essential to professional development, but the curriculum can never include enough on career prep and planning. The Career Center fills in the gaps when it comes to picking a major, exploring career options and all the professional practices like resumes, cover letters, interviewing, finding jobs and internships," said Neal. "It seemed to me that she would be a natural fit for one of the fantastic performing arts majors in the College of the Arts."
Siwa also stopped by CSUF's Army ROTC program to get an inside look at the training and preparation that cadets endure to earn their commission as second lieutenants. Her bootcamp experience included combat fitness test events, an obstacle course and a meal that she shared with the cadets who helped her train and learn more about their program.
Along with learning about CSUF's resources and programs, Siwa also experienced the excitement of student life when she led an impromptu dance session with a student band outside of the Clayes Performing Arts Center.
Several students gathered to express their enthusiasm for Siwa's visit and share how much she means to them, specifically how she is a positive role model within the LGBTQ+ community.
"I'm a fan of her because she's a really nice and fresh representation of the queer community. When she was a child star on Nickelodeon, I used to watch her on TV all the time. To see her be comfortable with her sexuality and not care what other people say, it's really nice to see," said Tiffany Vo, a first-year business major.