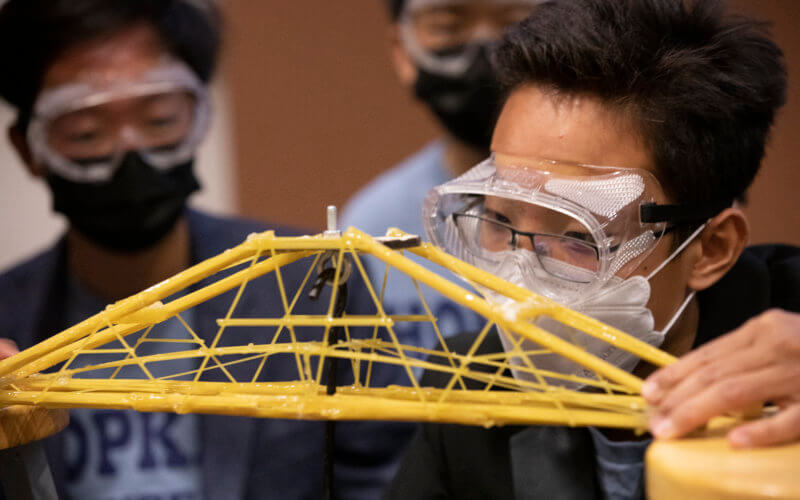 As bridge after bridge collapsed under the pressure of additional weight, a team of five high school students was declared the winner for assembling the sturdiest spaghetti bridge.
Going by the name Flying Spaghetti Monster, the team's arch-shaped bridge held nearly 20 pounds and took almost 15 hours to make.
A total of six teams put their engineering skills to the test July 29 in Explore Engineering Innovation's Spaghetti Bridge competition, after spending the week designing and constructing bridges made solely of uncooked pasta and epoxy glue. The competition culminated the four-week, college-level summer course — a partnership between Cal State Fullerton and Johns Hopkins University — that teaches teens to think and problem-solve like engineers.
Members of the winning team include Alex Lee of Troy High School in Fullerton, Jonathan Wu of Portola High School in Irvine, Caden Oh of Sunny Hills High School in Fullerton, Sebastian Shih of Diamond Bar High School in Diamond Bar, and Malia Haynes of Marina High School in Huntington Beach.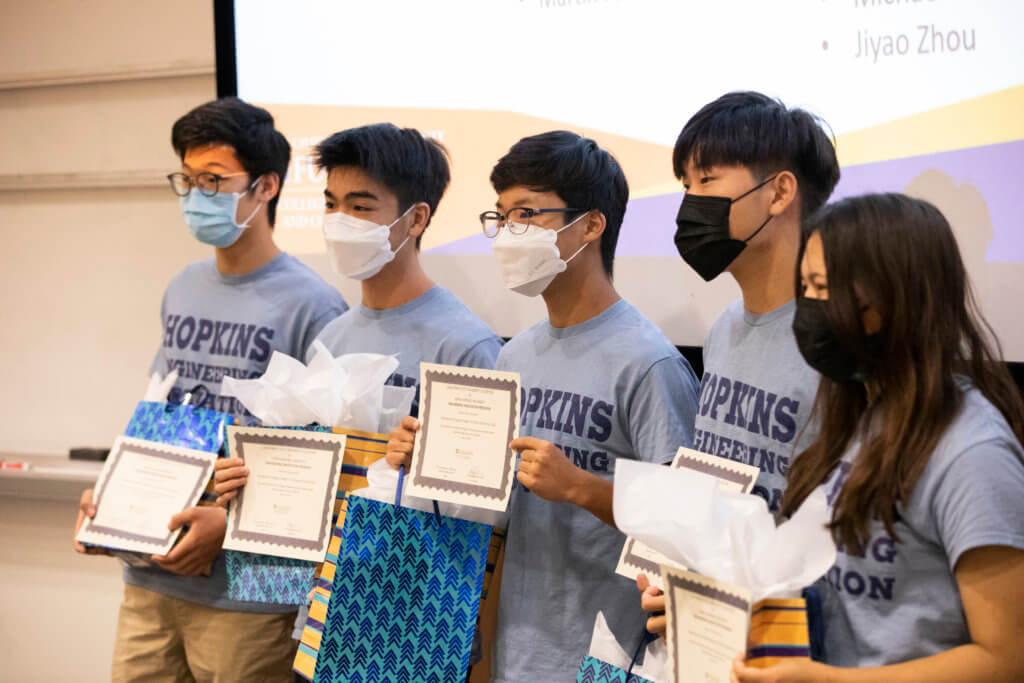 "I think our bridge won because we planned a lot of it out beforehand and designated a team member to make the tougher calculations. We also had the teamwork and communication to successfully put the bridge together — and proper use of epoxy," shared Oh.
"The students on the winning team were able to put theoretical knowledge into practice while designing the bridge, resulting in zero penalties," added Pankaj Bhattarai, lecturer in civil and environmental engineering. "They all performed very well throughout the program."
This year marked the 15th summer CSUF has hosted the competition, in which Southern California Edison supported seven student scholarships. The program as a whole is intended to introduce students to STEM (science, technology, engineering and mathematics) majors, with 90% of EEI students going into STEM.
This was also the first year the program was back on campus after a two-year hiatus due to the COVID-19 pandemic. A total of 23 high school students participated in the program taught by Bhattarai, with a majority of them hailing from Orange County and several from Los Angeles County.