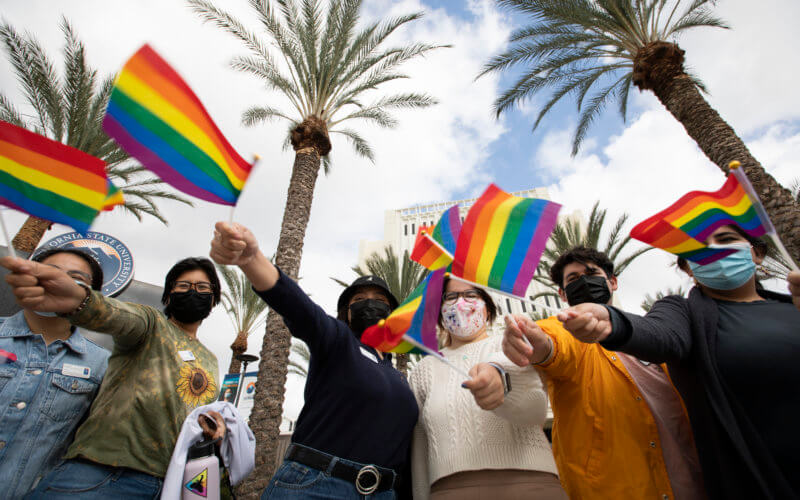 As part of Cal State Fullerton's celebration of LGBTQ History Month in October, the LGBT Queer Resource Center will celebrate "10 Years of Pride" with art, music and the curation of a time capsule at the Golleher Alumni House on Oct. 27 from 6-8 p.m.
Nat Betancourt Arellano, senior coordinator of the LGBT Queer Resource Center, said that this year's celebration will focus on uplifting voices and creating a future where everyone feels safe sharing their stories.
"It is so important to celebrate this month because, too often, our history is lost. Over the years, many people from our communities did not get the opportunity to tell their stories. We want to honor each journey in our community, and history month is a time to express our pride," said Betancourt Arellano.
Attendees will be invited to leave items inside the time capsule, such as letters, stories, photos, art and pieces of clothing that reflect the LGBTQ community. The resource center will also provide a USB drive for digital artifacts.
CSUF will also commemorate National Coming Out Day on Oct. 11 with the annual "Rainbow Flag Raising Ceremony." The ceremony will take place from 9-11 a.m. in front of Langsdorf Hall. Once the flag is raised, it will stay up for the entirety of LGBTQ History Month.
Other history month events include:
Tuesday, Oct. 11 — Drag Loteria
Noon-2 p.m., Pollak Library North 130
Tuesday, Oct. 11 — Queer People of Color Healing Space
5-7 p.m., Pollak Library South 189
Wednesday, Oct. 12 — Resource Fair
11 a.m.-1 p.m., Becker Amphitheater
Thursday, Oct. 13 — Drag Show
7-9 p.m., Student Housing Piazza
Friday, Oct. 14 — Rise & Pride
11 a.m.-noon, Pollak Library South 189