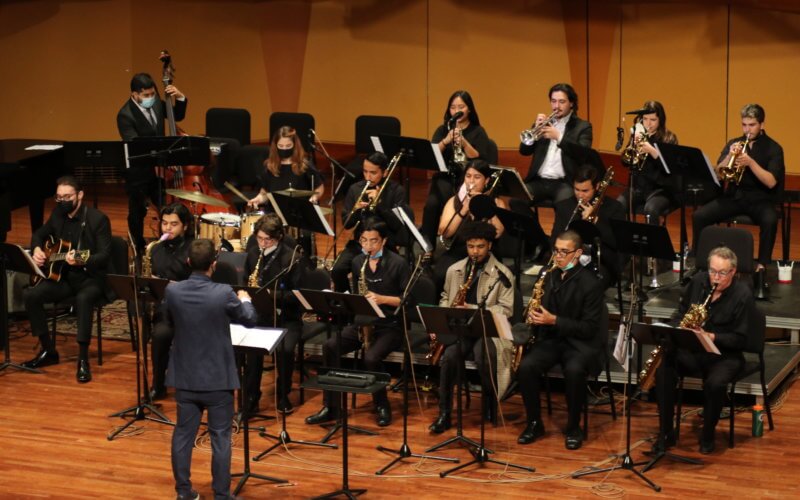 From worldwide tours to movie scores, Cal State Fullerton's music faculty bring their bounds of experience to every music session — making the Latin Ensemble and Fullerton Jazz Chamber prime creative spaces for professional development, student passion and all that jazz.
Embracing Traditional and Contemporary Latin Jazz
The Latin Ensemble is directed by Francisco Torres, a lecturer in music who has been leading the group for seven years.
Torres has successfully established himself in the Latin jazz world as a trombonist, and his sound can be heard in several films, including Disney Pixar's "Coco," "The Secret Life of Pets," "Straight Outta Compton" and "Ice Age 4."
His experience helps him connect students to the professional music industry, and it puts him in a unique position to prepare them for the reality of the field.
With a focus on contemporary and traditional music, Torres ensures that his students are able to play different styles within the Latin jazz genre — a skill that not only makes them marketable in the industry, but also connects them to a larger community on campus.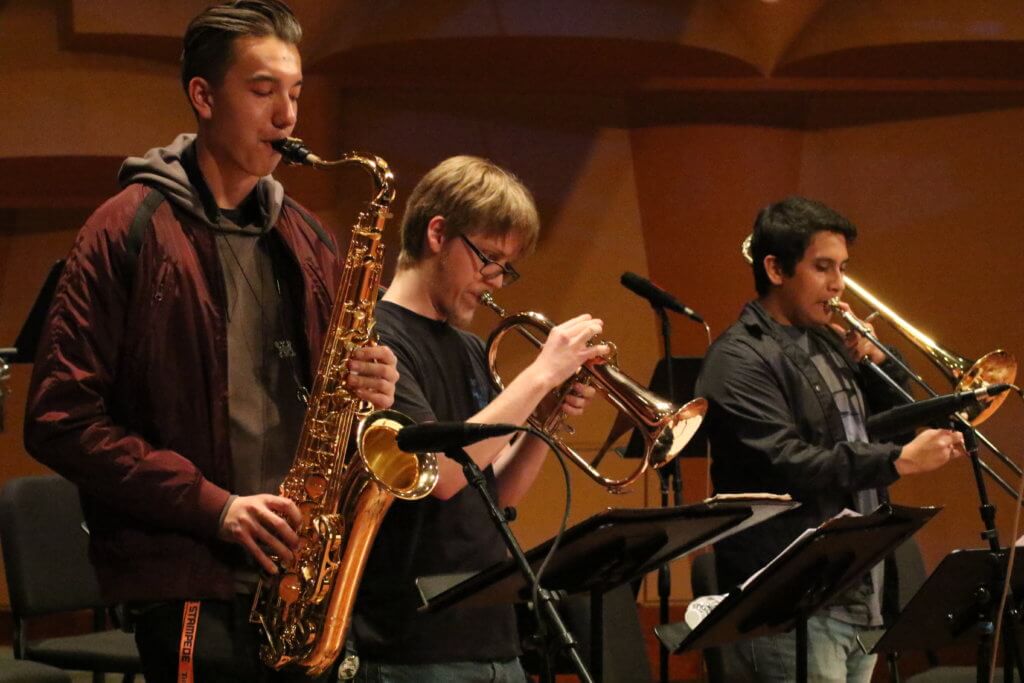 The ensemble consists of seven students. One of those musicians is percussionist and graduate student Giancarlo Anderson, who joined the jazz studies program and Latin Ensemble after meeting Torres and seeing the ensemble practice live.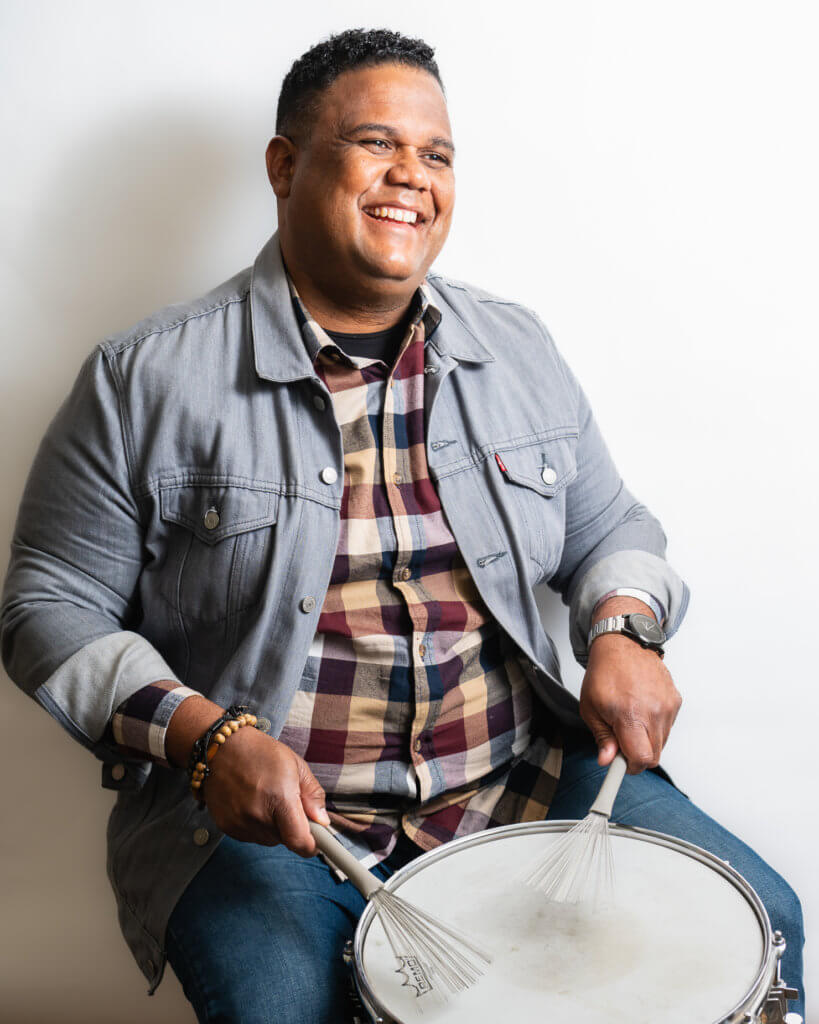 "CSUF has one of the highest Latin student enrollment numbers in the California State University system, so we try to play music that represents the culture here at the school," Torres explained. "It also prepares them for their future in the music business because it shows that they don't only play commercial music, but they can play other styles legitimately and accurately."
Anderson said that he was inspired by the program's sense of community and its diverse musical repertoire. But as a professional musician himself for over 25 years, he was most impressed by the faculty's wealth of professional experience.
"All of the ensemble instructors are working and playing on different projects outside of the classroom," explained Anderson. "They run rehearsals and teach classes like they are professional settings because they understand how the music industry works, and they prepare students to succeed in those situations."
Pulling Inspiration from Around the World
Guided by the musical expertise of assistant music professor and ensemble director, Rodolfo Zuniga, the Fullerton Jazz Chamber Ensemble plays beautifully through a set list of modern contemporary jazz, spotlighting traditionally underrepresented composers like Emilio Solla from Argentina, David Fernandez from Cuba and Juan Andres Ospina from Colombia.
In addition to embracing unique collections of music, Zuniga brings his professional experience to every performance. As a drummer, he's lent his sound to an impressive company of artists including Gary Campbell, Ira Sullivan and multi-Grammy award winning Latin pop artist, Julio Iglesias.
Growing up in Costa Rica with a hunger for jazz and its connection to world music, Zuniga is dedicated to teaching his students a wide range of complex compositions that bolster their experience level, sampling musical styles from Argentina, Puerto Rico, Venezuela, Perú, Mexico, Cuba and Central America.
From playing iconic venues like the Royal Albert Hall in London and Rockefeller Center in New York, Zuniga brings those experiences back to CSUF to help his students prepare for careers in music.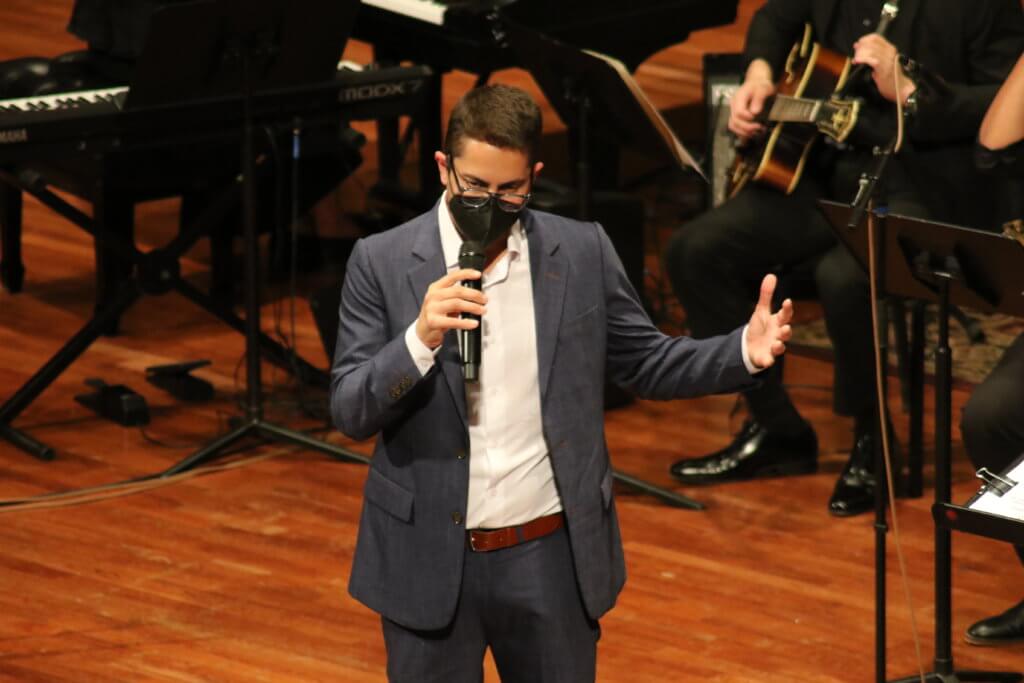 "Teaching jazz is not only about scales, chord progressions, patterns and theory. It's a way of life that students have to embrace. I don't think it's possible to pass along that spirit without the real-world experience that myself and my colleagues at CSUF have acquired," shared Zuniga.
Since taking on the role of director a year ago, Zuniga said he's seen firsthand how the program empowers graduates to succeed at various levels in the music industry.
Throughout its history, CSUF's jazz studies program has boasted an accomplished group of successful alumni including Alex Flavell '22 (M.A. music performance), an award-winning pianist who played with the Afro-Peruvian Jazz Orchestra on its Grammy-nominated album, "Tradiciones."
"We have wonderful musicians and even better people as part of our program. We pride ourselves in giving our program a direct connection and representation of the community we function in," said Zuniga.