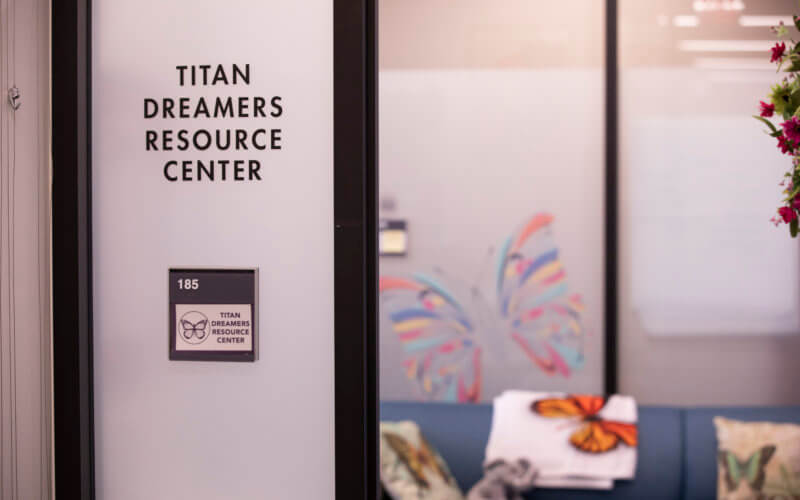 Last week, the Fifth United States Circuit Court of Appeals ruled that the Deferred Action for Childhood Arrivals (DACA) program was unlawful, calling into question the future of the program and how it will impact dreamers, especially those pursuing degrees in higher education.
In 2014, Cal State Fullerton became the first campus in the California State University system to open a "dreamer" center dedicated to supporting and uplifting undocumented and mixed-status students.
The Titan Dreamers Resource Center champions community and advocacy efforts for students who are undocumented by creating a safe space where they can learn, socialize and find the resources they need to succeed.
Located on the first floor of the library, the center offers academic and career advising, access to free immigration legal services, mentorship opportunities and mental wellness resources.
Along with supporting dreamers, the center also aims to educate community supporters with UndocuAlly training for faculty and staff. This is a two-part program that teaches trainees about the immigrant experience, focusing on policies that affect the community and resources they can provide for students.
The center will also host their first-ever "Undocu Week of Action" week starting Oct. 17. The program invites attendees to learn about the undocumented community and participate in events that highlight student leadership and allyship. To learn more about the week's activities, visit: https://news.fullerton.edu/spotlight/join-the-undocu-week-of-action-at-csuf/
"The recent ruling on the DACA program has pushed back the progress made to provide reprieve to dreamers," said Tonantzin Oseguera, vice president of student affairs. "The Undocu Week of Action is an opportunity for our community to connect and underscore our support of Titan Dreamers. Our dreamers matter deeply and we will continue to do all that we can to serve, educate, and uplift the Titan community."