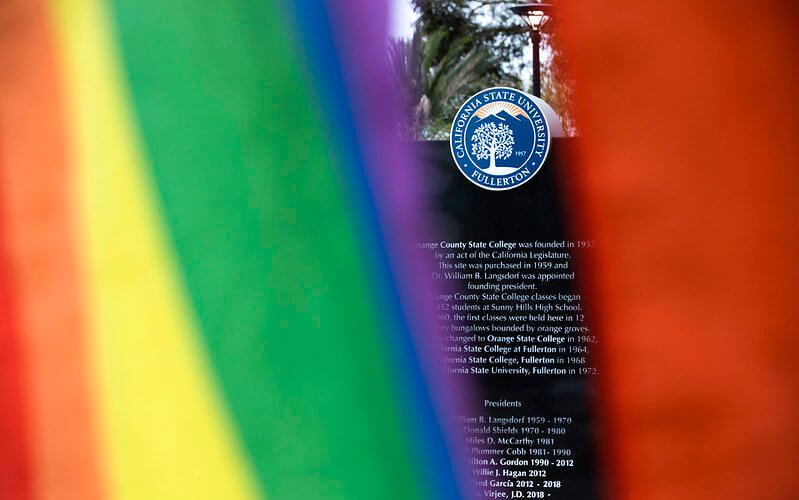 Set to the soundtrack of Diana Ross' song, "I'm Coming Out," the LGBTQ flag was raised in front of Langsdorf Hall on National Coming Out Day (Oct. 11) as part of LGBTQ History Month, reminding Titans that "you are loved and you have a community here."
Nat Betancourt Arellano, senior coordinator of the LGBT Queer Resource Center, said that the pride flag serves as a reminder that no matter where students are in their personal journeys, they are valued at Cal State Fullerton.
"We recognize that coming out is something that people do every day, but we know that there are many folks who are not able to come out. That's why we also educate people on the notion of inviting in — recognizing our allies and people in our lives who we can be our authentic selves with, " shared Betancourt Arellano.
Today's ceremony marked the fourth annual flag raising on campus, a tradition that champions visibility of the LGBTQ community and CSUF's dedication to creating safe spaces for its students.
"Going off to college is a lot of students' first time being away from home, and for a lot of queer students, it's the first time that they feel safe enough to be out. Knowing that their university — their home away from home — supports that is huge," shared Lauryn Jarvis, a third-year women and gender studies major and the community outreach, programming and activity lead for the resource center.
The rainbow flag includes six vertical stripes as well as light blue, pink and white stripes to represent the transgender community and black and brown stripes to represent people of color in the community. In honor of the history month, the flag will remain in front of Langsdorf Hall for the rest of October.
Mariham Iskander, the new associate director of CSUF's Diversity Initiatives and Resource Centers, experienced the event for the first time today, sharing how she was impacted by the ceremony.
"I used to be one of those people who could not be open and share who I was, so for people who were not able to join us at today's event, they can walk by and know that this flag is an affirmation that their existence is treasured and honored here," Iskander said. "It's been a hard few years, and I know that it can be difficult to navigate Orange County and many other spaces where people are not as accepting. There can be a lot of dissonance and inner shame, but at this moment, it's not about that."