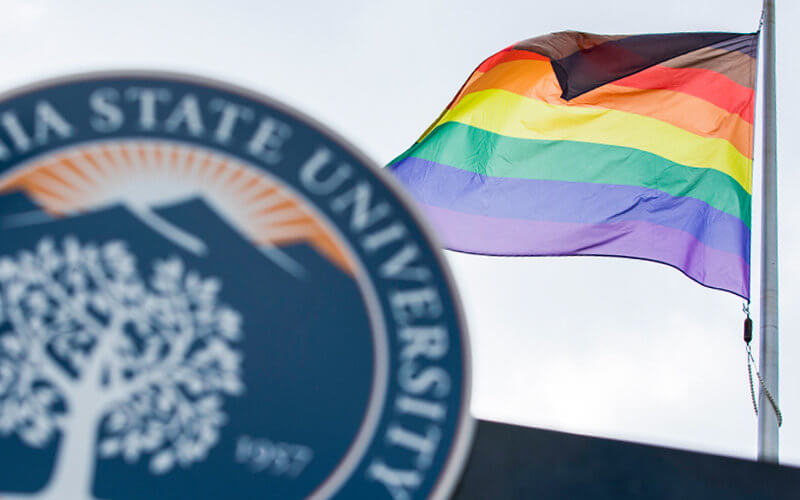 Ten years ago, the LGBT Queer Resource Center opened its doors for the first time, creating a safe space that championed visibility, inclusivity and storytelling. Today, the center has expanded that mission: "We will continue to share our stories and to be loud and proud and unafraid."
"When I first started this job in 2019, I was scared and nervous. We live in Orange County, a traditionally conservative area. Even though LGBTQ folks have always been here, we know that there's a lot of hate out there," explained Nat Betancourt, senior coordinator of the LGBT Queer Resource Center. "What I found out when I got on campus is that people are so excited to cultivate a community space where students feel valued."
In honor of LGBTQ History Month, Betancourt said that a big part of celebrating the center's success over the past 10 years is embracing the history of how students supported each other before the center doors opened.
The first Lavender Recognition Celebration hosted on campus in the early 2000s was one of those foundational moments. "That first class was no more than 20 people. Last year, we highlighted 70 graduates. It's great to see how much the community has grown and to see how different resources continue to be created and promoted," said Betancourt.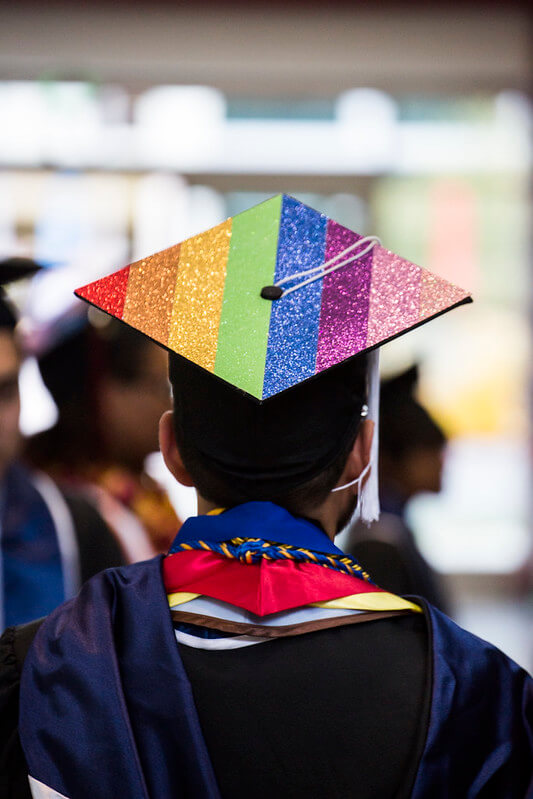 The center opening marked a significant moment in CSUF's history, but it was also "a pivotal time in the LGBTQ rights movement, where LGBTQ issues took center stage in what some called a national 'culture war,'" said Eric Gonzaba, assistant professor of American studies.
Marriage equality was the most discussed, debated and talked about issue regarding the community, explained Gonzaba. When former President Barack Obama ran for reelection in 2012, it was the first election where a major candidate openly supported marriage equality for LGBTQ couples.
"The center's opening, while not formally supporting the LGBTQ movement, was certainly a sign to the university community, Orange County and the wider state that LGBTQ people deserved recognition, visibility and support — a symbolic change from just a few decades earlier when homophobic and transphobic discrimination was rampant in California," said Gonzaba.
The LGBTQ rights movement has made significant strides over the past few decades, but part of the center's purpose is to continue supporting students through current political and social obstacles that affect the community.
In light of ever changing policies and social unrest, Betancourt said that inspiring change and giving students an outlet for their emotions starts with conversation.
Whether it's through artwork or oral storytelling, students find ways to work through their experiences, and finding community in the center empowers them to fight for change not just on campus, but in their local communities.
"If you take the AIDS epidemic alone, we've lost so many people who had stories to share. If you think about the number of individuals who had to stay closeted for their entire lives just to survive, those are the stories we don't know," said Betancourt. "We encourage students to share their stories and learn from the courage, love and sometimes pain that is embedded in them."
With the help of programming and the center's support staff, students are given the opportunity to reflect on their socialization and experiences as they learn how to stay true to their identity. Center programming includes hosting healing spaces, community mixers and the QT Talks series which invites students to learn about different topics throughout the semester.
"We're all trying to navigate this very chaotic world after the pandemic and stay-at-home orders, and we're still seeing active hatred. The students are upset, and we're here to remind them of who they are and the joy of their identities," said Betancourt.
When asked if they could summarize the LGBT Queer Resource Center's first 10 years in one word, Betancourt answered simply: "care."
"That's who we are, and that's what I want everyone to feel when they visit the resource center," said Betancourt. "Talking about social justice, political agendas and providing basic needs creates an environment where students can confidently say, 'People care. They care about my needs, and I see that through the resources, spaces and people here.'"