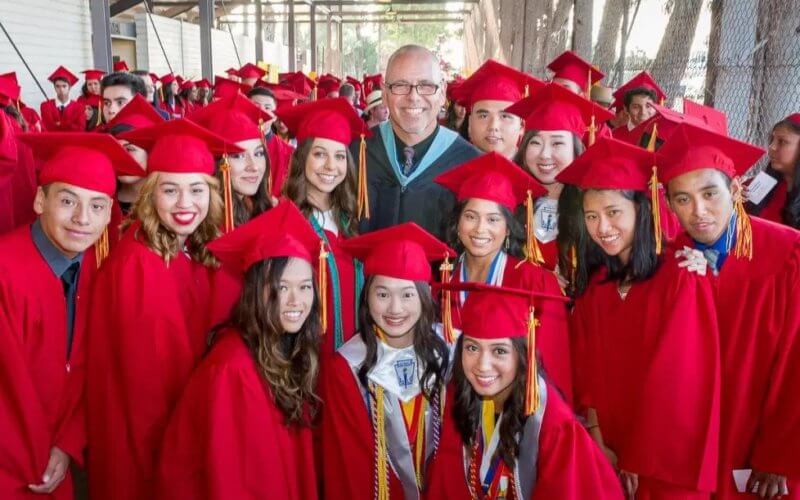 Out of the blue a few years ago, educator John Briquelet received a text from one of his former students. The student shared how the Cal State Fullerton alumnus, teacher and principal had changed the course of his life.
The text read, in part, "I will never forget you pulling me out of English class to tell me you saw something in me. I was going down a dark path and you literally saved my life.
"Since that moment, I've served in the military, gone to school and gotten my master's (degree) in psychology and am now working as a clinical supervisor for a nonprofit that works with families at-risk. This is all because of you taking the time to talk to me when no other adult in my life cared."
After reading that text, Briquelet knew he made the right career choice to enter the teaching profession more than three decades ago.
For Briquelet '89, '99 (B.A. English, M.S. education-reading), what is most fulfilling is making a difference in the lives of his students.
"The greatest reward is the work itself: I get to help kids learn, grow and succeed," he said.
Briquelet began his teaching career as a language arts intern and teacher at a Los Angeles junior high school in 1989. He spent the next decade teaching middle school and high school English.
In 2002, he made the transition to school administration and has served as department chair, assistant principal and principal at schools in Orange County and the region. In July, Briquelet began a new leadership position as founding chancellor (principal) of Oxford Preparatory Academy, a public charter middle school in South Orange County.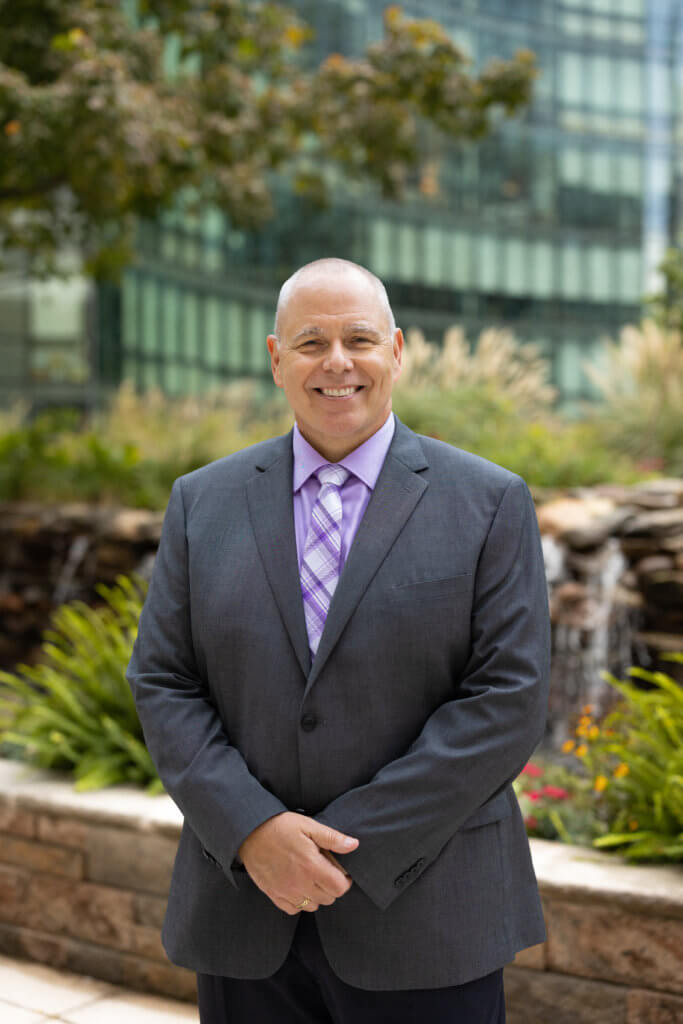 For his outstanding contributions to the field of educational leadership, Briquelet is a finalist for 2023 National Principal of the Year from the National Association of Secondary School Principals. The National Principal of the Year program recognizes outstanding middle level and high school principals who have succeeded in providing high-quality learning opportunities for students.
Briquelet has brought about positive, systemic change on every campus he has served, improving students' academic performance, increasing graduation and college admission rates, and reducing suspensions and expulsions.
He is one of three finalists selected from each of the 50 states, the District of Columbia, the U.S. Department of State Office of Overseas Schools and the Department of Defense Education Activity. The National Principal of the Year will be announced Nov. 10 at the organization's conference and gala in Crystal City, Virginia. Watch the announcement of the finalists here.
"This is the greatest recognition of my career and a tremendous honor, but it is still something I struggle to understand, and it feels more than a little surreal," said Briquelet, named 2022 California Principal of the Year by the Association of California School Administrators.
"Like so many other educators, I go to school each day with the joy of knowing I can make a difference for our kids and staff. I don't think about awards and such, so when this happened, it threw me for a loop."
Becoming an Educational Leader
Briquelet became an educator because of the impact teachers had on him as a child. He shared that he lived a nomadic childhood growing up in and around Green Bay, Wisconsin.
When he was 13, his family moved to La Habra. Over the course of his K-12 education, he attended 14 schools in 12 years, including graduating from Sonora High School in La Habra.
"My teachers connected with me; they cared about me — and they didn't give up on me," he said. "I became a teacher because I wanted to do for others what my teachers had done for me. It made all the difference in my life."
The 34-year educator has served as principal of El Modena High School in Orange, Loara High School in Anaheim, and most recently, Whitney High School in Cerritos. He also has coached football and wrestling.
At Whitney, Briquelet provided students and staff with impactful anti-bias training and opened access to advanced coursework to all students to create a more equitable and inclusive school culture that is a model for other schools across California.
After 13 years in the classroom, Briquelet stepped into administrative roles for one reason: He wanted to help even more students.
"As a leader, I work with our staff to keep students physically, mentally, emotionally and socially safe," said Briquelet, who completed CSUF's professional administrative credential program in 2006 for those pursuing school leadership positions.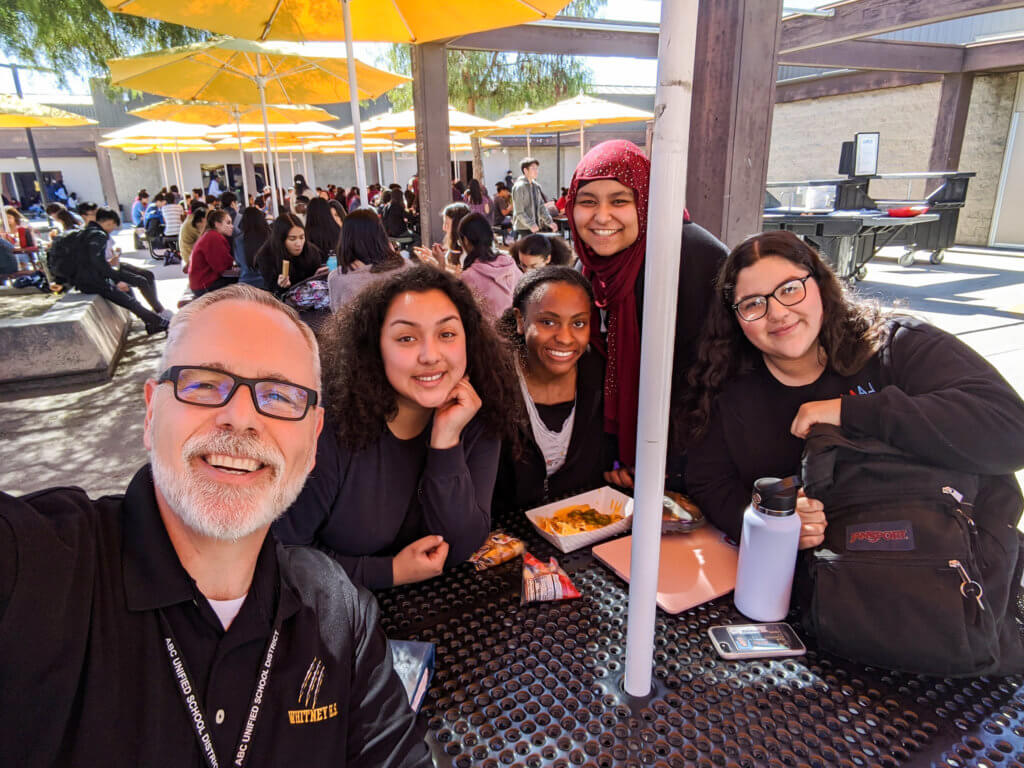 At the end of last school year, after 20 years in school administration, Briquelet reflected on all he had accomplished and pondered his path forward.
"The one thing I had not done was establish a new school, so when I learned about the founding principal opening at Oxford Preparatory Academy, I was excited by the prospect," he said.
"What convinced me to join Oxford is the school's foundational belief that all children are gifted, the commitment to instruction in alignment with Gardner's Theory of Multiple Intelligences and the creation of a college-going culture."
The public charter middle school is expected to open in August 2023, with school sites under consideration. Briquelet is involved in everything from planning the new school to staffing and developing the curriculum.
A proud Titan, Briquelet recollected how faculty helped him along his educational journey, including Ashley Bishop, emeritus professor of reading and acting dean of the College of Education. After taking a class with Bishop, Briquelet decided to pursue a master's degree in education-reading instead of English.
"Dr. Bishop was humorous, wise, kind and dedicated to sending his students out into the world to make a difference. I realized that if I really wanted to help the struggling students in my English classes, I didn't need to teach them about poet Lord Byron or Shakespeare. I needed to teach them to read and to love reading."
Briquelet credits his CSUF education for helping him reach the pinnacle of his career as a school leader.
"CSUF provided me with an outstanding education and equipped me with all the tools I needed to succeed," he said.
"My professors not only taught, encouraged and inspired me — they also helped me develop the confidence I would eventually need to serve as an educational leader. If you are a Titan, you can rest assured you will graduate ready for the world."