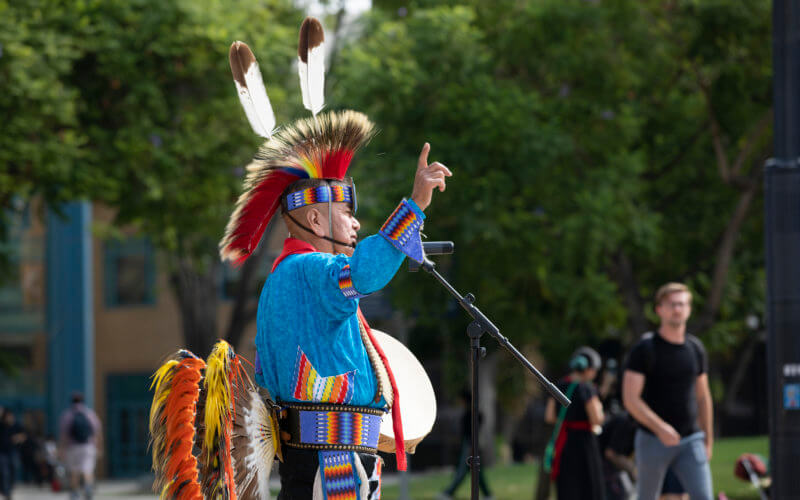 Celebrating Native American Heritage Month at Cal State Fullerton means learning about the communities, histories and traditions that have shaped today's landscape.
Beyond empowering the Native American and Indigenous community, "November is a month for every Titan, and every American, to learn about the original people of this country and their impact and presence to this day," said Jorge Contreras, CSUF's coordinator for Native and Indigenous populations in the Division of Student Affairs.
"With Native people throughout history, especially in California, we have a lot of nonfederally recognized tribes in Los Angeles and Orange County that have struggled through time to hold onto their culture and their language. It's important to recognize that CSUF sits on the ancestral lands of the Tongva/Kizh and Acjachemen people, formerly known as Hotuuknga."
Contreras became the coordinator in fall 2021, but as an undergraduate, he served as event coordinator for the Inter-Tribal Student Council. The student organization has been championing Native American and Indigenous students' success since the 1970s.
"We want students to be proud of their roots and where they come from. It's nothing to run away from or hide," explained Contreras. "It's crucial that we continue to champion and celebrate the communities that make up Los Angeles, Orange County, California and the United States."
Along with the Inter-Tribal Student Council, organizations like the Society for the Advancement of Chicanos/Hispanics and Native Americans in Science (SACNAS) seek to provide students with expanded academic and career opportunities.
Programs and events hosted throughout November aim to empower students who are a part of the community, but they also invite all campus members to connect with the deeper values and meanings of different cultures.
"Native and Indigenous heritage is made up of very rich and beautifully diverse cultures, but we need to rid ourselves of these stigmas of what an 'Indian' person is or looks like."
"We need to see the reality and hear the stories behind all of the dances, regalia, feathers and instruments," said Contreras. "These aren't just beautiful things. These are prayers. They are sacred, and there are stories behind them. I want people to see Native communities as they are and not just the images we see in the media or on television."
For students looking to get more involved and learn more about CSUF's Native American and Indigenous population, Contreras said that education is the first step. Students and community members can engage in their own research and participate in campus programs to help them learn more about the Native community both at CSUF and in Orange County.
"Asking questions is a huge part of education. In my experience, when Native people see others who are genuinely interested in learning about their culture, they embrace that curiosity, and they're happy to share their background and their story."