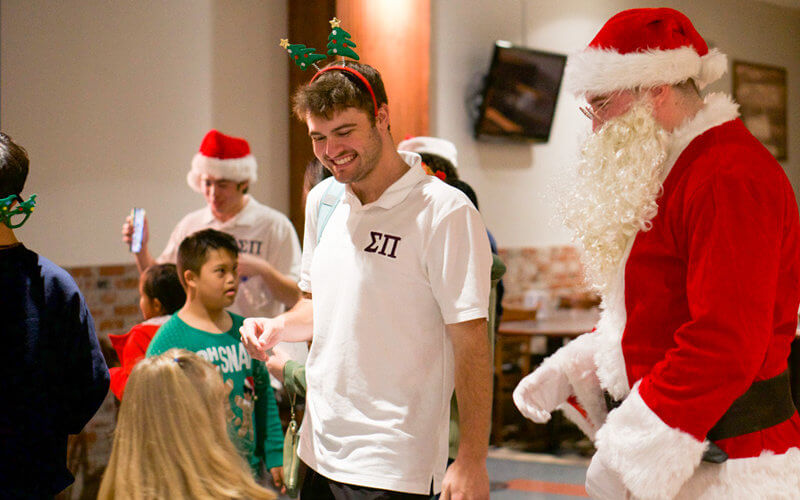 At a special Yuletide event on campus, Cal State Fullerton Sigma Pi fraternity members spread holiday cheer to children with disabilities.
Wearing festive outfits, the children danced to holiday tunes, made ornaments and Santa sleighs, ate pizza and bowled at Titan Bowl alongside fraternity members, known as "big buddies." Even Santa Claus joined in the festivities at Titan Student Union.
The Greek life student organization co-hosted the Dec. 4 afternoon holiday party with CSUF's Center for Autism-Education Core and community partner No Limits Creative Arts. The Yorba Linda-based nonprofit provides dance, music and art programs to young individuals with disabilities.
"I've never had the experience of working with kids with different disabilities — and neither have many in the fraternity," said Ali Mashael, a business administration-marketing major and Sigma Pi's philanthropic chair.
"We jumped at the chance to host the party because this is a group of kids who may not get to be in the spotlight and sometimes are treated differently. We want to be a voice for them, be there for them and put smiles on their faces."
In 2017, Sigma Pi adopted the Center for Autism-Education Core as a focus of their philanthropic efforts and holds two fundraisers each academic year to support the center, Mashael said.
"CSUF students participating with No Limits Creative Arts see how the program helps children with disabilities increase their confidence, make new friends and develop their creative arts skills," said Erica Howell, professor of special education and co-director of the Center for Autism.
"Our hope is that this experience expands our students' perspectives on how people with disabilities can be included in the community in all areas of life, whether it's their campus, church, social groups or job."
The holiday event gave children the chance to socialize with their peers outside of their classes, said Carla Hutchison, founder and executive director of No Limits Creative Arts.
"This is important because many of the children don't get opportunities to have typical parties that so many of us take for granted," Hutchison said. "All of the students have a different disability, but they all have a love for music, dance and creativity."
Hutchison, a veteran dance instructor, praised the fraternity, as well as other CSUF students who volunteer with her organization, for helping to make a difference in the lives of the children.
"Our program is called No Limits for different reasons, but I feel that it applies to all of us. If we limit ourselves to what we know, or are comfortable with, we will never continue to grow as individuals or in whatever field we are exploring," Hutchison said.
"It's important for students to reach out and be part of something different and see a world beyond their own. It also helps them understand that we all need to contribute to our communities — and figure out how best to help one another."
The program, which serves youth ages 5 to 23, was founded by Hutchison to give her son, who has a disability, as well as other children in the community, a place where they can learn to dance and be creative.
The Center for Autism-Education Core, housed in the College of Education, has partnered with the organization since 2012, Howell said. The organization also is the college's 2022 Distinguished Education Community Partner Award recipient, presented at the recent Honor an Educator event.
CSUF students, many of whom plan to pursue a teaching career or work with children with disabilities, volunteer with the nonprofit and serve as teaching assistants in supervised fieldwork opportunities, Howell said.
"Our students implement behavior, communication and social support so children with disabilities can access the arts alongside their typical peers," she said. "This partnership helps create a pipeline into special education."
Jacqueline Lembesis, a child and adolescent studies major who plans to work with special needs children as a child life specialist, teaches two musical theater classes at No Limits Creative Arts.
"I immediately fell in love with all the kids and loved my relationship with them," said Lembesis, who volunteered at the party. "Seeing their faces light up every time they come to class and learn a new skill is one of the best and most rewarding things."
Through her mentorship to the children, Lembesis hopes they get a sense of belonging and self-importance, plus a boost in self-esteem and confidence.
"I want the students to feel like they are capable, and able, to do anything they want."