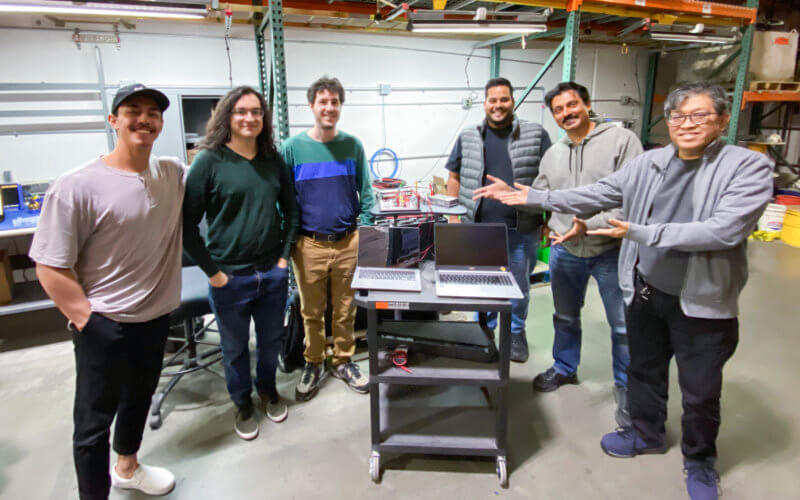 For their capstone senior projects, future computer engineers created innovative designs using smart technology: A self-driving robot powered by artificial intelligence that delivers mail on campus, a drive-thru ATM machine that uses facial recognition and an industry-supported project focusing on communication devices that monitor forklift batteries.
The students used technological skills learned in the classroom to solve real-world problems or launch new ideas.
"The course is intended to mimic the full spectrum of the engineering design experience comparable to what students will encounter in industry," said faculty adviser Kiran George, professor of computer engineering and CSUF's 2020 Outstanding Professor. "Students are able to relate the theoretical concepts they learn as part of their coursework and apply it to real-world applications."
As part of the hands-on, two-semester, multidisciplinary course, the Cal State Fullerton graduating seniors develop and build functional prototypes using computer hardware and software components. The projects require students to think independently, participate in research and brainstorm different concepts to get ready for the workforce.
"Students gain experience that harnesses creativity and versatility toward a design effort with realistic socio-economic constraints," George said. "They develop a range of skills, such as creating a feasibility study, project planning, design formulation, time budgeting and task division among team members."
The students, who graduate this month, shared their projects during the Dec. 16 Computer Engineering Capstone Senior Design Project Presentations and Demonstrations.
Dominic Jacobo, Cayden Sarvis and Stewart Watkins worked on a project supported by Advanced Charging Technologies Inc. in Fountain Valley, a leader in cloud-based integrated solutions for forklift battery and charging technologies.
The project, "Power Line Communication to Monitor Forklift Batteries," focuses on communication between devices that monitor the performance of forklift batteries and related data.
"We studied a device that is intended to monitor forklift batteries and communicate over a power cord. The goal of our study was to test communication reliability between two of these devices," Watkins said.
Team members learned about embedded processors — a computer chip embedded in various machines, which are like small computers that use microprocessors. Working on the project gave them skills and experience for their future careers, said Watkins, whose goal is to work on computer architecture at a microprocessor company.
"It was challenging to work on an industry project," he said. "But once we finished, I felt like I had proven to myself that I was ready to join the engineering workforce."
The other January 2023 computer engineering graduates and their capstone design projects are: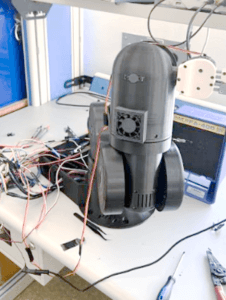 "Remote Controlled Robotic Arm for Hazardous Environments," which uses remotely controlled 3D-printed robotic technology for deployment in hazardous environments, such as chemical plants, mines and oil rigs. Team members are Jacky Cai, Stefan Lam, Angel Rodriguez and Alex Tran.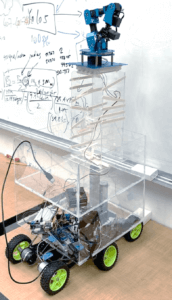 "Self-Driving Mail Delivery Robot" is a self-driving robot powered by artificial intelligence that delivers mail on campus by using a machine learning-based vision algorithm. Team members are Salman Alsabah, Steven Phan and The Trinh.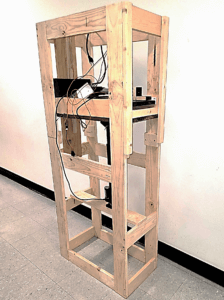 "Easy-Access Drive-Thru ATM" uses facial recognition and distance sensors to measure and adjust itself according to the driver's position for ease of access to ATMs, especially for individuals with disabilities. Team members are Abdulaziz Almesafer, Raul Amao, Zachary Andow and Alec Shute.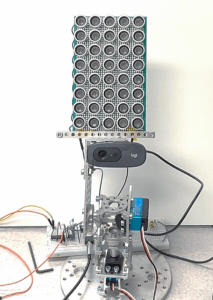 "Artificial Intelligence-Powered Directional Speakers" is an innovative approach to deliver directional audio that follows the user. Face recognition software detects the user and rotates the speaker toward the user as he or she moves. Team members are Mariam Mousa, Alexander Solano and Peter Tran.