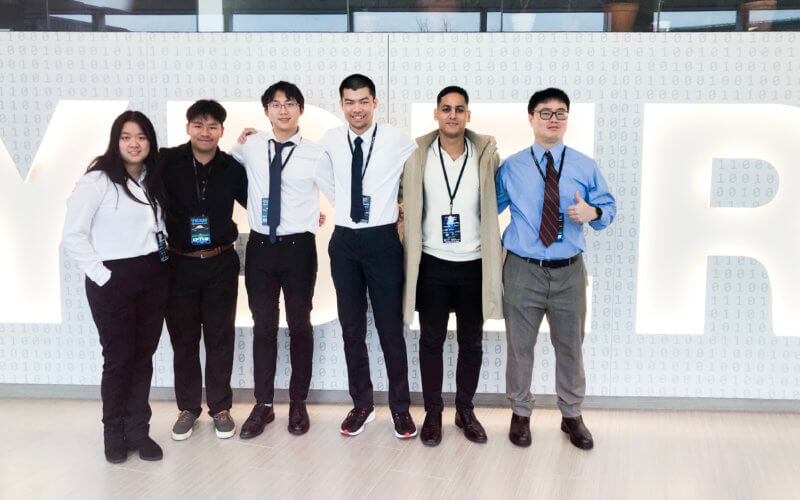 A team of Cal State Fullerton cybersecurity students put their hacking skills to the test at the Collegiate Penetration Testing Competition global finals in New York.
The CPTC competition, held Jan. 13-15 at the Rochester Institute of Technology, brought together 15 university teams from across the U.S. and abroad, including the United Arab Emirates.
"It was an honor to compete against the best U.S. and international universities," said team captain and computer science major Yao Lin. "Through this competition, team members learn important real-world skills like communicating with clients and hands-on technical skills."
During the intense competition, students took on the role of a penetration tester — an in-demand security professional that tests and evaluates computer systems and networks against malicious hackers.
While the CSUF team did not place among the top three, the competition re-enforced concepts students covered in their coursework, and gave them an opportunity to meet experts and build professional networks, said the team's adviser Mikhail Gofman, professor of computer science and director of CSUF's Center for Cybersecurity.
"Penetration testing has become a critical part of maintaining the security posture of organizations," Gofman said. "Competitions such as CPTC provide indispensable hands-on experiences for students in applying their technical know-how to discover security vulnerabilities, and then exercise oral and written communication skills to professionally report findings to the customer."
In fall, cybersecurity students from 70 schools gathered at regional events across the world. The Titan team qualified by placing first in the regional competition in the at-large category, Lin said. CPTC then selected the team to participate in the global competition.
For this year's global competition, the scenario was set in the hotel and hospitality industry, with an emphasis on protecting a customer's personally identifiable information. Students spent two days conducting security assessments and penetration tests, and on the third day, presented their findings to industry judges.
"The main idea of the competition is to perform a real-world penetration test on a fictitious company. The team acts as a security consulting firm. At the end of the penetration test, the team sends a report detailing the vulnerabilities they found and recommends remediation," said Lin, who is on track to graduate in May and plans a career as a software engineer.
Teams are scored on their communication and report writing skills along with their technical skills.
"In the real security world, the quality of the report and presentation are just as important as the technical security findings," Gofman relayed.
In addition to Lin, the other team members are Keven Atalla, Ben Heng, Willis Le, Katie Tran and Hart Zhang, all computer science majors and members of the university's Offensive Security Society, a student organization for those interested in learning about cybersecurity and pursuing careers in the field. Hernan Manabat '15 (M.S. computer science), lecturer in computer science, served as the team's coach.
The competition is dedicated to the education of the next generation of cybersecurity professionals, which is an industry facing a shortage of qualified professionals, Manabat said.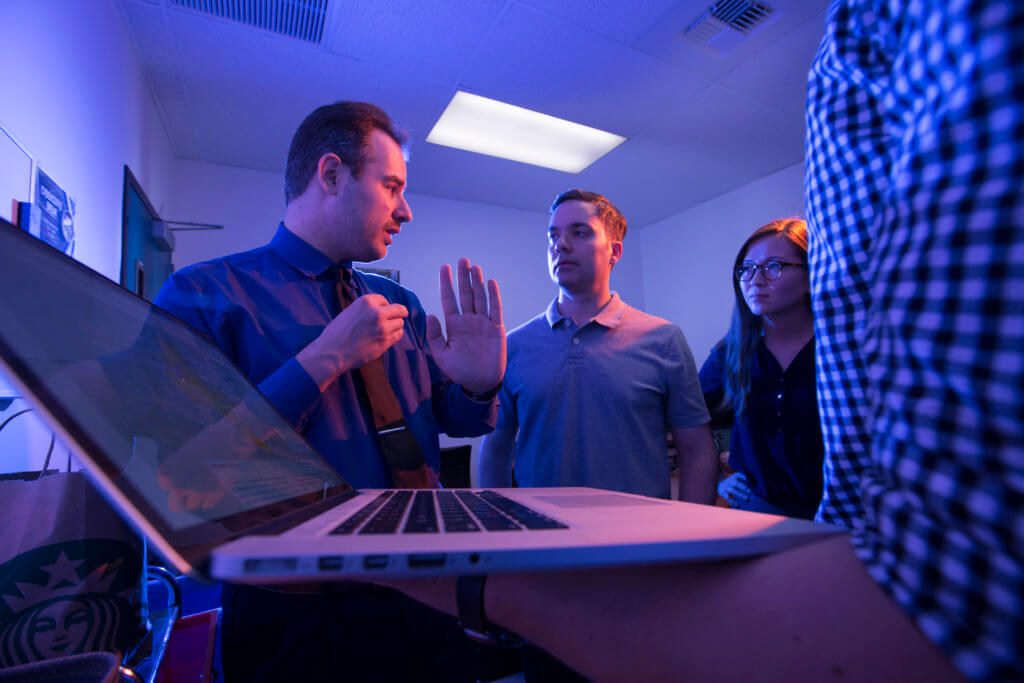 Gofman pointed out that the number of security breaches across organizations and industry continues to increase, driving the need for four-year technical programs to prepare professionals to fill various roles in security.
In fall 2020, CSUF launched a bachelor's degree program in computer science with a concentration in cybersecurity. Currently, 72 students are enrolled in the program. CSUF alumni have found employment at top security companies such as Amazon, MITRE, Boeing and Fortinet, Gofman noted.
A minor in cybersecurity and an online master's degree program in cybersecurity are in the works, as well as accreditation for CSUF's cybersecurity program, Gofman said.
"A program such as ours helps meet a critical societal need of staffing security vacancies while empowering students to benefit from a rewarding, in-demand career," he said.